The two-storey Armoury Building with the large mango tree shading one side is possibly the best spot in Tai Kwun. You can't miss it, as it stands at the head of the old parade ground. The ground floor terrace bar has been buzzing day and night since its recent opening – besides wine, cocktails and beer, it also offers coffee, teas and Thai bar snacks.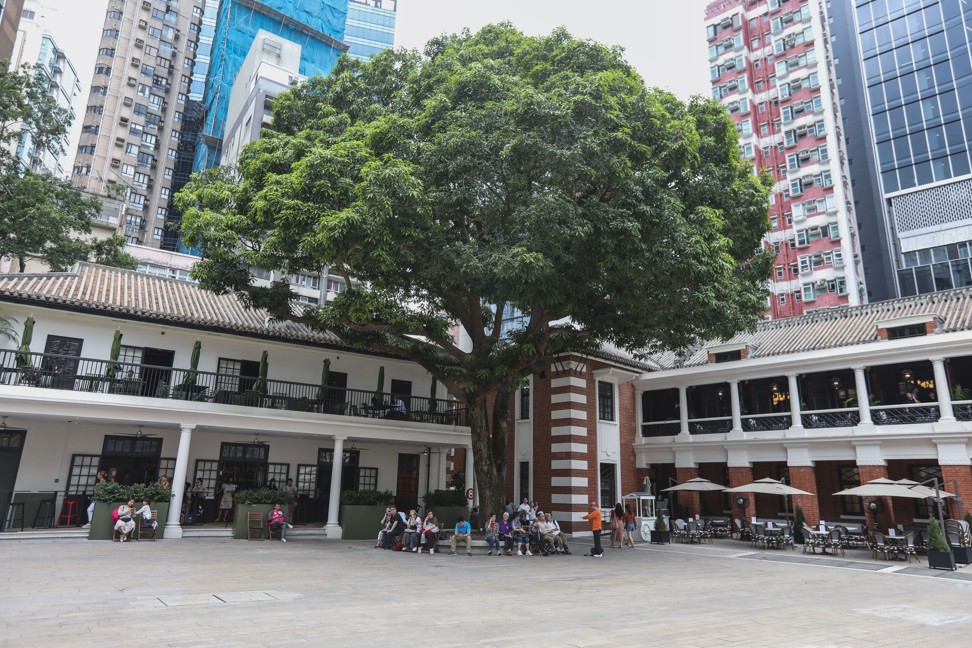 Upstairs is Aaharn, David Thompson's first Thai fine-dining restaurant in Hong Kong. An authority on Thai cuisine and receiving accolades for his previous restaurants, Thompson is known also for taking Thai cuisine back to Thailand with great success. Being associated with Nahm for many years, he has broken away from the brand and is now building Long Chim and Aaharn restaurant brands. Oh yes, and he's written two Thai cookbooks.
Where to eat at the Tai Kwun Centre in Hong Kong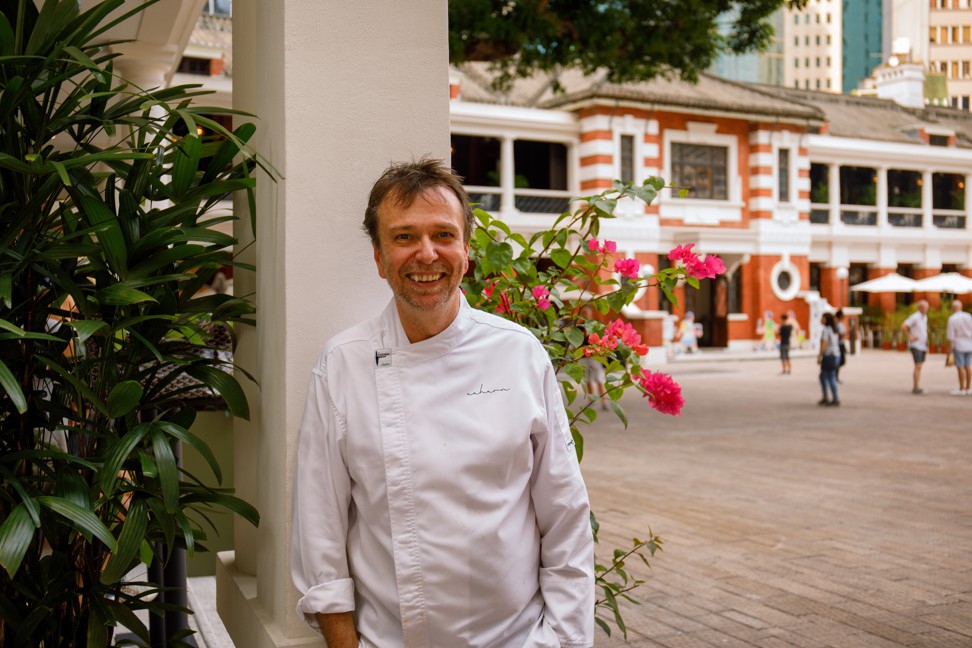 As we ascend the stairs, the noise from the bar diminishes and it starts to feel calm and rather Zen. The main dining area feels spacious with the high ceilings and light walls decked with colourful modern artwork illuminated by spotlights in the dimly lit room. There is plenty of natural wood, from the floor boards and beams, to the tables. A balcony overlooks the parade ground, where there is always something going on.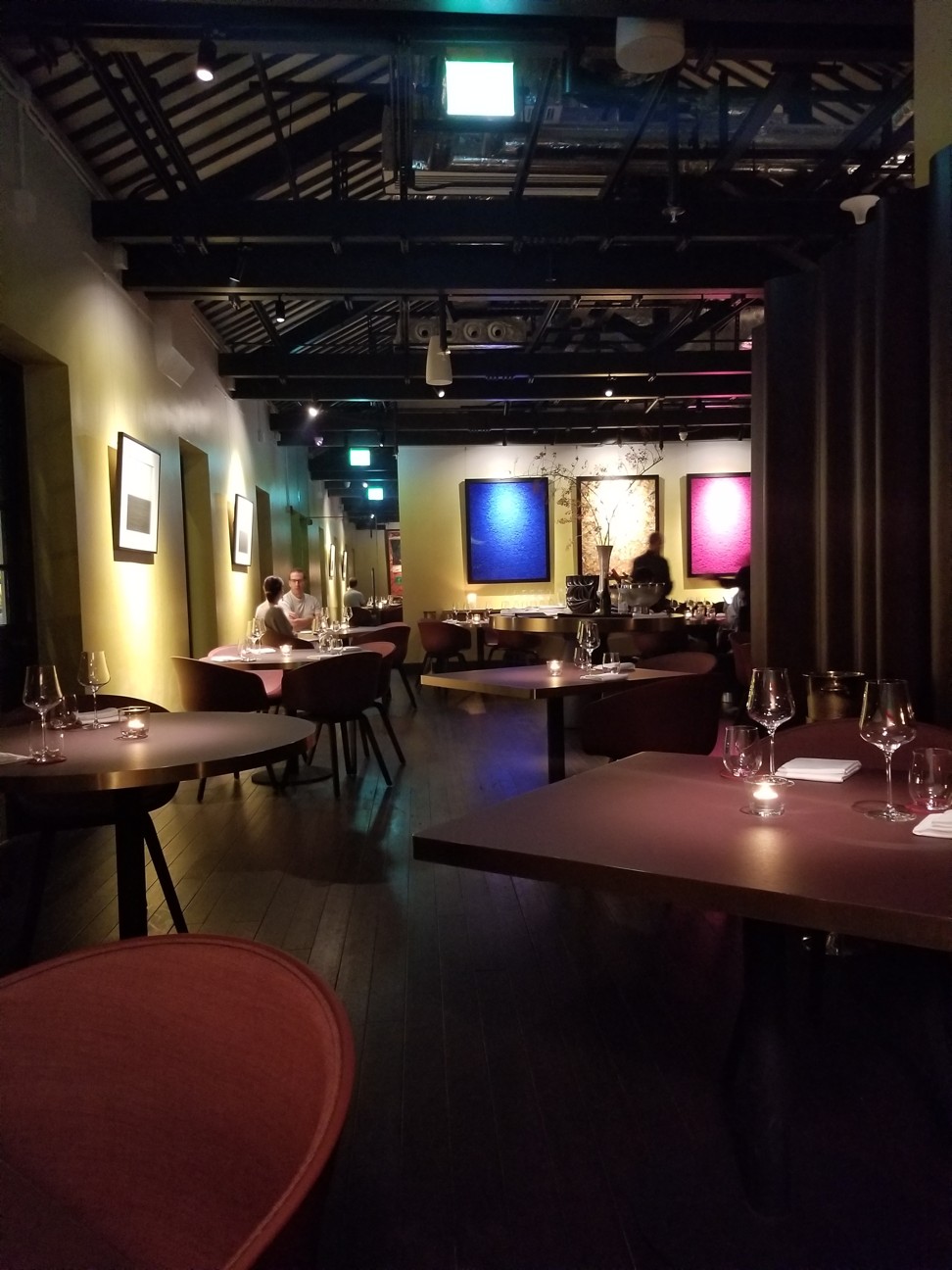 We opted for the set menu, as we were hungry (HK$748 per person). We started with a some tasty amuse bouche to whet the appetite and a glass of champagne before launching into the seven-course meal.
Old Bailey opens this month at Tai Kwun Centre for Heritage and Arts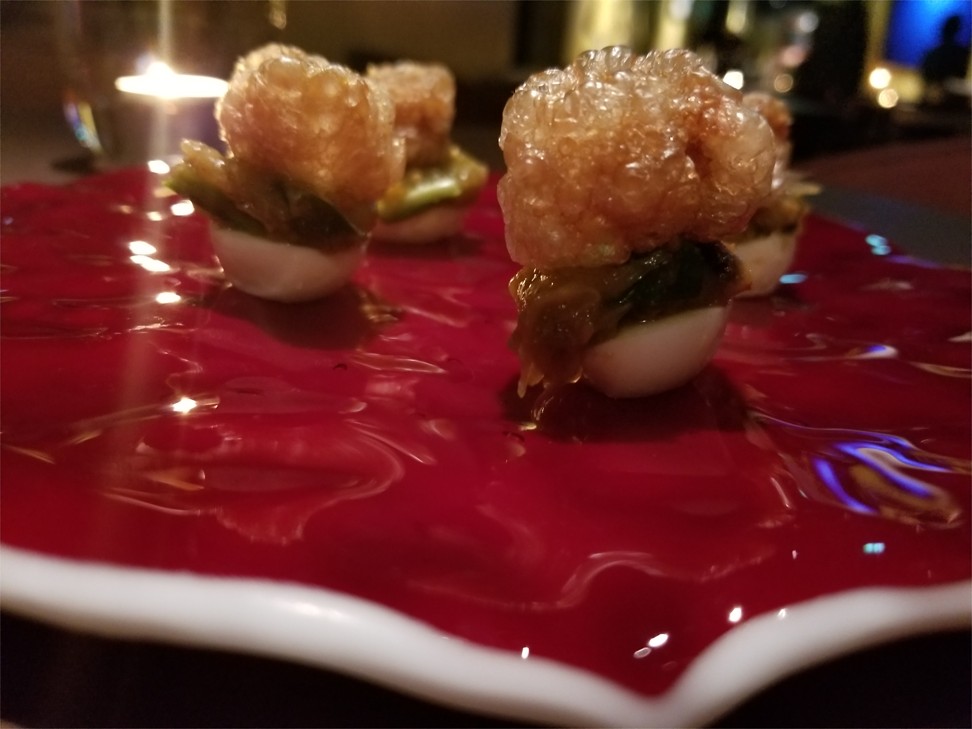 The canapés arrived with a dainty mouthful of grilled chilli relish with quail's egg and crunchy pork. The smooth and crunchy textures were followed by the spicy kick.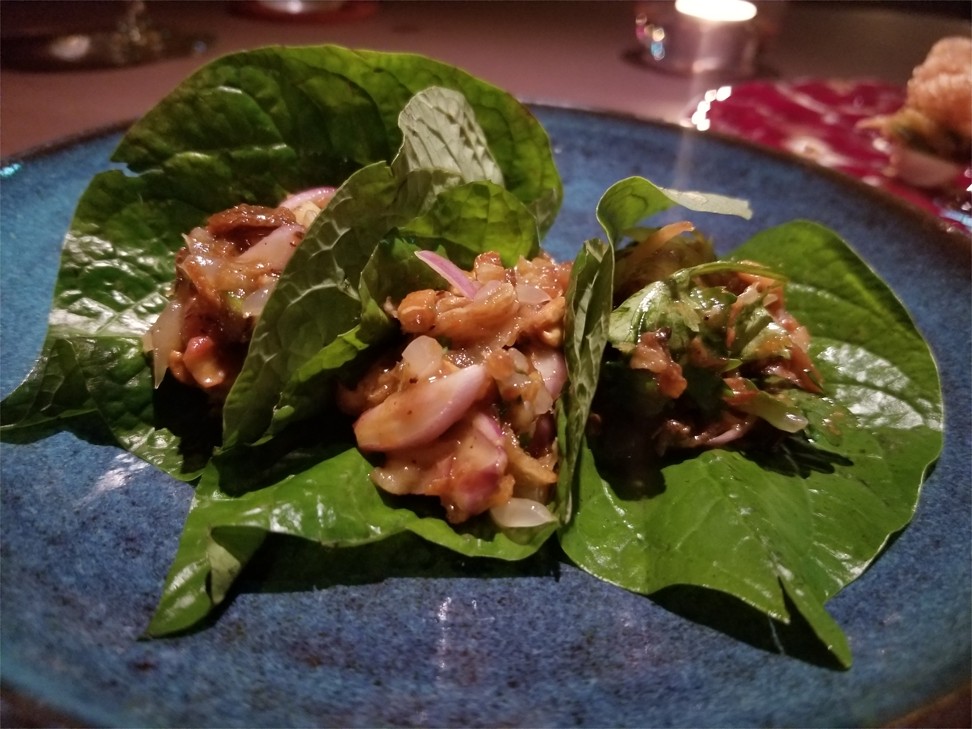 My favourite was the lobster and pomelo with ginger on betel leaves. Thompson is a master of balancing flavours and textures, and this is a good example.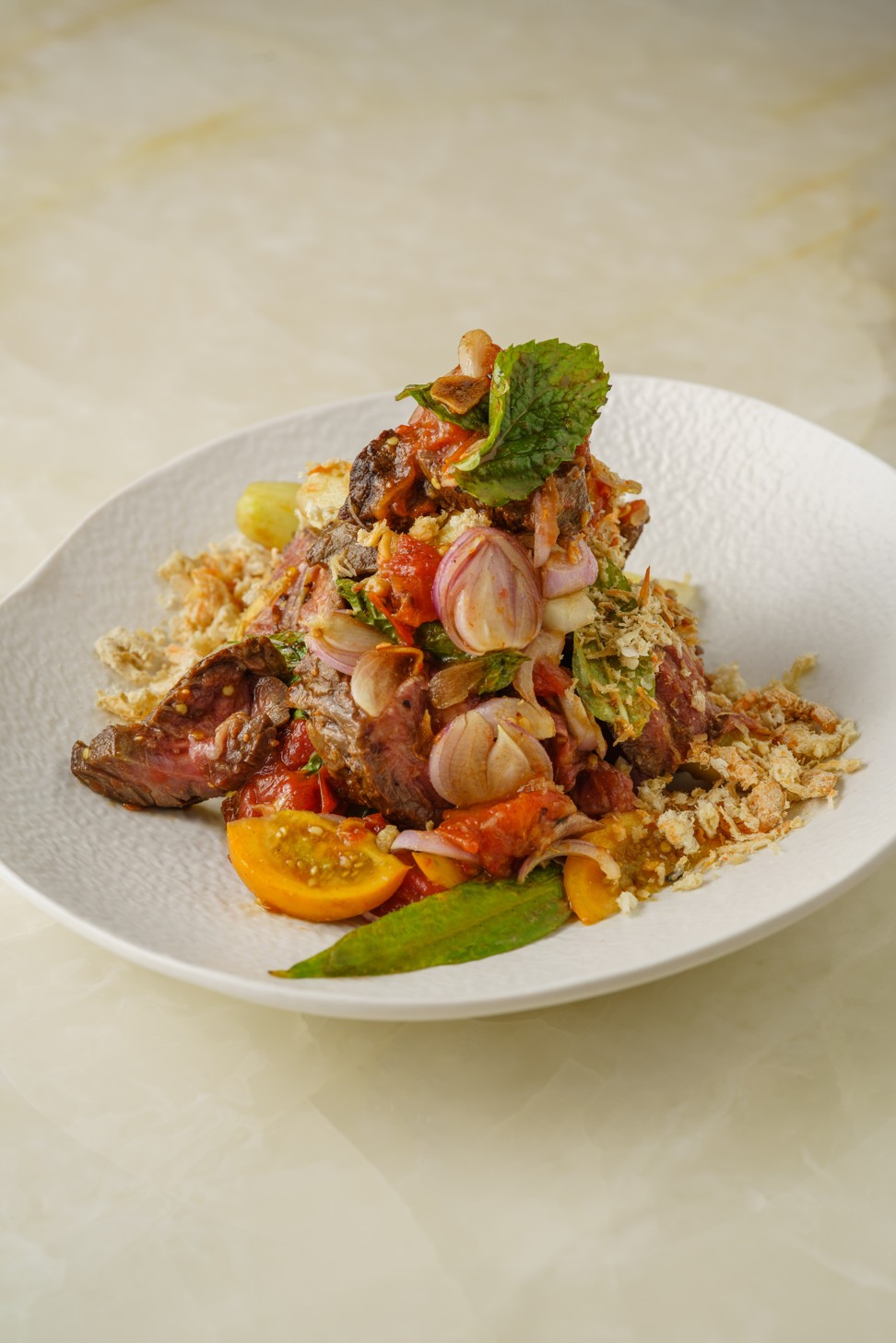 Next was a delicious grilled beef salad with cucumber and dried prawns, and a roast duck and shiitake mushroom soup with young coconut and Thai basil – the conversation stopped for several minutes while we enjoyed the rich flavours of the broth. In contrast, the relish of smoked fish with chillies, prawns and tamarind was refreshing and light, with those famous hot and sour flavours of the cuisine dancing around the palate.
We review Voyages by Alain Ducasse: can hotel café dining be exciting?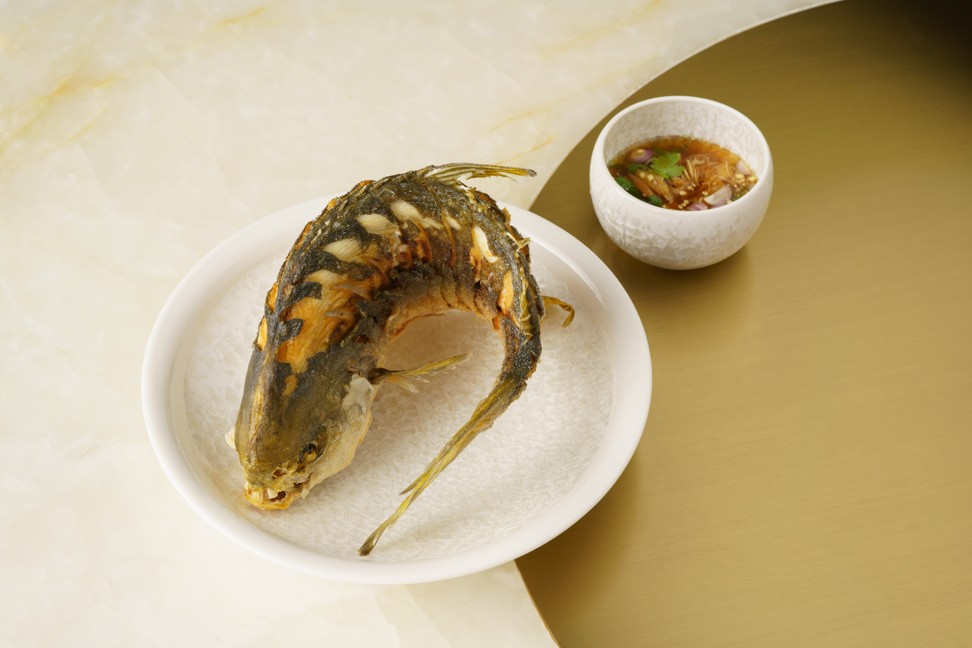 Next, the deep-fried yellow Pomfret was served whole, almost standing on the plate. We peeled off the fish meat, which was soft with crispy skin, and the "secret Thai dressing" was salt, sour, sweet – and went perfectly together with the fish.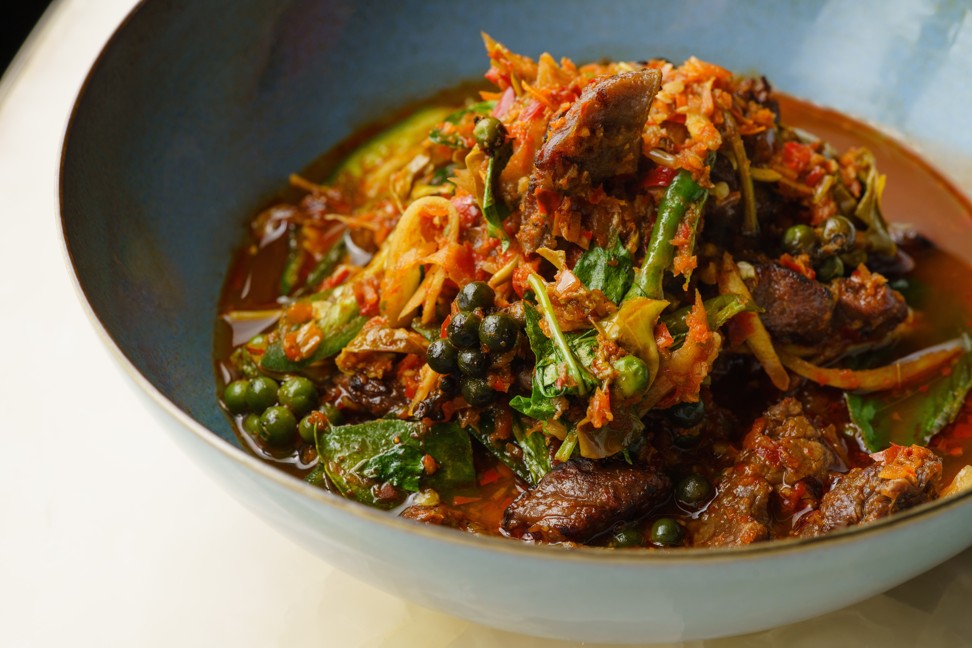 We tried a few curries, including the minced quail curry with Thai aubergines and green beans. My favourite Thompson dishes are definitely his curries, where he achieves a perfect balance of flavours, with the chilli never overpowering, but still getting a spicy hit.
We review Voyages by Alain Ducasse: can hotel café dining be exciting?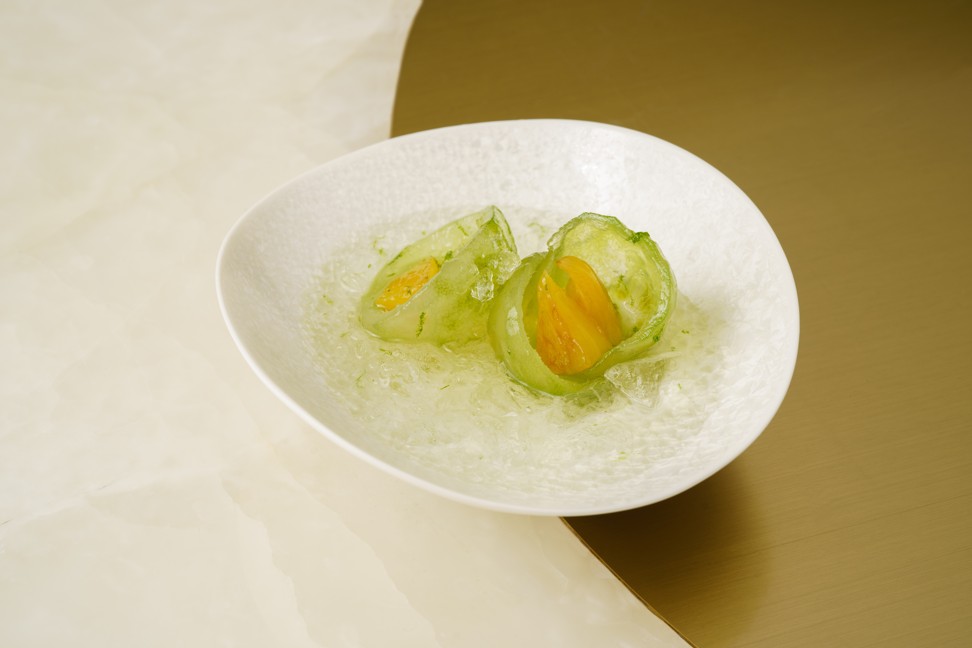 The dessert of glaced Kaffir limes and pineapple with sesame wafer is a signature of Thompson and we loved the light, refreshing, sweet, bitter flavours after so much heat. The fruit plate was also packed with Thai favourites of mango, dragon fruit and pomegranates. Our food was paired with Le Domaine d'Henri 2012 chablis that matched perfectly with the Thai flavours.
Aaharn, 1/F Armoury Building, Tai Kwun, 10 Hollywood Road, Central; tel. 2703 9111
Want more stories like this? Sign up here. Follow STYLE on Facebook, Instagram and Twitter