Gin has gone from strength to strength since returning to the world's bar scene around five years ago. Once bemoaned as "Mother's Ruin", a nickname given to it in the mid-18th century because of the Gin Craze in Great Britain, gin is now reliving its glory days.
We take a look at four of the latest gin-infused cocktails in bars in Hong Kong.
Room 309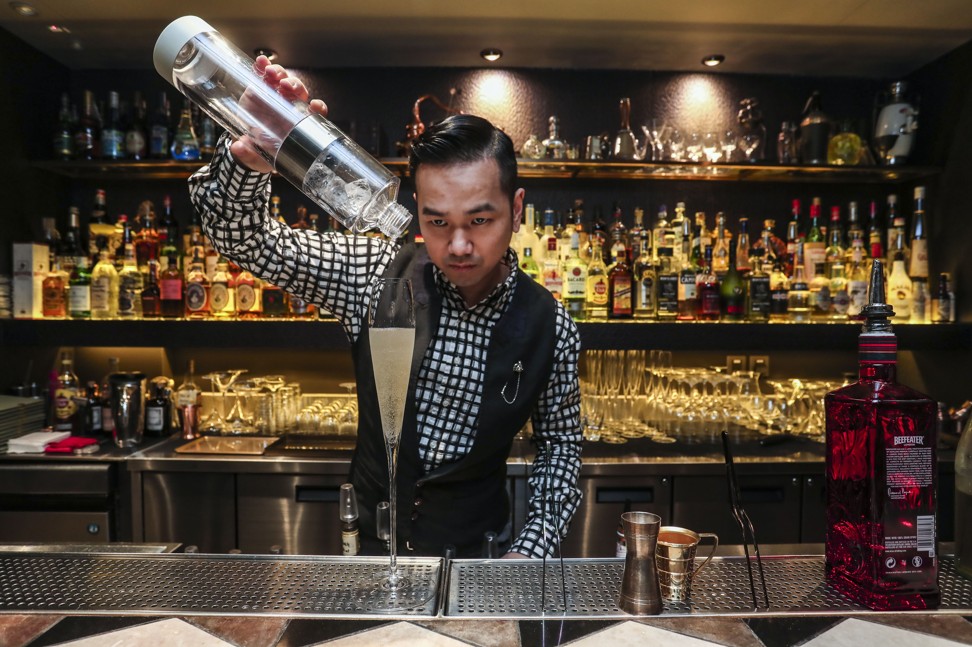 Opened in late August, the intimate bar founded by Antonio Lai seats 22 people. Its signature menu is dubbed "The Invisible Menu", so-called because the drinks are colourless and the menu is transparent.
How spicy cocktails are heating up Hong Kong's drinking scene
Drink: Banana di Mana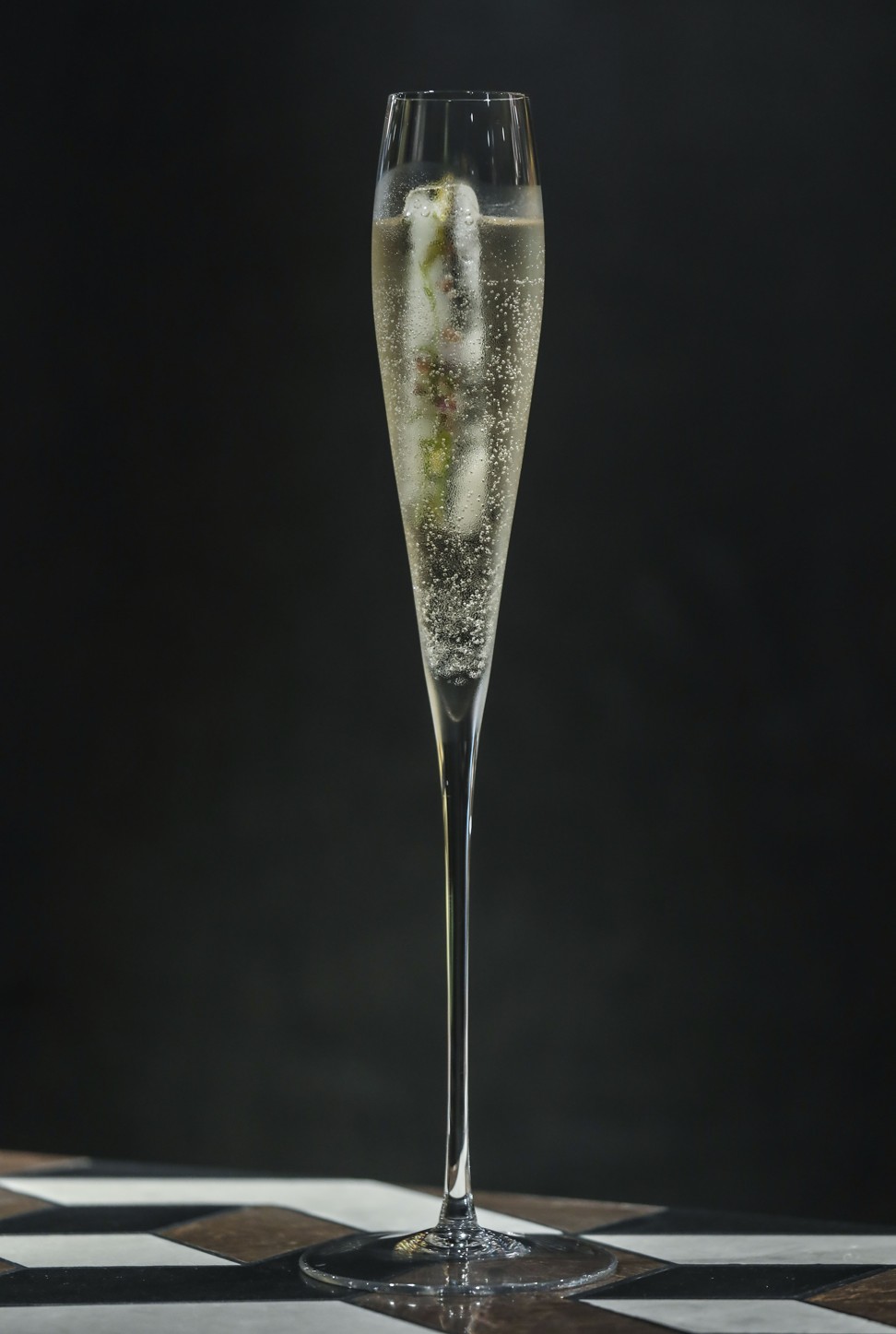 How: "It takes around five hours to prepare. We slow-cook the banana for two to three hours at 68 to 70 degrees Celsius using a sous-vide machine. This makes the banana soft so some juice can be extracted. Then we centrifuge it for about two hours. Two kilograms of bananas can make 1.2 litres of juice," Lai says.
After that, he mixes the banana juice with Beefeater 24 gin, and then adds two drops of gin-based coriander tincture. "Banana and coriander go well together. The coriander tincture gives the drink a savoury note," he explains. As the final touch, he adds CO2 bubbles to create a delightfully fizzy texture, before dropping in a long ice cube made with edible flowers.
M Bar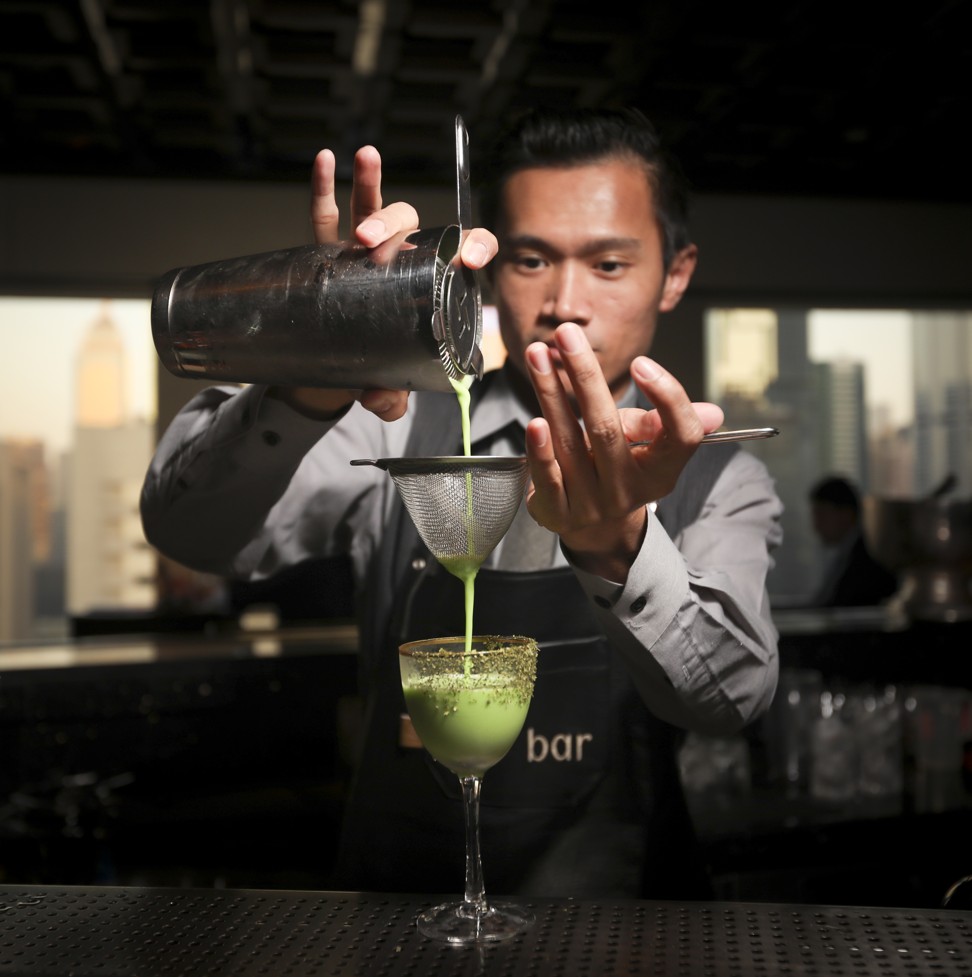 Perched on the 25th floor of the Mandarin Oriental, the iconic bar's new drinks menu, "Journey to the West", launched in late August and created by head bartender Slamet Haryadi, pays tribute to Asia's colonial history with cocktails featuring Eastern and Western influences.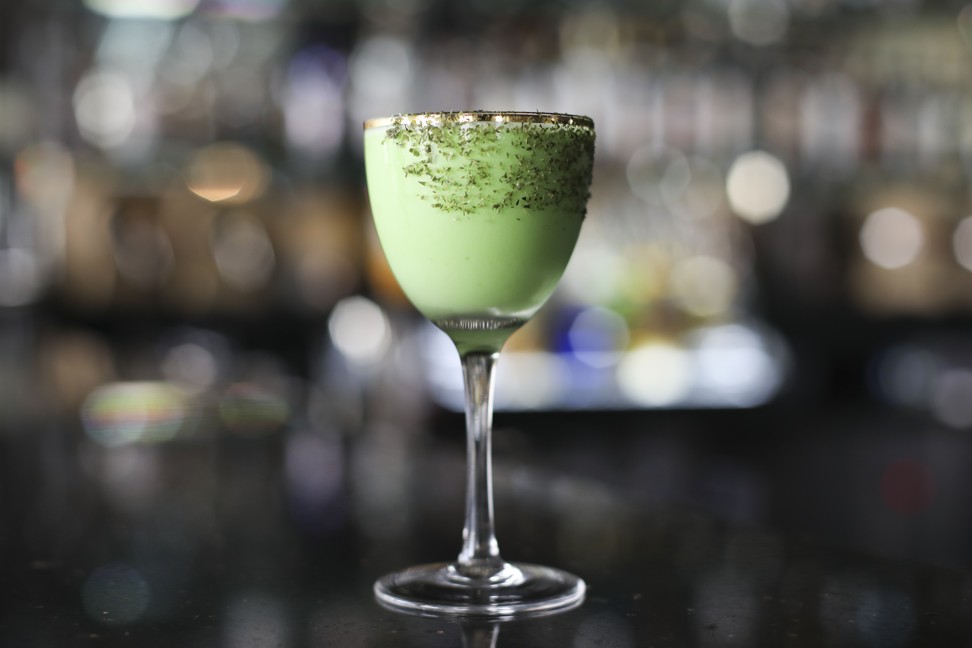 Drink: Kinobi
Art Basel Hong Kong 2018 inspires menus and cocktails
How: "I was inspired by Nikkei cuisine. We use pisco from Peru, which we infuse with aji Amarillo, a type of chili normally used to make ceviche," Haryadi says. "[We boil it at] 65 to 70 degrees Celsius for three to four hours. Afterwards, we double-strain it." Kinobi Kyoto dry gin, Japanese matcha mixed with yogurt, a couple of sours including lemon juice and orgeat, which is almond syrup, are added to create the vibrantly coloured drink. The result is a smooth, slightly creamy cocktail with a hint of spiciness.
Fang Fang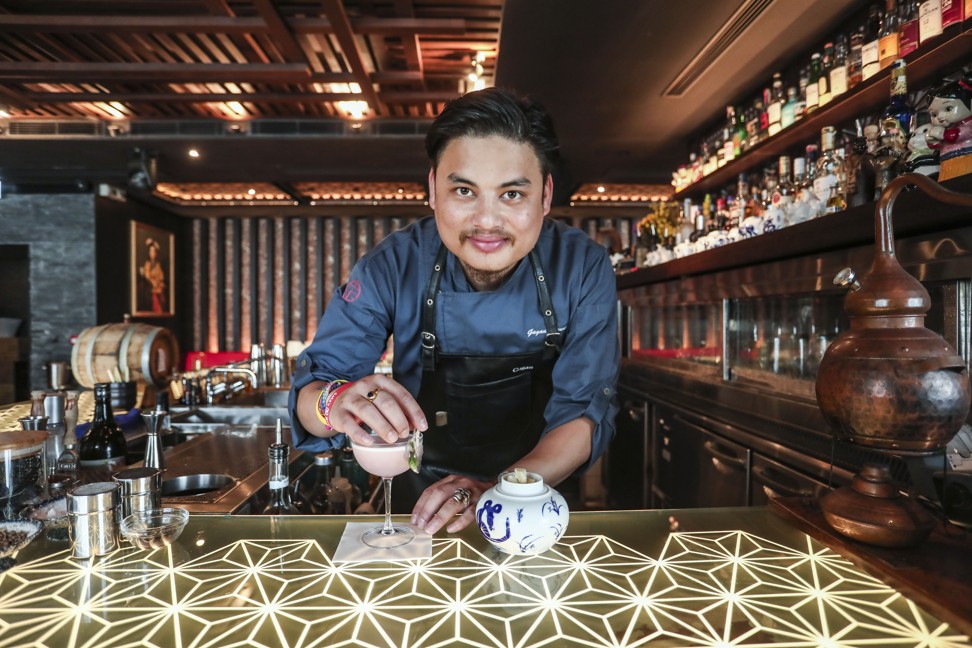 Located in the heart of Lan Kwai Fong, Fang Fang's new drinks menu, launched in mid-September and created by bar manager Gagan Gurung, showcases interesting combinations.
Drink: Year of Rat "Fly Me Mediterranean"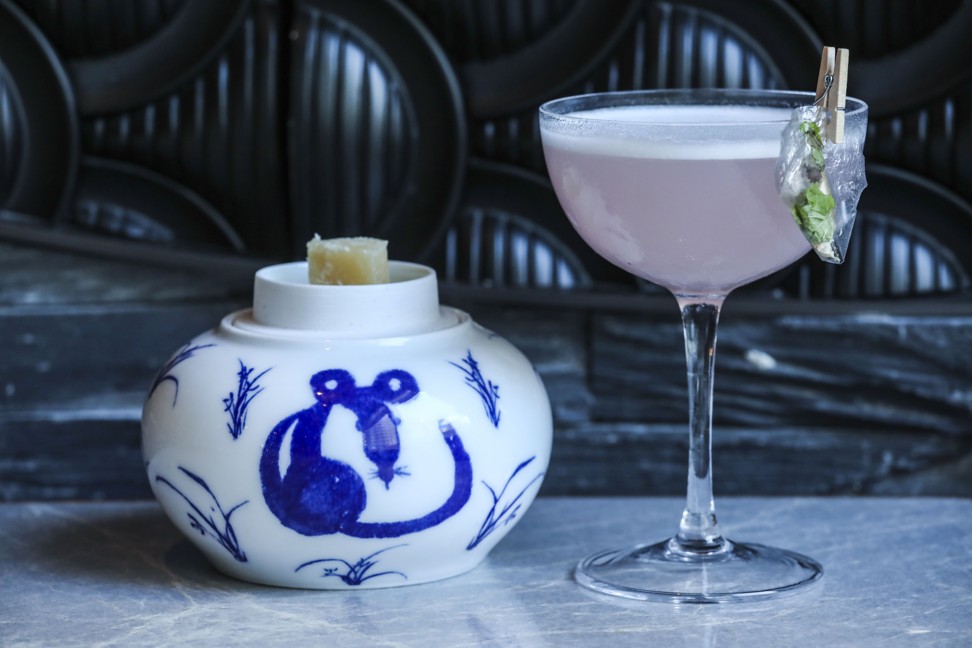 How: "We use a process called fat-washing. We mix cheese with Gin Mare and freeze it [until the fat solidifies and can easily be skimmed off]. The gin is infused, kind of 'washed', with the fat, but there is no fat in the cocktail," Gurung says.
This process was used as part of his submission for this year's Gin Mare competition, which required participants to create a cocktail using Parmigiani-Reggiano as a key ingredient.
The fat-washed Gin Mare is then mixed with sakura sake, white cacao and bergamot. A sachet of poppy candy is served alongside the drink, for a lighthearted finish.
5 Instagrammable cocktails to try this summer in Hong Kong
The Dispensary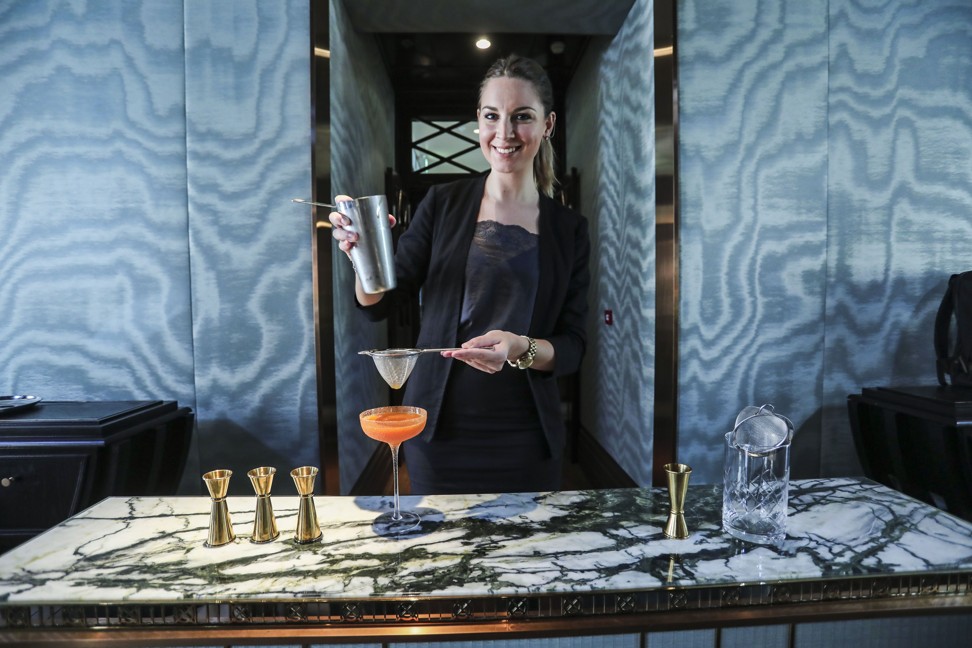 Opened in mid-September, The Dispensary is Aqua Group's latest bar – and one of three dining spots offered by the group in Tai Kwun. At the helm is bar manager Isabella Vannoni.
Drink: The Crown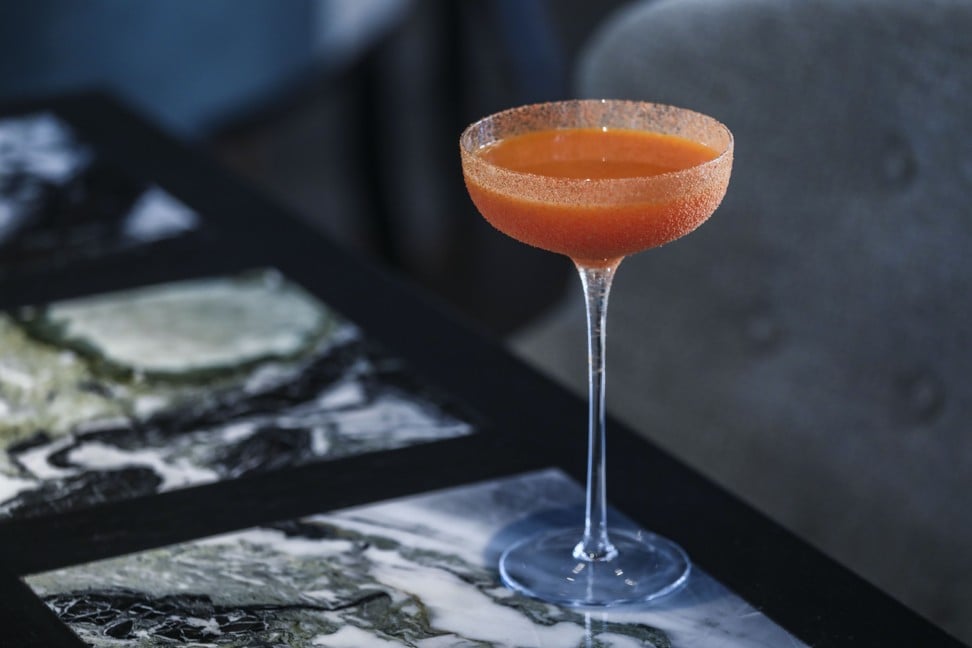 How: "I once read that Queen Elizabeth I really liked carrot juice, so I wanted to create a cocktail with carrot juice," Vannoni says. "I made this drink with Tanquery gin, rhubarb cordial, lemon juice and a little bit of bitters. And I put carrot powder around the rim of the glass."
Trump hotel's ultra-pricey US$169 'soft' cocktail concoction creates a stir in Washington
It is surprisingly lighter and more refreshing than one might expect, for a vegetable-based drink. "Because of the carrot juice, you can have it midday as well. It's not a strong drink," Vannoni adds.
Want more stories like this? Sign up here. Follow STYLE on Facebook, Instagram and Twitter