Why Russian chefs are leading a different kind of revolution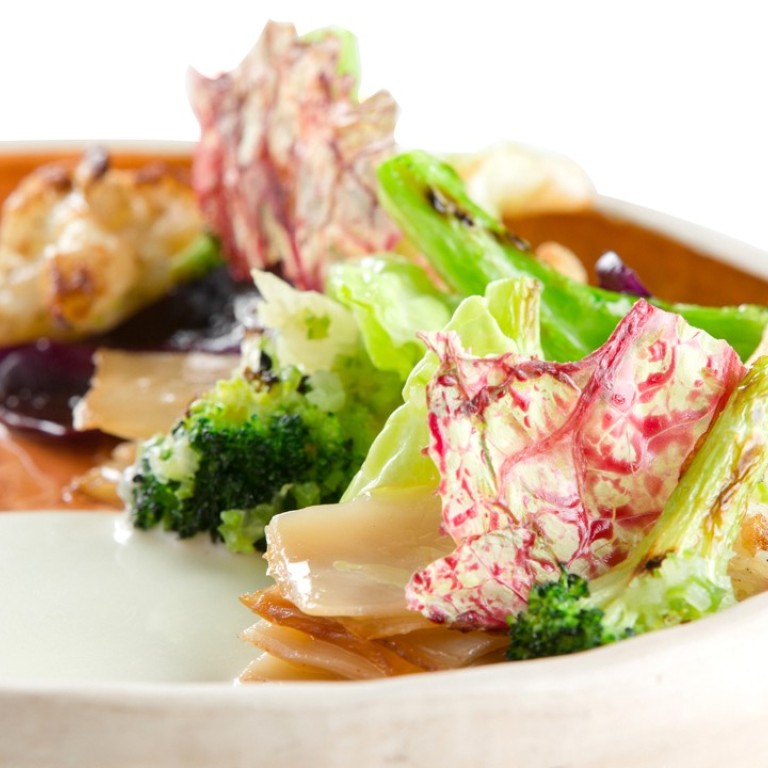 In a country as large as Russia , which has 11 time zones and covers an eighth of the Earth's inhabited land area, the word "local" may seem ambiguous, and the concept of a "locavore" (someone devoted to eating locally grown food) a bit far-fetched.
Yet this vast country is experiencing an agricultural boom, and with it, a patriotic locavore culinary revolution is taking root. This has inspired Russian chefs to look inward at the country's expansive terroir.
 "From 2014, we have been living with sanctions in Russia, so a lot of ingredients from Europe and the US are banned," says Anna Kukulina, editor of Simple Wine News magazine.
"Many restaurants were forced to become locavore and work directly with local products. These restaurants included Twins Garden, Chestnaya Kuhnya [Honest Kitchen], Matreshka, LavkaLavka, White Rabbit, as well as Mark and Lev [Tula]," Kukulina says.
Many observers think this move is a direct result of the embargo on imported agricultural products instituted by the European Union, the US, Canada, Australia and Norway in 2014. But chefs say that the shift towards Russian produce started years before that.
"Our move to local produce is not associated with the embargo," says Vladimir Mukhin, head chef of White Rabbit, which currently ranks number 15 on the World's 50 Best Restaurants list.
"We started working with local producers before that. By 2014, we already had a pool of local suppliers that were providing us with the produce we needed," he says, adding that his restaurant only imports "what is not physically produced in Russia, like olive oil".
Explaining why he prefers to work with local produce, the Christian Etienne-trained Mukhin says that he grew up in Yessentuki, a town in the south of Russia where there were no imported products. "When my father and I wanted to cook something, we went to the market and bought what was available," he says.

 According to Muhkin, seasonality and locality are the only "correct" approaches to cooking because the products are "alive and charged with energy". Using domestic farmers also serves as the Russian chef's "investment" in his country's agriculture, he says.
Mukhin's restaurant, a glass-domed affair perched on the top floor of a building in Smolensky Square in Moscow, features cheeses like mozzarella, burrata and stracciatella from the Moscow region, foie gras from Yegoryevsk, black truffle from the Crimea, wild hazelnuts from Sochi, wild salmon from Kamchatka and Sakhalin,
moose from Tver, and moose milk from a farm near Kostroma.
"From production to logistics, our producers have made a huge leap over the last four years," says Mukhin. "At first, we had to hunt for the produce, but now, a healthy competitive environment has surfaced, and we are in a position to choose the best-quality suppliers."
 Ivan Berezutskiy, who co-owns Twins Garden with his identical twin, Sergey, agrees.
"The restaurant market began to change long before the sanctions," says Berezutskiy, who cut his teeth at elBulli and El Celler de Can Roca. "As chefs, we promote local products, but the most defining thing is the guests. Even before the sanctions, they began to show a preference for fresh pike perch rather than frozen lobsters, simply because it's a fresh product. Once it began, this process was impossible to stop."
"We are Russian chefs, so we support Russian products and Russian gastronomy," says Sergey Berezutskiy, an alum of Alina [Chicago], who took home the San Pellegrino Young Chef of the Year award in 2014.
Further elaborating on the gifts of Russia's terroir, Berezutskiy says he is thankful that they have a huge country with different climatic zones and a wide choice of produce – Baikal omul, seafood from the far east, lamb from Kabardino-Balkaria, St Petersburg smelt, honey agarics and mushrooms from the Urals, as well as red deer meat from Altai which, Ivan says, tastes even better than venison.
"We buy seafood from the Russian far east where we have our fishermen," he adds. "The biggest difficulty in such a country is the quality of delivery. Therefore, we have organised a logistics company to manage the quality of produce from the source to the restaurant. The logistics company delivers live crabs from the far east to Baryikha, where we have a huge pool that houses up to five tonnes of seafood in an ecological environment, exactly replicating the sea," he says. "This allows us to store the seafood in a living state for up to three months."
From the beginning, the restaurant had been using local ingredients at inception. In 2016, they started hatching a plan for their own farm. In consultation with one of the oldest agrarian educational institutions in Russia, Timiryazev Academy, they started reviving forgotten edible flora in a 125-acre farm in Kaluga, possibly the only one of its kind owned by a restaurant in the whole of Russia.
In November 2017, the Berezutskiys relocated their restaurant to central Moscow and renamed it Twins Garden, for the farm in Kaluga that supplies almost 80 per cent of the restaurant's needs, including Nubian goat's milk, eggs, fish and crayfish.

 At the time of writing, the farm had 11 greenhouses, 38 Nubian goats and a chicken coop the size of a bus.
"In Russia, we only have a window of four months to buy the best-quality produce. We cannot get quality products for the remaining eight months," says Ivan.
"We either have to build a farm or cook from whatever produce we can get. To control the quality of produce, the only way is when the manufacturer [the farm] is also the end user
[the restaurant]."
To ensure that their restaurant receives the freshest possible produce, the daily harvest from Kaluga farm gets transported to Moscow by car every single day, a distance of 150km.
 As the produce travels to Moscow and therefore generates substantial carbon footprint, does it still count as local sourcing?
"Russia is a big country and different regions have their own specialisation in different ingredients," says Kukulina.
"It seems reasonable for us to use fish from Russia's north, seafood from the far east, tomatoes from sunny Krasnodar region, watermelons from hot Astrakhan, red mullet from the Black Sea, persimmons from Sochi, and peaches from the Crimea. In other words, we use products from regions where they grow best," adds Andrey Zakharin, the editor-in-chief of the magazine Gastronom PH .
"Russia used to import most products for many years," Zakharin says, noting that agriculture did not have the opportunity to develop until about 10 years ago, when there was a surge of interest in Russian produce.
"After the sanctions were imposed, the appreciation of local produce tripled."

 If you ask any Russian, they will agree with Zakharin: indeed, local produce refers to any goods that are made in Russia.
"The distance of transporting bananas from Turkey to Moscow is closer than getting scallops from Vladivostok, but these bananas will never be a Russian product," Mukhin says.
"In a country as large as Russia, it is impossible to measure the geography of local produce by distance or carbon footprint."
Want more stories like this? Sign up here. Follow STYLE on Facebook, Instagram and Twitter


Guests can savour seafood from the Far East, lamb from Kabardino-Balkaria, St Petersburg smelt, honey agarics and mushrooms from the Urals, as well as red deer meat from Altai