11 great new vegan restaurants and menus in Hong Kong this February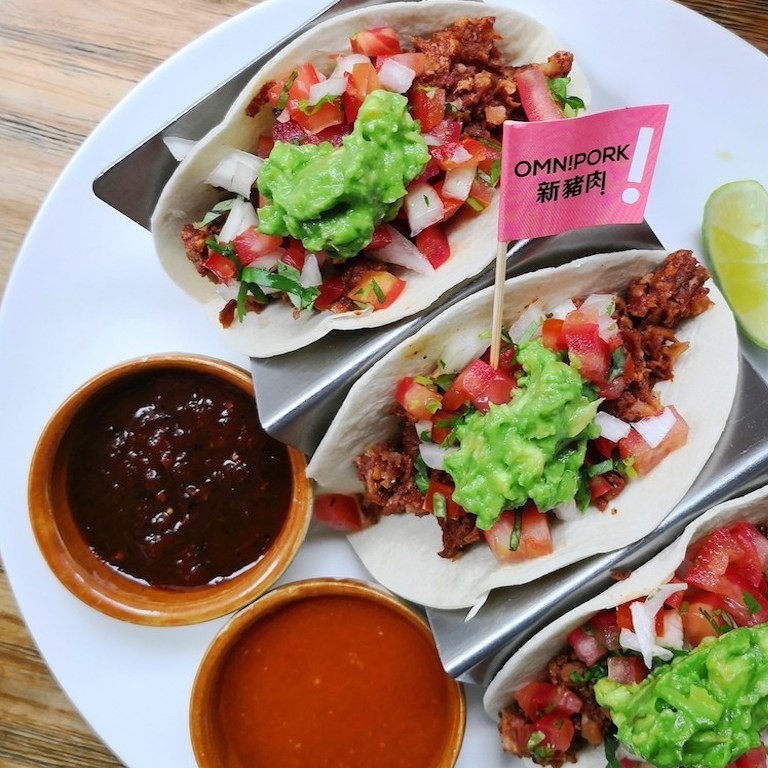 JOMO Coffee & Cakes

JOMO Coffee & Cakes is a new coffee shop with a dedicated vegan cake menu in Sai Ying Pun, in Western District, on Hong Kong Island.
At weekends it's almost impossible to get a seat (to be fair they have only about 10) and you will be waiting in line with hipster Hong Kong's finest to taste its dairy-free and egg-free creations (our fave is the raw cacao tart).
Get there as early as you can: by 3pm it has often sold out of most of its vegan fare.
4 Water Street, Sai Ying Pun, Western District
Old Bailey
We are a little late with this one, but it's worth noting that the (fairly new) Old Bailey at Tai Kwun, which specialises in Jiangnan cuisine, has a vegan menu that everyone raves about. Go get your herbivore dumpling fill.
Grab some Instagram-worthy selfies while you are it as the space is really gorgeous.
No surprise there – it was designed by the veteran Swiss architectural firm of Herzog & de Meuron.
2/F JC Contemporary, Tai Kwun, Old Bailey Street, Central
Veda
Hong Kong now boasts its very own vegetarian hotel, the city's first.
The recently revamped hotel, Ovolo Central, in Arbuthnot Road, Central, has celebrated the opening of Veda, a vegetarian eatery helmed by Hetty McKinnon, an Australian Cantonese chef and bestselling author of cookbooks, including Community: Salad Recipes from Arthur Street Kitchen.
The focus is squarely on vegetables – no meat alternatives are to be found here.
McKinnon espouses a plant-first philosophy and Veda's menu is a testament to her love of bold flavours and comforting dishes, which both veggies and meat-eaters alike will love.
Ovolo Central, 2 Arbuthnot Road, Central
Omnipork at Verde Mar and Ho Lee Fook
David Yeung and his team have wasted no time getting their plant-based pork Omnipork on menus all over Hong Kong.
A couple of highlights are Verde Mar in Wan Chai, which now has a full Omnipork selection of dishes as part of its all-day vegan menu and we're told it's the best vegan Mexican food in town.
Also unmissable is Ho Lee Fook's Omnipork ma po tofu and Omnipork cabbage dumplings. The dumplings need to be reserved a day ahead.
Verde Mar: 24 Tai Wong Street East, Wan Chai.
Ho Lee Fook: 1-5 Elgin Street, Soho, Central.
Joie Plant Based Bistro
There are many reasons to be excited about The Mills, Nan Fung Group's new art and culture complex in Tsuen Wan, but one of the key highlights for us is Joie, the just-opened plant-based cafe.
The menu fuses Italian pastas with Japanese dengaku and hearty veg classes such as tofu frittata and avocado quinoa rolls, and leans heavily on local farm produce.
4/F, 45 Pak Tin Par Street, Tsuen Wan

Nuttea
Nut milk bubble tea? We got it!
Nuttea, the uber-loved vegan bubble tea chain from Taiwan, has landed in Hong Kong.
Make your way to Diamond Hill to taste its blended nut bubble tea drinks made with home-made nut milk (mostly almond and cashew).
Just remember to bring your own cup and straw!
Shop D, 1/F, Maxgrand Plaza, 3 Tai Yau Street, San Po Kong, Diamond Hill

Infiniti C & Slowood
It's all happening in Kennedy Town: the eco-minimalist superstore Slowood has already opened: we can't wait for its vegan cafe corner to be fully open.
We got a taste of its homey cafe fare (think kale salads with cranberries, home-made sourdough focaccia and quinoa beetroot burgers) and it's a winning formula.
Around the corner, Infiniti C is a newish cafe that caters to plant-based foodies with vegan toasts, sandwiches and cakes.
It also makes its own freshly pressed cashew milk – perfect for its lattes; we recommend the golden milk.
Slowood: 1-3, G/F, The Hudson, 11 Davis Street, Kennedy Town
Infiniti C: Shop 6, G/F, The Hudson
Leaves & Liberty
Beef & Liberty is testing out its vegetarian concept, Leaves & Liberty, at the inaugural Deliveroo neighbourhood kitchen in Sai Ying Pun.
The menu features new salads, a couple of Impossible meat-free burgers and the return of its beetroot patty (available with or without feta).
You can order on location for takeaway, or online if you live in the neighbourhood (no dine-in).
Leaves & Liberty at Deliveroo Takeaway, 58 High Street, Sai Ying Pun.

Bread & Beast
Bread & Beast, maker of mouth-wateringly good sandos, has revamped its menu and now more than a third of the offerings are vegetarian: think avo shroom wild rice bowls, beet and chickpea super salads and its signature roasted aubergine and hummus sandwiches.
G/F, 3 Swatow Street, Wan Chai
Want more stories like this? Sign up here. Follow STYLE on Facebook, Instagram and Twitter

JOMO Coffee & Cakes, Veda, Verde Mar and Nuttea are just a few of the new eateries delighting meat-eaters and vegetarians alike