Delicious or disgusting? Boba craze spills over from bubble tea to pizza, ramen, hotpot and sushi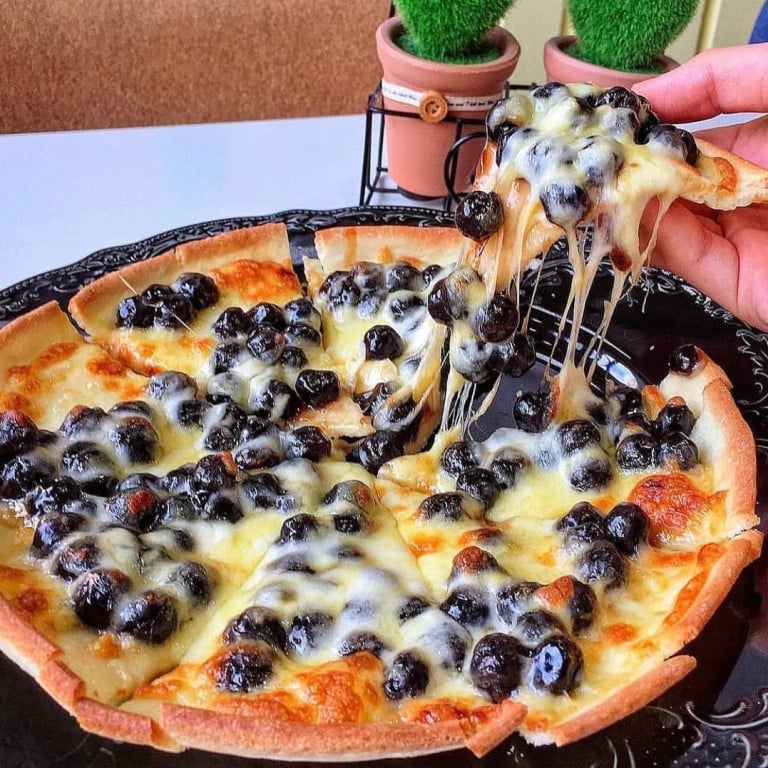 According to Allied Market Research, the global bubble tea market was valued at US$1,957 million in 2016 and is projected to reach US$3,214 million by 2023.
The authentic bubble tea, which originated in Taiwan, was a simple blend of black tea and plain tapioca balls, but with its soaring popularity, customers expect a variety of base tea ingredients like green tea, oolong and white tea, and tapioca flavours like coffee, fruit and chocolate.
It might be no wonder that, in addition to the rapid growth of bubble milk tea flavours, there is also a market for diversifying boba tea … in food.
We list eight boba tea dishes – and some honourable mentions – from the quite palatable to the just plain weird. Whether you're in Japan, Singapore, Malaysia or Hong Kong, we guarantee there's a chef making some crazy dish with boba.
1. Boba ice cream
Let's ease into this rabbit hole with the boba tea desserts. It might seem unsurprising that the sweet and chewy tapioca balls have made their way into the world of desserts, with restaurants touting sweet soufflés, Japanese pancakes, waffles and soft-serves with sweet pearls on top.
7-Eleven Japan revealed their royal milk tea with mochi ice cream bar earlier this year. The ice-cream bar is flavoured with milk tea and includes tapioca-style mochi, which all-in-all sounds like it would be a delightful post-dinner treat.
2. Bubble tea tarts
Another sweet treat that sounds quite scrumptious is Edith patisserie's bubble tea tarts. The Singapore-based bakery was featured in The Straits Times, Business Insider and some of the biggest food blogs in the city for its novel boba tea pastry.
The handmade tarts are made with almond shells and a tea-infused ganache before being topped with boba tea pearls. Edith patisserie offers two tart flavours: a milk tea or a matcha green tea tart.
3. Boba tea toast
Benjamin Browns, also in Singapore, considers itself the birthplace of the boba tea toast. They serve bubble tea toast with an Ovaltine spread or caramel spread for S$6.90 (US$5).
This Orchard Road cafe is no stranger to adventurous menu items. In addition to their boba tea toast, the restaurant recently came out with a savoury indo mee noodle toast.
4. Bubble tea ramen
In July, Japanese ramen restaurant Menya Musashi (麺屋武蔵) served their bubble tea ramen to adventurous diners at Hong Kong outlets. The dish, which is technically a tapioca tsukemen, included cold noodles and a tea-based broth with tapioca pearls.
5. Boba pizza
For this dish, we go to Malaysia where a newly opened pizzeria, MyPizzaLab, is serving highly experimental pizza without traditional toppings.
Their restaurant features two flavours of boba pizza. The first is their OG milk boba pizza which has sweetened condensed milk, mozzarella cheese, cream cheese and – of course – boba pearls. Their second boba pizza is the seasonal cempedak boba pizza which contains mozzarella cheese, boba pearls and cempedak purée made from the local Southeast Asian fruit.
Apparently, their OG milk boba pizza is a fan favourite and is staying on the menu for the foreseeable future.
6. Boba tea crab
Crab Generation Restaurant in Kuala Lumpur is known for serving some extremely creative crab dishes. In addition to promoting their boba tea crab, which features black sugar pearls in a creamy, buttery sauce, the permanent menu includes milky salty egg crab, seaweed butter crab, Oreo cheese crab and Marmite crab.
7. Boba sushi
Baiza Sushi, located in Indonesia, proudly claims to be the first boba sushi joint in the world. Their stand-out menu item is the salmon roast roll with boba on top. The boba sushi is limited to just 30 portions a day.
8. Bubble tea hotpot
Clarke Quay's Spice World Hot Pot serves an explicit version of bubble tea hotpot that neighbours a Sichuan oil bath. The Mala and Assam milk tea hotpot bring two seemingly disparate elements, a spicy main course and a sweet dessert drink, together for one hell of a dining experience.
Just don't dip your beef slices in the sweet tea broth and you should be fine.
The perhaps more palatable version of the bubble tea hotpot can be found in Vancouver, at Avery Restaurant, with bubble milk tea in a steamboat, accompanied by fruit, taro balls, jellies and other sweet treats.
Honourable mentions:
These boba dishes do not appear on menus but have achieved their own cult status after going viral on the internet. Try them at home!
 Boba tea rice
Cook rice in a rice cooker with milk tea, and add the tapioca pearls. The result is a bowl of sweet, sticky rice, like rice pudding or a Thai dessert.
Mee Goreng boba
Add boba to Mee Goreng. Really, that's it!
Want more stories like this? Sign up here. Follow STYLE on Facebook, Instagram, YouTube and Twitter

Whether you're in Japan, Singapore, Malaysia or Hong Kong, we guarantee there's a chef making some unexpected dish with boba