This article was written by Yiling Pan and originally published in Jing Daily
Two of China's high-end jewellery retailers, Tse Sui Luen Jewellery and Chow Tai Seng Jewellery, have been included the keenly watched Deloitte top-100 "Global Powers of Luxury Goods" annual ranking for the first time, the newly released 2018 report shows.
Louis Vuitton owner LVMH turns to e-commerce with Lyst investment
Tse Sui Luen, which is ranked 71st, and Chow Tai Seng, ranked 72nd, have joined seven other Chinese companies on the list.
The Deloitte list, topped by French luxury conglomerate LVMH, with the American Estée Lauder Companies second, and Swiss-based Richemont third, ranks the world's leading luxury goods firms based on sales during the financial year 2016.
It also offers insights into the health of the global luxury market and its leading players.
Cartier celebrates launch of high jewellery collection in Hong Kong
In total, nine Chinese brands were included in this year's rankings, with all but one of them jewellers.
Hong Kong-based Chow Tai Fook Jewellery Group was ranked 10th, ahead of luxury powerhouses such as Hermès and Rolex.
Chow Tai Fook is very active in the licensing market, selling jewellery related to Disney, Star Wars, and Marvel characters, along fine, high-end pieces.
However, Chow Tai Fook reported annual growth was down 9.4 per cent from the year before, which led to it slipping from its ninth position on last year's ranking.
How US luxury brands conquered China
The Deloitte report showed that the brand has increased its efforts to sell in the mainland market by forming partnerships with online platforms such as JD.com and Tmall – operated by Alibaba Group, the e-commerce conglomerate that owns the South China Morning Post – and that this strategy has apparently proved effective in boosting sales since the second quarter of 2016 financial year.
Shanghai jewellery brand Lao Feng Xiang, is ranked 13th on the list, with Chow Sang Sang 30th, Luk Fook Holdings (35th), Eastern Gold Jade (50th), and Zhejiang Ming Jewelry (64th).
Step into spring with these 5 sophisticated high jewellery pieces
The Hong Kong-based fashion giant Trinity, which owns labels including Cerruti 1881, Kent & Curwen and Gieves & Hawkes, is the only Chinese luxury fashion brand on the list.
Its ranking dropped from 89 to 95, after a 7.2 per cent decline in sales.
However, the brand has recently been acquired by apparel firm Shandong Ruyi Group, which also snapped up luxury brand Bally this year and owns a controlling stake in the French luxury group SMCP.
The new mainland owner is seeking to invigorate Trinity as it is hoping to build a Chinese luxury empire.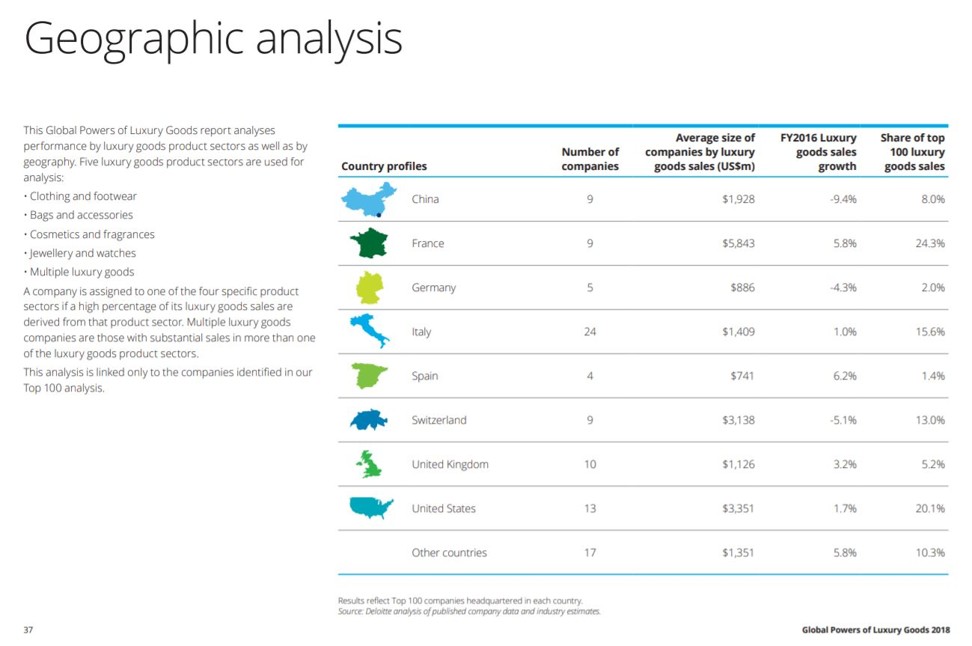 Though more Chinese companies made this list than the last one, China experienced a 9.4 per cent decline in sales, making it the poorest-performing out of the eight major markets on the list – the others being France, Germany, Italy, Spain, Switzerland, Britain and the United States.
Lao Feng Xiang and Chow Tai Seng were the only two Chinese companies to post positive annual growth – up 2.1 per cent and 6.3 per cent, respectively.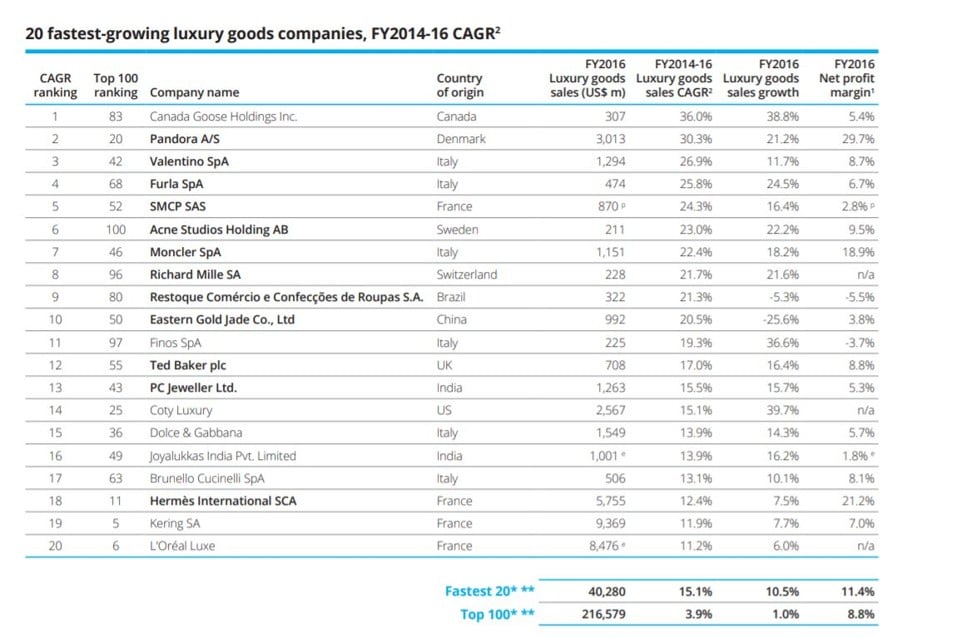 However, the Deloitte report still listed Eastern Gold Jade on the list of "20 fastest-growing luxury goods companies" despite it suffering a 25.6 sales drop during the 2016 financial year.
5 best jewellery designs seen at Baselworld
Overall, the Deloitte report is highly positive about the outlook for the global luxury market.
It said the significant role that China has played in this area is also expected to continue and increase – not only because of the huge purchasing power shown by Chinese consumers, but also the country's growing leadership in the supply chain, technological innovation and international investment in the luxury retailing area.
Want more stories like this? Sign up here. Follow STYLE on Facebook, Instagram and Twitter