Trends don't just pop up overnight – they evolve. And in the ever-changing world of jewellery design, creative minds are expressing themselves in a myriad of ways.
Perhaps because they handle the most beautiful and precious of natural materials, jewellery designers often draw inspiration from nature. Wearable art depicting flora and fauna is making an impact right now, reimagined using an array of colourful gems.
Naturalism is raised to a high art form by the great names in jewellery, and few houses offer a glimpse into the natural world as exquisitely as Van Cleef & Arpels. Among the jeweller's impressively vast archive are two pieces that not only draw from nature but also resonate with one of the biggest trends of the moment – the brooch.
Van Cleef & Arpels marks 50th year of its Alhambra collection
The Oiseau d'Or clip from its Quatre Contes de Grimm series – based on the Grimm brothers' fairy tales – depicts a mythical golden bird in yellow sapphires, spessartine garnets, onyx, diamonds and a dose of whimsy. The Panache Mystérieux brooch is two exquisitely delicate feathers in sapphires and diamonds, using the house's iconic Mystery Set technique.
A contemporary designer noted for her nature-inspired creations is Cindy Chao. The Taiwanese jewellery artist, long a favourite among serious collectors, interprets nature in her own inimitable style, and her eponymous Cindy Chao The Art Jewel collection relies heavily on nature, translating everything from dragonflies to pea pods into breathtaking pieces.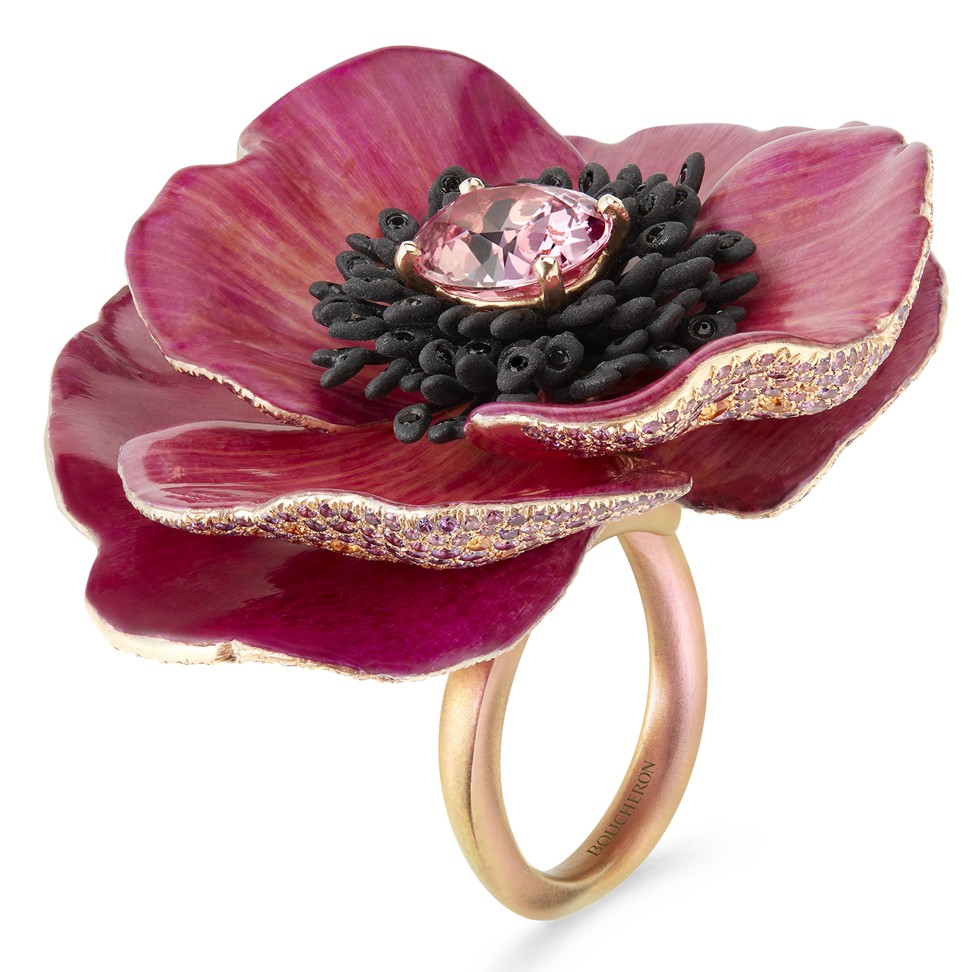 Boucheron also has some extraordinary, even poetic, depictions of nature. Lierre Givré means frosted ivy and in a marvellous necklace, Boucheron uses cacholong, a kind of milky white opal, and pavé diamonds on titanium to evoke a wintry scene. The Nuage de Fleurs is an extravagantly beautiful concoction of pink tourmaline, mother-of-pearl and diamonds on rose gold.
The love of organic forms has sparked a complementary trend towards freedom in shapes, with pared-down silhouettes. Precious metal jewellery in sculptural forms has a minimalist appeal that is timeless yet contemporary.
This developing trend is part of a "perfectly imperfect" movement jewellers are refining. We see it in the use of irregular pearls, sometimes with gemstones inset; we see it in metal jewellery with a molten effect.
Van Cleef & Arpels celebrates 50 years of Alhambra
The name of the game is mix and match – wearing two different earrings, or just the single earring, which remains a favourite with fashionistas.
Individual pieces might be minimalist but there is a definite trend towards "maximalism". Brooches should be outstanding – a look at Ronald Abram's Vintage collection would be rewarding in the search for wonderful pins.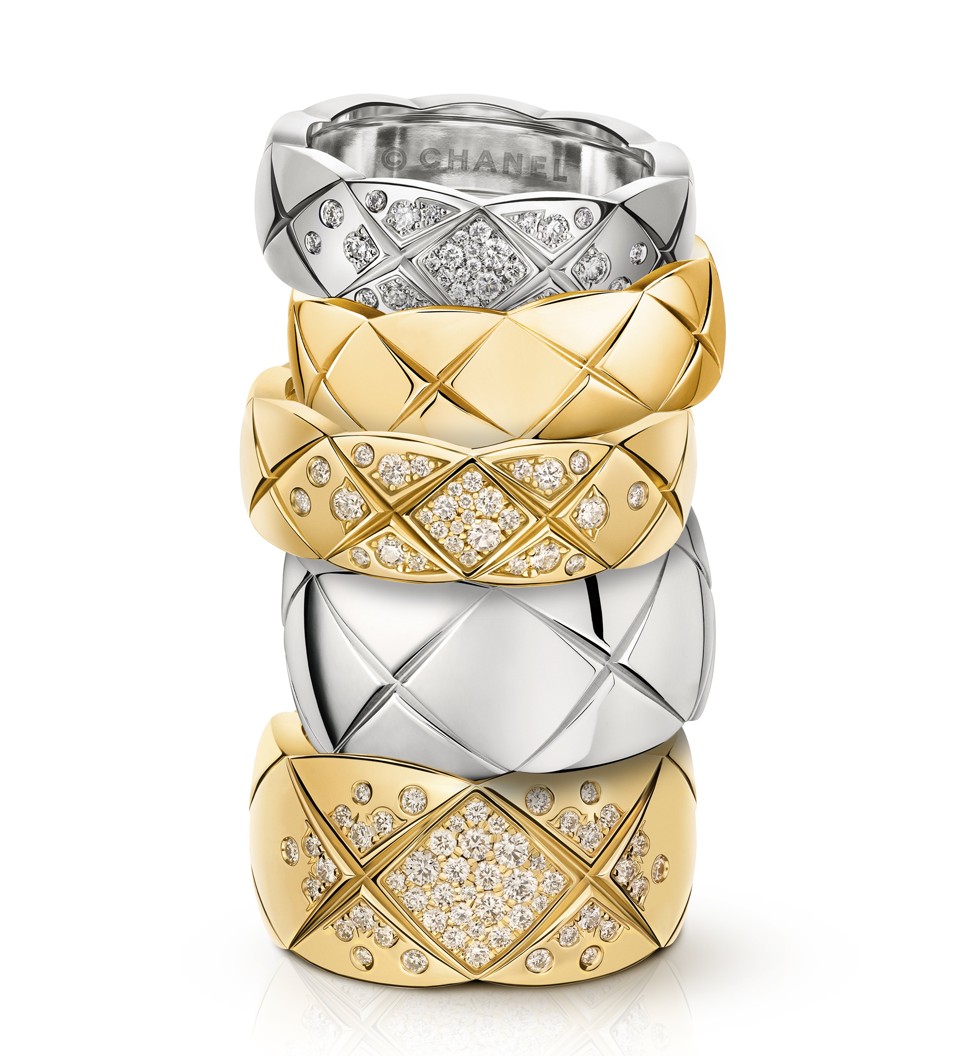 The statement earring has returned, too. Hoop earrings are big, and often are slightly misshapen or asymmetrical. It's all part of a movement to reimagine the classics, giving them fresh appeal with a touch of whimsy – a heady "anything goes" approach to accessorising.

Statement pieces such as Cartier's enamelled tiger stripe gold hoop and oversized diamond-studded hoop continue to be must-haves.
The runways have seen a number of designers combining multiple fine chains of different colours – wearing a mix of precious metals is more than acceptable these days. There is a related trend to personalise smaller pieces, which works well with the multiple-chain look. Birthstones, zodiac signs, single initials and monograms are all being seen on various precious metals now.
SIHH 2019 shake-up: Van Cleef & Arpels bows out as Bovet joins luxury watch fair
Multiple jewellery is a definite theme carried on from previous seasons, and shows no sign of losing popularity. Wearing a number of rings on different fingers is one way to do it, and so is stacking rings for a bold effect. Chanel's black and white Ultra rings and Coco Crush collection lend themselves to this beautifully.
Another classic is Boucheron's Quatre ring, which plays into the stacked trend. Cartier, Tiffany & Co. and Chaumet are among jewellers who have continued to propel the stacked jewellery trend with their respective multicoloured precious metal bangle, bracelet and ring collections. On the subject of rings, big and bold is again a trend. Large, even huge, quartz rings can be worn singly or in clusters. Celebrity influence is recognised with a surge in the demand for the three-stone ring, as in the engagement band worn by Meghan Markle, the Duchess of Sussex.
Want more stories like this? Sign up here. Follow STYLE on Facebook, Instagram and Twitter