There is little doubt that the Royal Oak and its offsprings, the Offshore and the Concept, have defined Audemars Piguet as a brand for collectors. The Royal Oak was introduced in 1972, while the Royal Oak Offshore celebrated its 25th anniversary last year, and with demand often surpassing supply, it would seem natural for the brand to continue enhancing these collections.
But, not content with resting on its Royal Oak laurels, the Swiss independent watchmaker is introducing a new collection of what it hopes will be its next generation of collectibles at the annual Salon International de la Haute Horlogerie (SIHH) in Geneva today, with delivery to boutiques in about two weeks.
How Audemars Piguet timepieces will stand out from the crowd at SIHH luxury watch fair – in camouflage
The new Code 11.59 collection, comprising 13 new references, is the first new collection to be launched by the brand since the women's oval-shaped Millenary collection in 1993 and the Royal Oak Concept in 2002, and it's aiming to turn industry heads with a slew of new features and three new calibres.
[Creating a double curve] is very complicated. This watch is all about detail
The new collection will feature four references for a self-winding model, available in pink gold with white or black lacquered dial options, and white gold with blue or black dials, with applied logo and hour markers and a date window at half past four.
The face of the watch looks remarkably big for a 41mm, thanks to a nearly non-existent bezel and a double curved sapphire glass with an internal surface shaped like a dome and an external surface that is vertically curved from 6 to 12 o'clock.
"We wanted the best legibility and we wanted almost no bezel. If you look at phones and TVs there are no frames so the codes of today's world are very large. [Creating a double curve] is very complicated. This watch is all about detail, so we went and pushed detail as far as possible," says Audemars Piguet CEO Francois-Henry Bennahmias.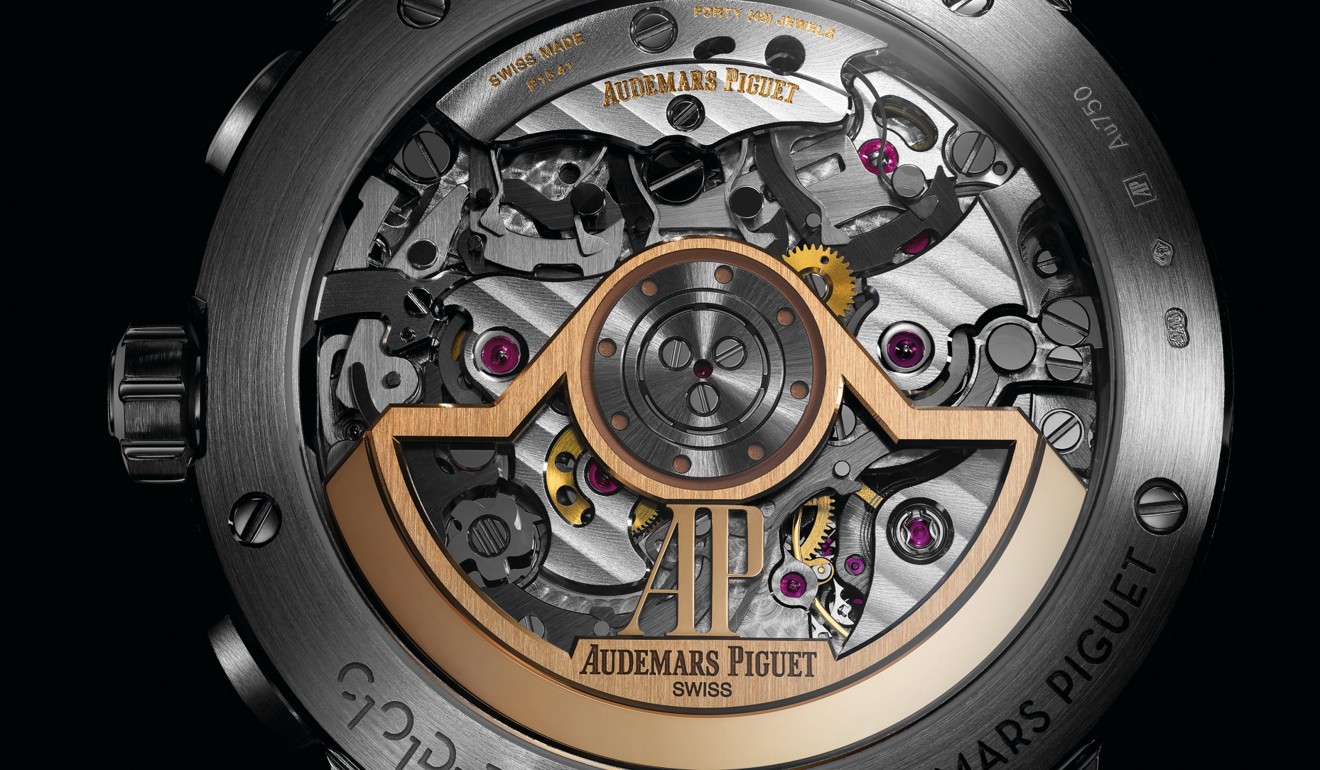 "Gold is very soft and lacquer is easily scratched, so if you so much as move the wrong way … We had to recalculate the exact size of the logo so that it would be strong and big enough to hold the pressure. That was almost two years in development."
Although the watch shapes are round, the watchmaker has also managed to preserve its iconic octagonal shape by discreetly slipping it into the middle case. The curved caseback also allows the watch to sit very lightly on the wrist, as I discovered when I strapped it on.
Luxury watchmaker Audemars Piguet tests e-commerce in China with JD.com
"That's what we wanted with the collection: to reinterpret the classic and make it contemporary using all the codes from today. It's like the song New York, New York by Frank Sinatra and the "New York, New York" of today, which I see as Jay-Z's and Alicia Keys' Empire State of Mind. It's not the same lyrics, it's not the same beat, but it is the same song reinterpreted for the 21st century," says Bennahmias.
Both the Selfwinding and the Chronograph feature new in-house calibres – 4302 and 4401 respectively – which offer a 70-hour power reserve. The other new movement is the automatic flying tourbillon calibre 2950 with a 65-hour power reserve.
The Selfwinding Flying Tourbillon also comes in white or pink gold, with a blue enamel dial and a black option respectively with raised indices but a transferred logo. The Tourbillon Openworked only comes with a 41mm rose gold case and a lacquered black inner bezel, housing the calibre 2948 that offers an impressive 80-hour power reserve.
SIHH 2019: who's in – and out – at this year's Geneva watch fair
Completing Code 11.59 is the stunning rose-gold Perpetual Calendar, featuring a dark blue aventurine dial with white flecks, recalling a starlit sky. The sub-dial for the moonphase sits at
6 o'clock with the brand logo, while the sub-dial for month and date is at 12 o'clock and 3 o'clock respectively. Another sub-dial showing the day of the week sits at 9 o'clock.
"We've improved everything that can be improved, the case, the accuracy, the power reserve, the date, the jumps – which is an automatic jump and not a slow jump. The power reserve we used to have was a little over 40, maybe 44, 45 hours. So everything that could be improved has been improved."
Audemars Piguet CEO Francois-Henry Bennahmias speaks to STYLE about the Code 11.59 collection, and about his willingness to go as far as possible in search of the holy grail of watchmaking
Why did you choose the name Code 11.59?
First, C is for Challenge. People were very happy with the collections and the success of the brand. Nobody asked us to come up with something new, except maybe an integrated chronograph. But, as good as we've been, we need to challenge ourselves on what should be next. When you think about it, Audemars Piguet has made many other watches than the Royal Oak and for many more years.
The O is for Own, why? Because we are in charge of our own destiny, we are an independent company and we are from Le Brassus and we said, you know what, we have to be able to put in a single piece, every single craft, every single thing we've been doing for almost 144 years.
D is for Dare – we were in the world of classical watches for many, many years, but we did it in a very normal way, we didn't push enough. This time we said let's take our whole assets and challenge and dare to go as far as possible.
Countdown to Switzerland 2020: Baselworld and SIHH plan to synchronise their annual watch fairs
E is Evolve. If Jules Audemars and Edward Piguet were alive today, they would travel the world in search of the holy grail of watchmaking, meaning if they came out with a new watch on Monday and it was a success, they would already be thinking of the next one, and the one after that. There's never the notion of resting on our laurels.
And 11.59 for two reasons: one is one minute ahead of the game. My much more personal feel is it's one minute before midnight and midnight is a new day, we are writing a new page in the book of Audemars Piguet.
That's the goal, we have never been more ready to launch a new collection. So this is why we say it's 11.59, it's one minute before a new day, a new beautiful day hopefully at Audemars Piguet.
When did you know you wanted to launch this new challenge?
I took over as CEO in May 2012. In October 2012, I locked 40 people from Audemars Piguet in a conference room and told them we were all going to stay there until we all came up with a brand new automatic calibre and a new chronograph collection.
We went in at 5pm and at 9.15pm, it was done. That was when we started work on the mechanism. The casing came much later, about three years ago. It took a long time to bring people together, to push them to their limits to see what we could do that we had never done before, and be happy with ourselves.
So what's the thinking behind launching a whole collection at once – and not gradually, as is the usual practice?
Nobody is expecting us to launch this so if we were just to launch the automatic, think about what people would see in the showcases around the world.
They would see one or two watches in the window at any given time. That's no good. We need to show our strength at once, so we need to show a full collection, that's why it took a bit more time.
Ironically we have since decided that people will not see the watches in the windows anyway because we want people to be able to sit down with us and listen to what's behind the watches. It's too specific not to do it the right way.
So the goal of launching a whole collection was to show strength and commitment, and that it's not a collection we're going to walk away from in a year if it doesn't sell.
Three winning watches heading to SIHH 2019 from Girard-Perregaux, IWC and Audemars Piguet
How do you think your long-time clients would take to this new collection?
I think if you looked at the Royal Oak, the Royal Oak Concept and Code 11.59, they will overlap at some point. Some Royal Oak owners will go for this collection as well, but we also hope to get a lot of new clients. So it's not a matter of seeing how the classic clients will respond because we have a pretty wide appreciation for the brand. A few of our clients have seen the watch and their reaction was, you know what, now I can buy everything at AP. Now I can shop more.
You've been firm in limiting production numbers to 40,000 a year. Are you going to increase numbers now? How many pieces are we looking at for the new collection?
This will be part of the 40,000 we produce annually. We will reduce some of the others. Obviously over time we will increase slightly and reduce some that are not performing. We will produce a few thousand for the new collection. By that, I mean it will be more than 2,000 but less than 5,000. We are aware that 40,000 is too small a number because there is no inventory anywhere. It's good news, but we could be reaching a stage where it becomes bad. So the real next number should be about 45,000 but we have to look at our capacity, so we might go to 42,500 first and then 45,000.
Want more stories like this? Sign up here. Follow STYLE on Facebook, Instagram and Twitter