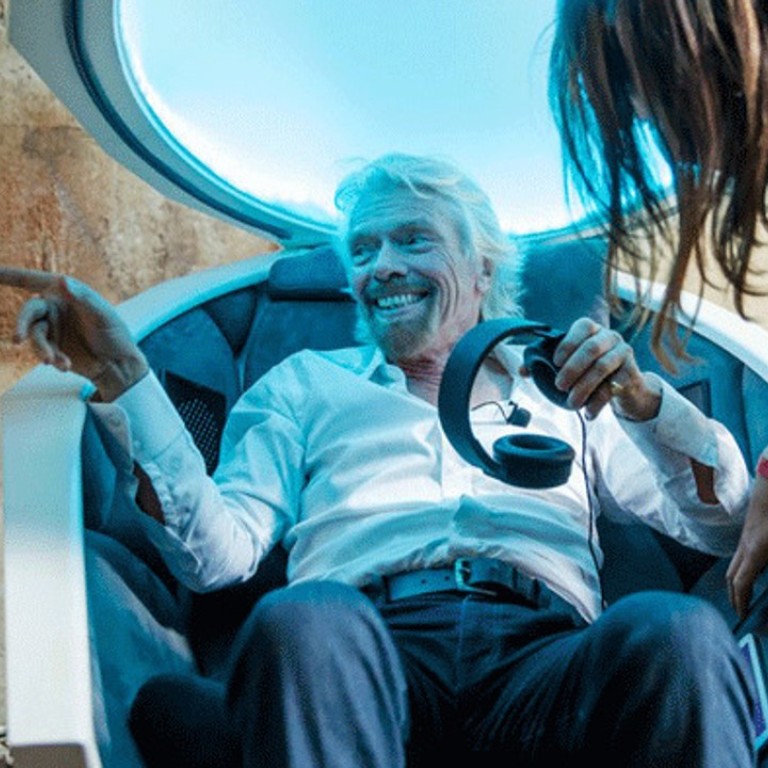 Ultimate relaxation: how to de-stress by floating inside a pod
Hi-tech, saltwater-filled tanks – shown to boost mental wellness and reduce anxiety in tests – and chaise-like meditation pods will help you 'chill' at home
In Partnership With
HKT PREMIER
In a world where everyone and everything seems to be permanently connected, it is increasingly difficult to completely "switch off".
Smart technology means we can be contacted anywhere at any time, but it is seen by many people as being at the root of the problem.
However, it might also provide a solution.
The use of hi-tech relaxation pods, originally called isolation or sensory deprivation tanks – dark, soundproofed capsules in which people float in a solution of skin-temperature saltwater – have proved very popular with members of health clubs and luxury spas, who wish to de-stress.
Such equipment, which helps people to relax and calm their nervous system by blocking all outside stimuli, is now available for people to use in their homes.
'Sweet dreams' in a DreamPod ...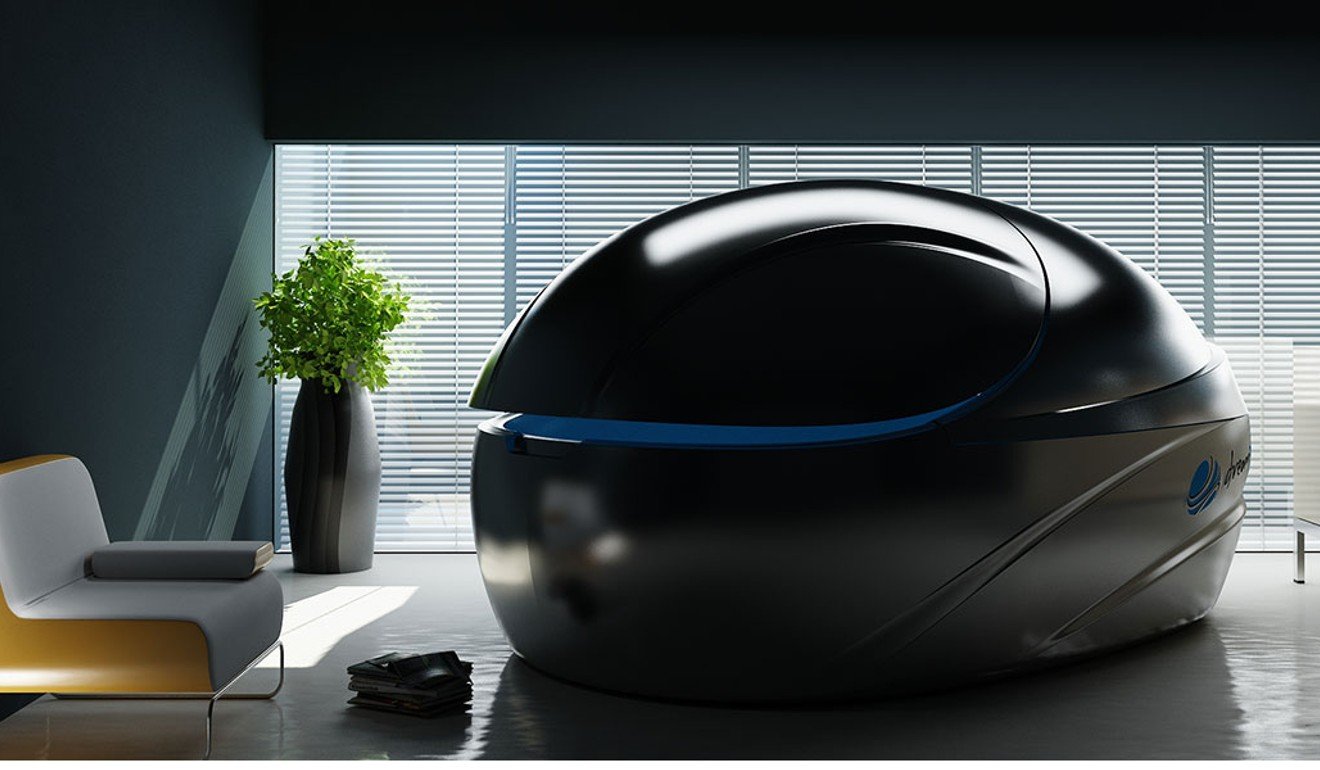 Michael Zelekovitz, CEO of Dreamwater Float Co, which has installed its DreamPod flotation tanks in wellness centres around the world – including Float On HK in Mid-Levels and Floax in Tsim Sha Tsui – is now focusing on the home market.
People with enough money and space have already been putting tanks designed for commercial use into their homes, but Zelekovitz says his company is developing a smaller, more compact version, which is expected to be available by the end of the year.
He says people are able to relax both their mind and body naturally when floating in a tank.
The use of Epsom salt-saturated water, which is warmed to skin temperature, allows them to "float like a cork" – just as if they were relaxing in the hypersaline waters of the Dead Sea, bordered by Jordan, Israel and the West Bank, Zelekovitz says.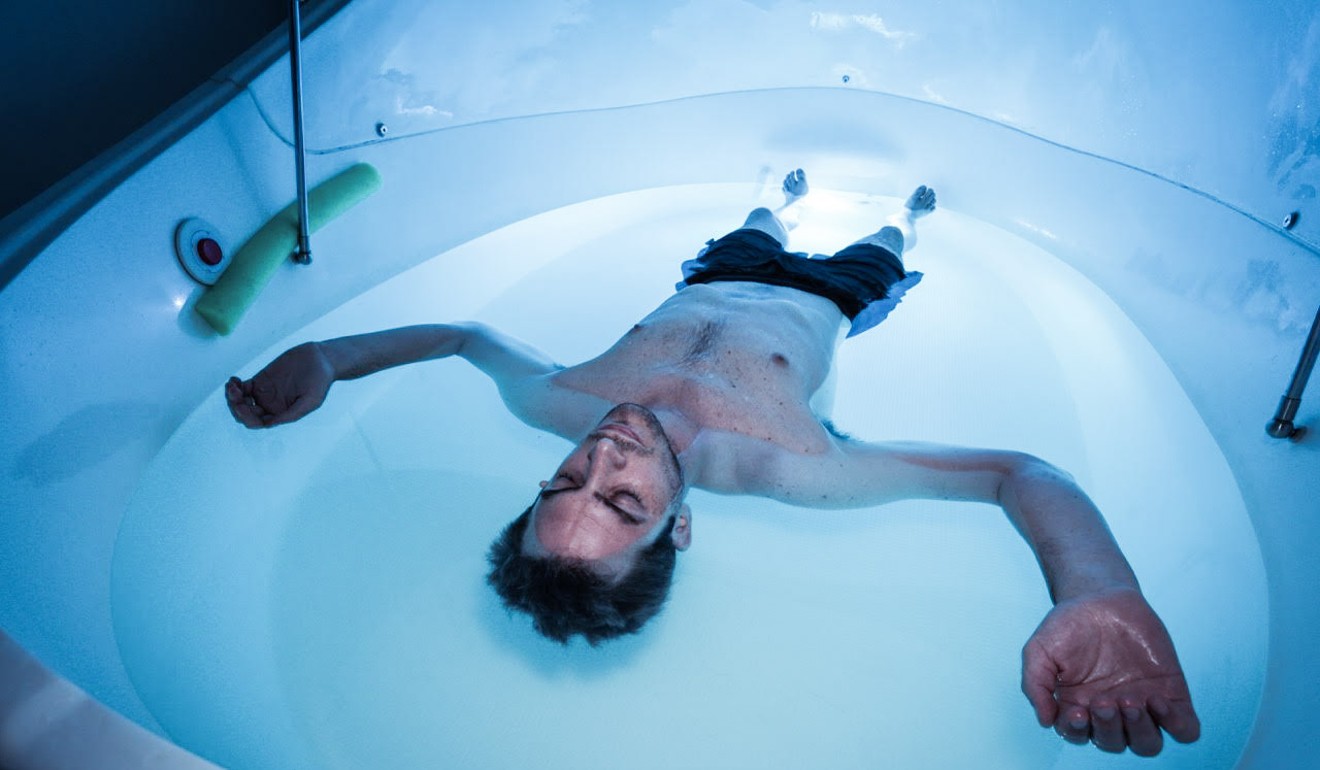 Chakra lighting and meditative music begin the relaxing experience inside the tank.
A few minutes later, these gentle stimuli drift away and people start to see and feel nothing, he says.
Their brainwaves begin to drop and they "go into REM [rapid eye movement] mode" – the period during sleep when a person's brain and body are energised and dreaming occurs, which is believed to help with storing memories, learning, and balancing their mood.
It is also the stage when the mind gains clarity.
Zelekovitz says that, rather than banishing all thoughts, as some forms of meditation advise you to do, people should let the ideas flow because they may get flashes of insight.
During a pod session, a user may come up with the idea for their next holiday, recall forgotten memories, or start to plan a strategic business decision: there are no rules to this meditative experience, Zelekovitz says.
His high-end DreamPod tanks – one of a number of brands on the market – are fully automated and give the user control over the lighting, music and water temperature.
They require enough space for a 4-metre (13-foot) by 4-metre base, but a newer domestic model will be simpler to use and have a smaller footprint.
Inflatable meditation pods ...
Another high-end flotation pod for private use, the Evolution Float Pod from Superior Float Tanks, includes a spacious ventilation gap at the back of the tank to allow fresh air to circulate inside.
Zen Float Co's float tents and tanks, are among the most affordable meditation pods on the market.
The company, which was launched on the crowdfunding platform, Kickstarter, produces inflatable tanks, made using drop-stitch inflatable technology normally applied to paddle-boards and kayaks.
The practice of floating inside pods – also known as Restricted Environmental Stimulation Therapy, or REST, to improve health – has been in existence for decades, with tests carried out by psychiatrists and the military.
Yet it is only in recent years that companies have been offering tanks commercially, with assorted claims that "floating" can help to improve sleep, reduce stress and anxiety, and boost energy and productivity.
Some sceptics have likened the practice to being in solitary confinement, but scientific research has revealed some of the benefits.
Tests involving patients suffering from anxiety and depression have been carried out by Dr Justin Feinstein at his Float Clinic and Research Center at the Laureate Institute for Brain Research – a clinical neuroscience research institute in Tulsa, Oklahoma, in the US.
The research, which used controlled pre- and post-floating magnetic resonance imaging (or MRI) scans of patients, found that one hour of floating improved their short-term mental wellness, inducing serenity, and also reduced their anxiety and stress levels.
Stay dry with Somadome's immersive pods ...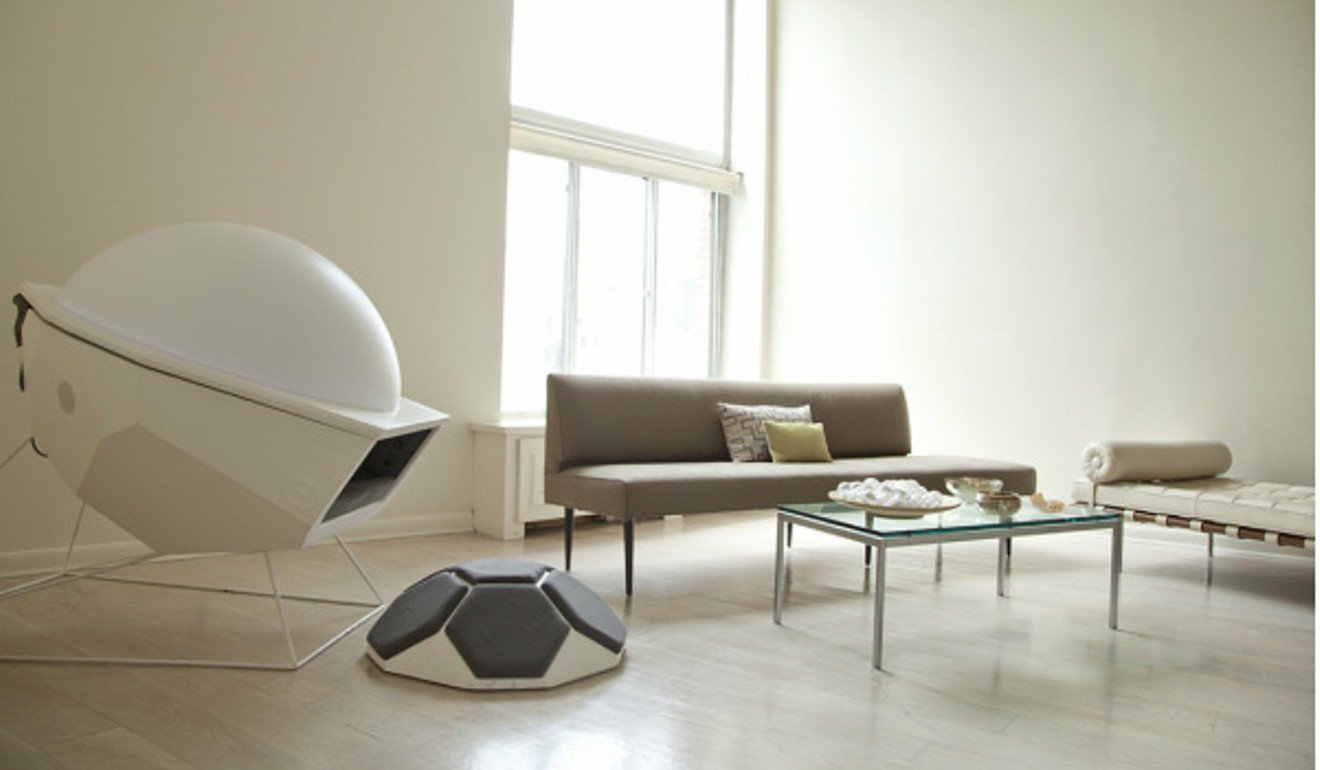 For those people who do not want to get wet, the US company Somadome's personal, chaise-like meditation pods, offer one alternative.
Somadome pods aim to take the effort out of meditation, while preserving the benefits.
Users can simply sit back, fully clothed, inside the padded pod, adjust the earphones, and immerse themselves in either guided or binaural meditations.
Healing colour and light therapies are also used.
Sarah Attia, founder and CEO of Somadome, says that despite studying yoga, energy medicine and meditation she still used to struggle with anxiety and depression.
The fully self-contained Somadome pods, which are simply plugged into an electricity socket, were developed as "a sanctuary for the self", she says.
"Most of our private clients first tried the Somadome at a spa or public placement event such as TED Talks and Virgin Disruptors."
Attia says Somadome uses three different technologies to enhance the meditative experience: colour therapy, BioSyntonie microcrystalline tiles and binaural beats.
"The dome structure gives the illusion of infinite space, immersing the user into an illuminated pod of colours that coordinate with their session goals," she says.
"BioSyntonie tiles transform EMF [electromagnetic field] frequencies that are out of harmony with our bodies' natural electromagnetic signals.
"Finally, binaural beats use varying inaudible frequencies to help guide our minds into the brain states achieved during meditation."
While there is currently no specific research available to compare the benefits of frequent use of a Somadome in the home with the occasional use at a spa, she says her company now has "a number of research initiatives underway.
"However, many mindfulness and wellness experts would agree that, although there is benefit to any amount of meditation, people that practice consistently will see a greater result," she says.
Headspace Meditation Pod on street corners?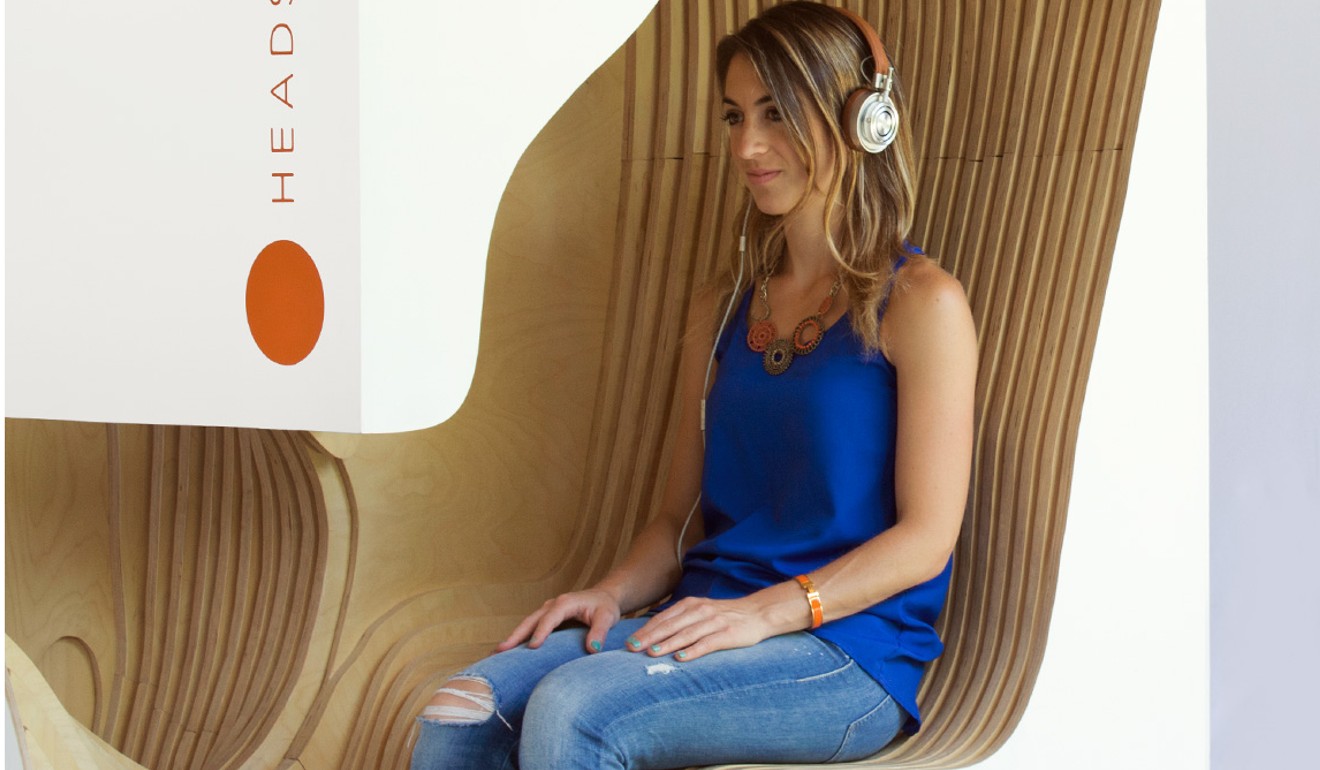 Another US-based company, Headspace, which started out creating an app designed to make meditation accessible, is taking a different approach to meditation pods.
It has teamed up with a Los Angeles-based architecture studio, Oyler Wu Collaborative, to create a meditation pod, featuring machine-cut wood interiors that look similar to natural geological formations.
Users can access Headspace's library of meditations via a touch screen inside the pod.
While the pods can be used in the home, the company hopes to see them on street corners.
"We hope Headspacers will use them like Superman uses phone booths," says co-founder Rich Pierson.
SENSIKS and its 'teleporting' Sensory Reality pod
The Netherlands-based SENSIKS start-up is also targeting relaxation and stress relief with is Sensory Reality (SR) pod.
Users step inside the phone-booth-sized contraption, strap on a virtual reality headset and choose your own experience.
During a 360-degree video, users may be brushed by warm or cool breezes, smell scents from a forest, the sea, or whatever takes your fancy – even chocolate.
It is also an opportunity for people to tick something off their bucket list – walking with elephants on an African savannah, perhaps?
The company's team of youthful entrepreneurs, which have funded the project by themselves so far, intend their pods to be primarily workplace installations, but Fred Galstaun, the chief experience officer, says "we are working on accessible solutions for home usage".
So far more than 25 of the pods have been sold, he says.
"We developed SENSIKS together with Netherlands Organisation For Applied Scientific Research neuroscientists and neurobiologists and multi-sensory experts.
"When done in the proper way, multisensory experiences can bring your brain into experience modus.
"This allows people to be 'teleported' to another location, helping them to release stress and escape the daily routine for a while. We call this brain effect Sensory Reality."