In Partnership With
Cartier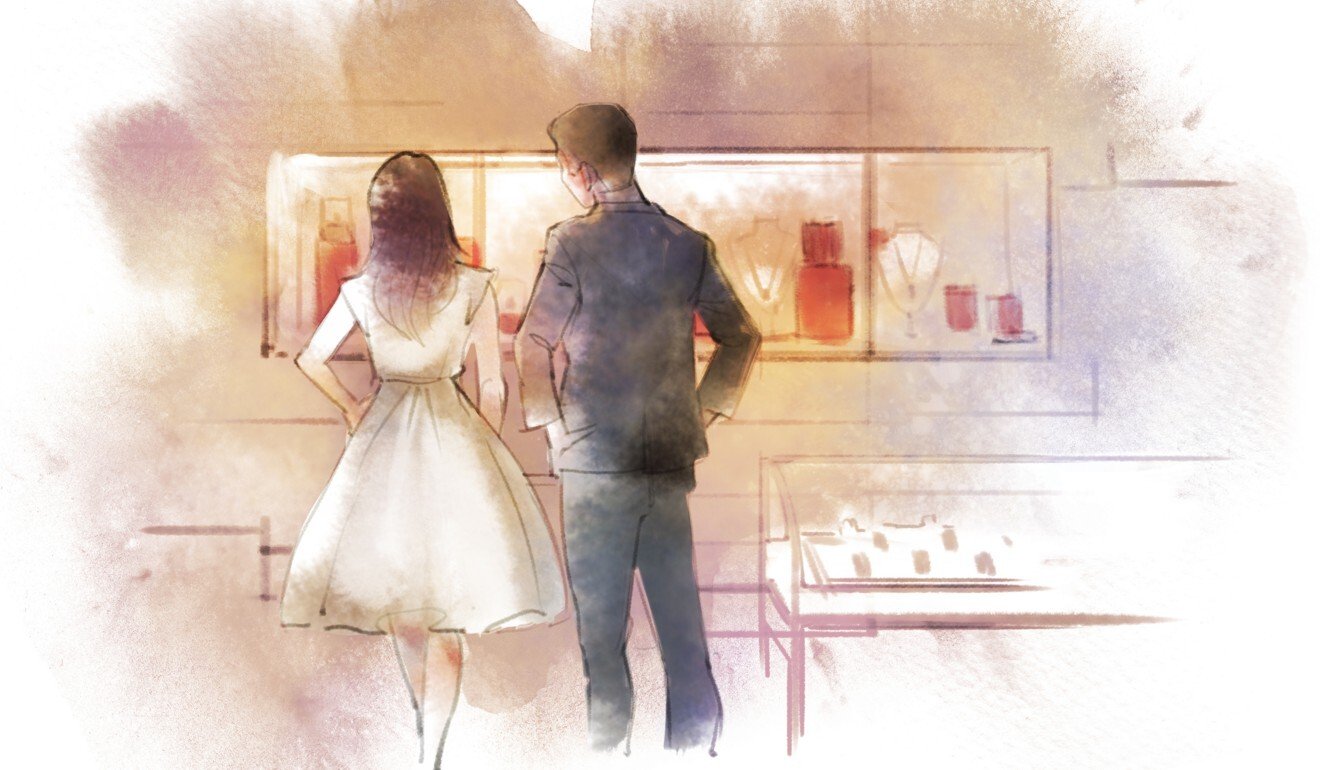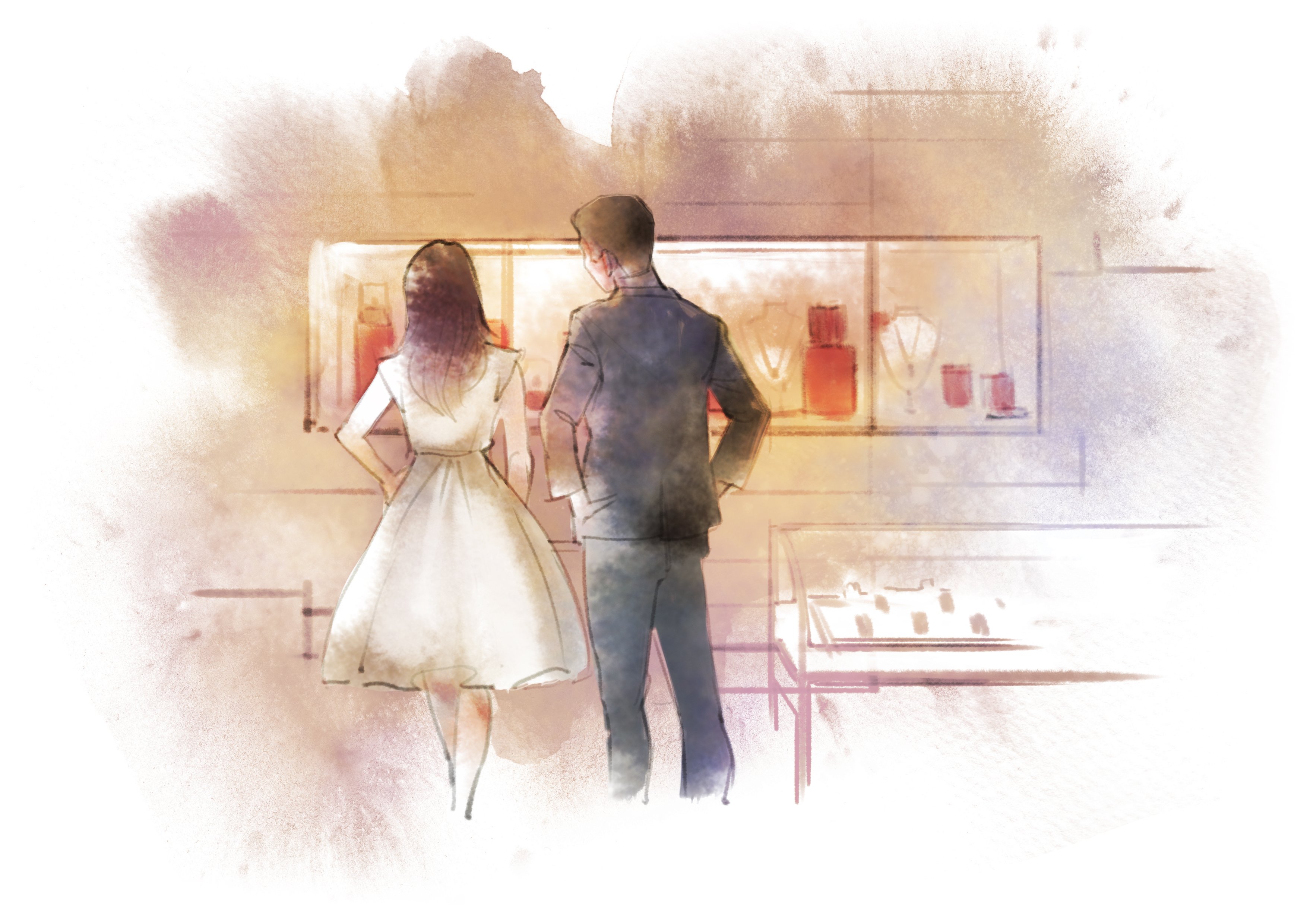 How to choose perfect engagement ring for the bride-to-be
In Partnership With
Cartier
Diamond cuts, carats and gemstone settings – Johnny gets insights from future wife's best friend, Samantha
Many budding brides spend time admiring jewellers' designs, so it's vital to pick rings that match her character
Johnny, who runs his own architectural practice in Hong Kong, and Meaghan, vice-president of marketing at a global fashion house in Singapore, have been in a long-distance relationship for five years.
It's time for him to ask Meaghan the all-important question – and he is confident he will receive the right answer.
He has already planned the timing, the setting and the words. But he has hit a snag when it comes to the centrepiece of the occasion: the ring.
It will be the most important piece of jewellery Meaghan will own in her life – and there is no margin for error.
Yet like many men, Johnny does not really know what women want when it comes to jewellery.
He appreciates that Meaghan is a fashionable lady – and he loves the way she looks – but he has no clue when it comes to gemstones and accessories.
So where can a prospective groom go for help? The bride-to-be's best friend, of course.
Samantha knows Meaghan's personal taste but, equally importantly, she knows diamonds.
In her career, Samantha has been a diamond trader and also a retail consultant at a high-end international jewellery house.
What this consummate professional doesn't know about diamonds is not worth knowing. And she is happy to come to Johnny's rescue.
The two are strolling down Queen's Road Central, peering at the window displays of jewellery as they pass and pause at the Landmark, home to high fashion, luxury goods and prestigious jewellery.
Johnny: I don't know what I'd do without you, Samantha. I'm completely at a loss when it comes to this. I am sure any luxury jewellery shop would have an in-house expert for me to consult, but this is not just about a ring – it's about the perfect ring for Meaghan.
And you know her better than anyone else.
Samantha: That's true. The basics are not hard to find online, but it's not just about the gem, but the woman who will be saying "yes" to it. It has to "speak" to her.
You probably didn't know: women discuss their ideal engagement ring all the time among friends.
Johnny: You are right, I had no idea. Men certainly do not talk about diamond rings when hanging out together!
Samantha: And I have certainly seen Meaghan admire engagement rings which highlight a single diamond. I think that would be how she would want her engagement ring. I personally consider the beautiful simplicity of an unadorned brilliant-cut solitaire in a class of its own.
Johnny: Since diamonds are your career, I guess this question is best answered by you. How big do you think the diamond should be?
Samantha: Jewellers express this in weight, by carats. The one-carat solitaire is a traditional choice, but that's not really the point. Each diamond, no matter its carat weight, has its own characteristics which determine its brilliance.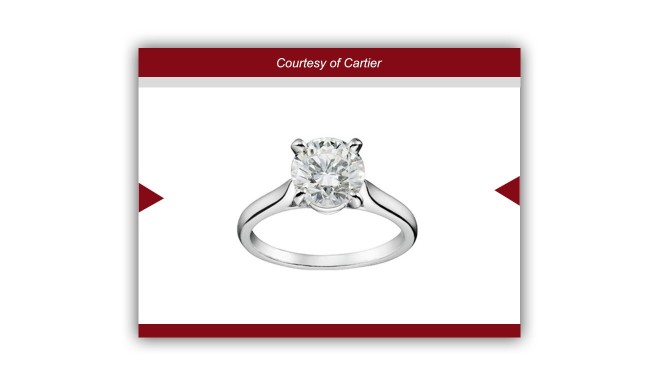 Johnny: I do like the look of the single stone. It kind of underlines the message, you know, that she's the only one for me.
Samantha: I never realised you were so sentimental. They do look marvellous, don't they? The four-claw, or four-prong, setting is recommended for the solitaire as it firmly and stylishly secures the stone.
The diamond is rested in a delicate metal belt above the bridge to create a gallery beneath it, allowing the light through and maximising the brilliance. It's a simple style, but so elegant.
The claws should be equally spaced and as unobtrusive as possible. Nevertheless, they hold the stone very securely and they are crafted to be smooth and round, so as to be soft to the touch and gentle on clothing.
Johnny: Is that the only choice for setting a single diamond?
Samantha: If you want an alternative to the four-claw setting, you should consider the halo setting.
Johnny: That sounds angelic – but you have lost me there. Educate me, please.
Samantha: The largest stone takes centre stage, but it is surrounded by smaller diamonds. The pavé diamonds can extend along the shoulder of the ring.
Yet let me pause for a second. Do you know what I mean by pavé?
Johnny: Is it a lot of small diamonds covering the surface?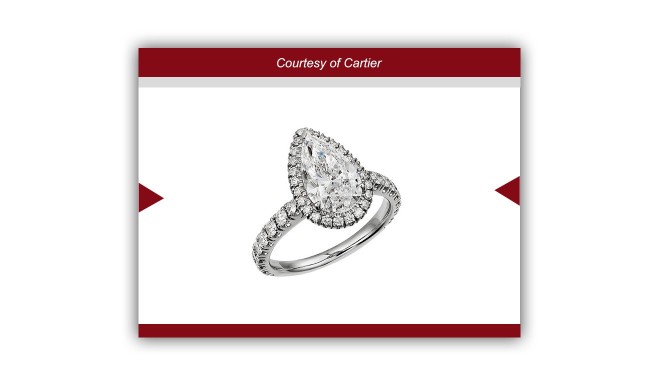 Samantha: Broadly, yes. The small diamonds are set closely together and the metal beads that hold them in place are very hard to see, so the metal is effectively paved with the gemstones.
The gemsetter of a fine jeweller would know how to round each bead to make it soft and shine to create a "mirror effect" to highlight the diamond's brilliance.
Johnny: I love the sound of that. It sounds delicate and elegant, just like Meaghan. Does it work with any diamond shape?
Samantha: Very much so. Why did you ask? Are you thinking of other cuts?
Johnny: I'd like the choice. Even if I decide on a round diamond, at least I'd like to explore the possibilities.
Samantha: It's a long list. Look in this jeweller's window. There is the princess-cut square diamond, and this similar shape but with the corners cut off – that's the radiant cut … I hope you are still with me.
Johnny: Yes, I am. It's more interesting than I expected it to be.
Samantha: That's good! Then look here … there's the emerald-cut rectangle, the oval, the pear – or what some call "teardrop" – and the marquise, even heart-shaped.
I personally quite like the cushion cut, which was one of the first diamond cuts ever invented. It's making a comeback because of its vintage feel.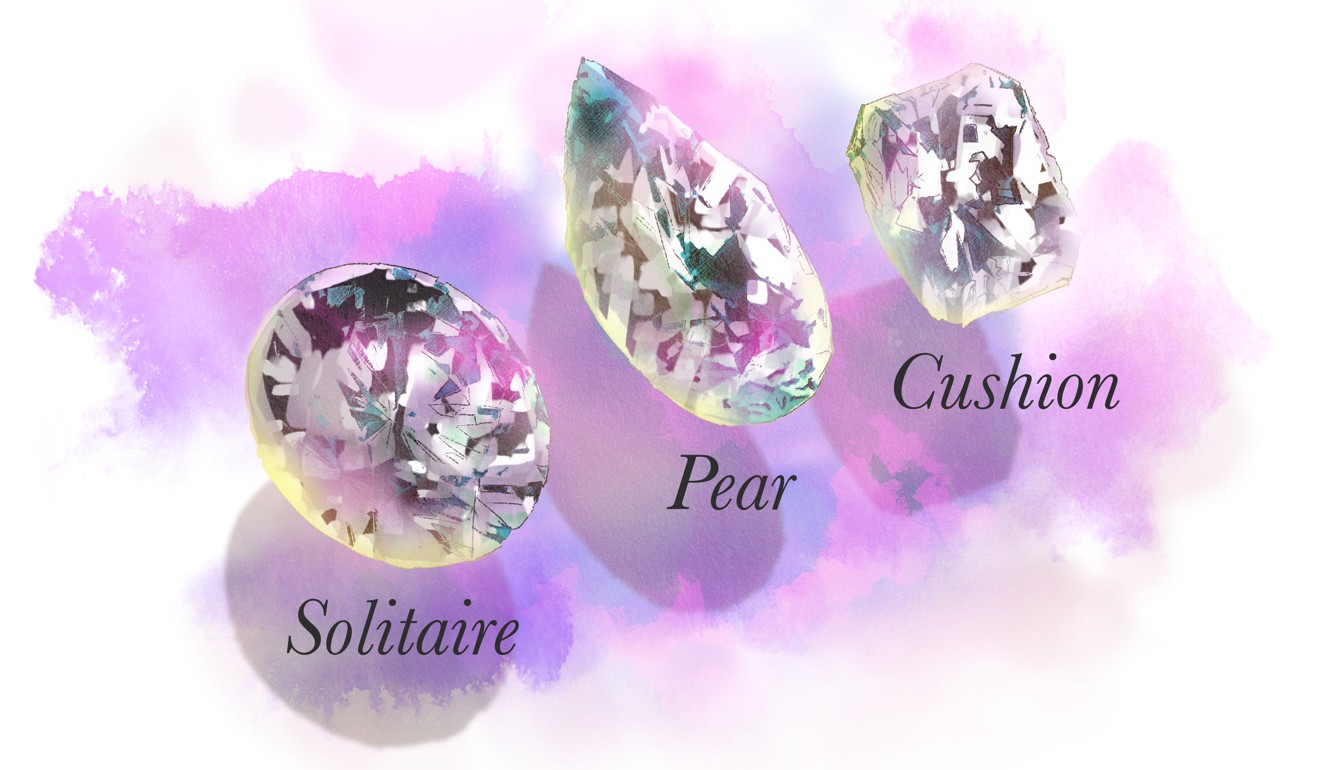 Johnny: They're all amazing. Who would have thought a guy like me would enjoy learning about this so much!
Samantha: Well, diamonds are more than just a girl's best friend.
If you do decide to go for another shape, a word of advice: some women like to sometimes wear their engagement ring and wedding band together – we call that "ring stacking". Certain shapes of diamonds don't work with the traditional wedding band.
Johnny: This is getting complicated. What can you do then?
Samantha: One word: customisation. You can have a specially shaped wedding band that matches the outline of the diamond.
Or, you can think ahead and consider a bridal set – basically buying both the engagement ring and wedding band at the same time. The two pieces are designed to perfectly complement one another.
Johnny: Thank you so much, Samantha. I feel so much more confident now about this.
Samantha: I am glad. But here is another question …
Johnny: There is more to this?
Samantha: Oh yes. Do you see her as white gold or yellow gold kind of girl? Or a rose gold?
Johnny: There's rose gold?
Samantha: There sure is.
Johnny: I have noticed that most of her jewellery looks silver.
Samantha: I'm pretty sure it's white gold, if it's set with gems. Platinum, rather than white gold, is the first choice for diamond engagement rings.
It is a really lustrous precious metal, rarer than gold in fact. It keeps its sheen over the years; it's denser than gold and it is very strong and durable.
Some people like to go for a satin or matt finish with the ring, but to me, mirror-polished is preferable as it best reflects the brilliance of the diamond.
Johnny: How can I know if it's really platinum?
Samantha: It's hallmarked, just like gold. It's very pure and hallmarked as 850 – meaning 85 per cent – 900 or 950 in the quality brands.
Johnny: I'd need to see a hallmark. Silver, white gold, platinum – it all looks the same to me.
Samantha: It wouldn't if you saw them side by side. As for colour, think of yellow and rose gold as warm, white gold or platinum as cool. That matters when you're choosing your diamond and its setting.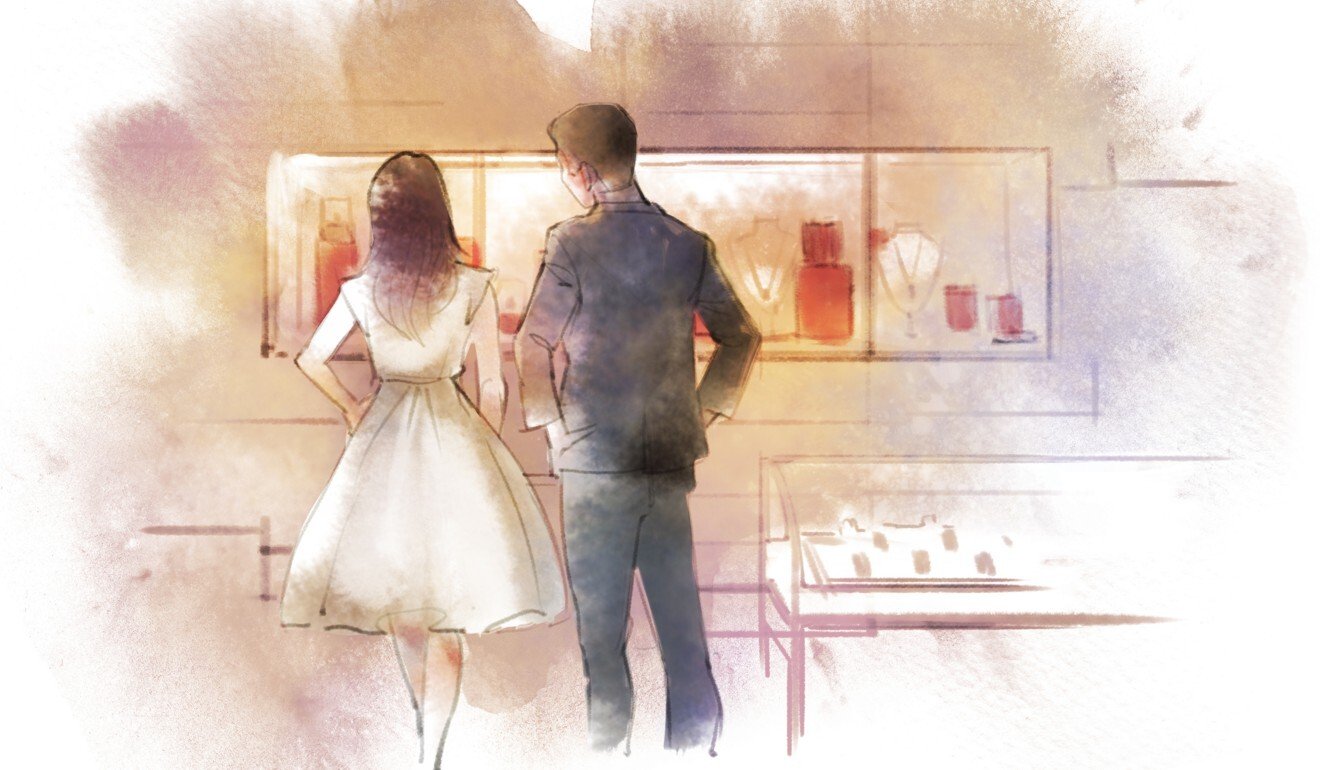 Johnny: Surely it's just a matter of taste.
Samantha: No, no. The colour of the metal can have a subtle effect on your diamond. A diamond reflects from its many facets and that means it picks up the colour of the metal.
Johnny: But the best diamonds are all colourless, no?
Samantha: Yes and no. In my industry, we go with a grading system set by the Gemological Institute of America. It's based on the 4Cs – meaning "carat", "colour", "clarity" and "cut".
We have covered "carat" and "cut" so it's time to talk about "colour".
A Grade D diamond, which is completely colourless, is extremely rare, but the fact is, some of the best diamonds have slight colours of their own. I would suggest having your jeweller look very closely at the diamond of your choice to ensure the metal will be the best match.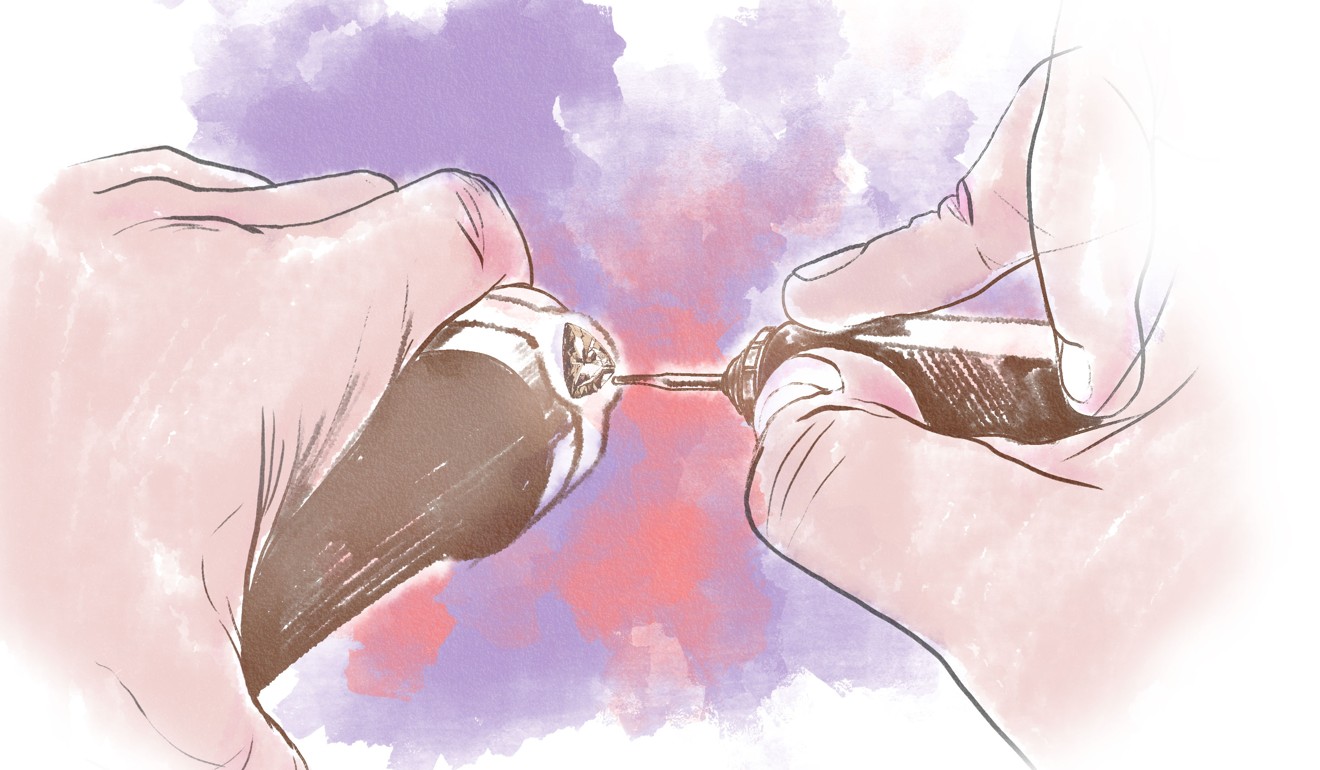 If the diamond you choose is colourless or near colourless – which are between Grades D to H – the shine of platinum or white gold will be reflected, giving a wonderful sparkle.
Johnny: I'm so glad you're helping me. I'd have no idea of these things.
Samantha: Have you thought about the band profile?
Johnny: I would not know what "band profile" is even if you hit me in the head with it.
Samantha: I'm trying to dazzle you with jeweller-speak. It's the shape, basically. It's something you might not think about, but it really matters to the look of the ring. Or rings, I should say, since it applies to the wedding band as well.
You may choose a flat band, or a domed band. You should look at the width of the wedding band, too, in relation to the engagement ring you choose.
There is the straight style, where the band is the same width all around, or the style where it tapers as it meets the centrepiece, even knife-edge, where the tapering is very sharp.
Johnny: I'm more clued in now than when we started this conversation.
Samantha: Now, Meaghan, being in the industry she is in, might actually appreciate having other precious gems on the ring to complement the diamond with some colour. It is increasingly common among jewellery buyers.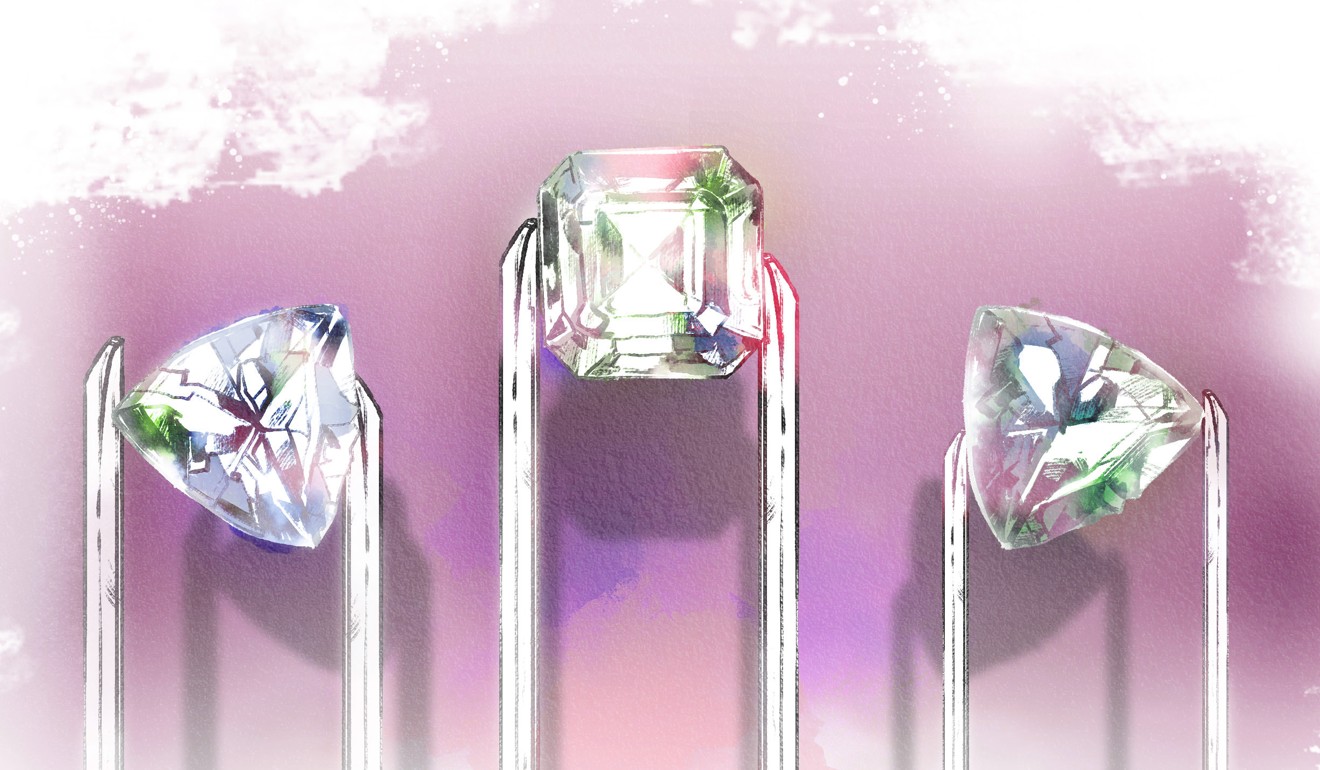 Johnny: Hit me with it. I need this ring to really dazzle her. What should I be looking at?
Samantha: Basically, you have rubies for red, emeralds for green and sapphires for blue. These three are the most sought after and really open up a world of possibilities for the ring design.
Johnny: That sounds like a whole new conversation … but I am really glad to have had this one with you.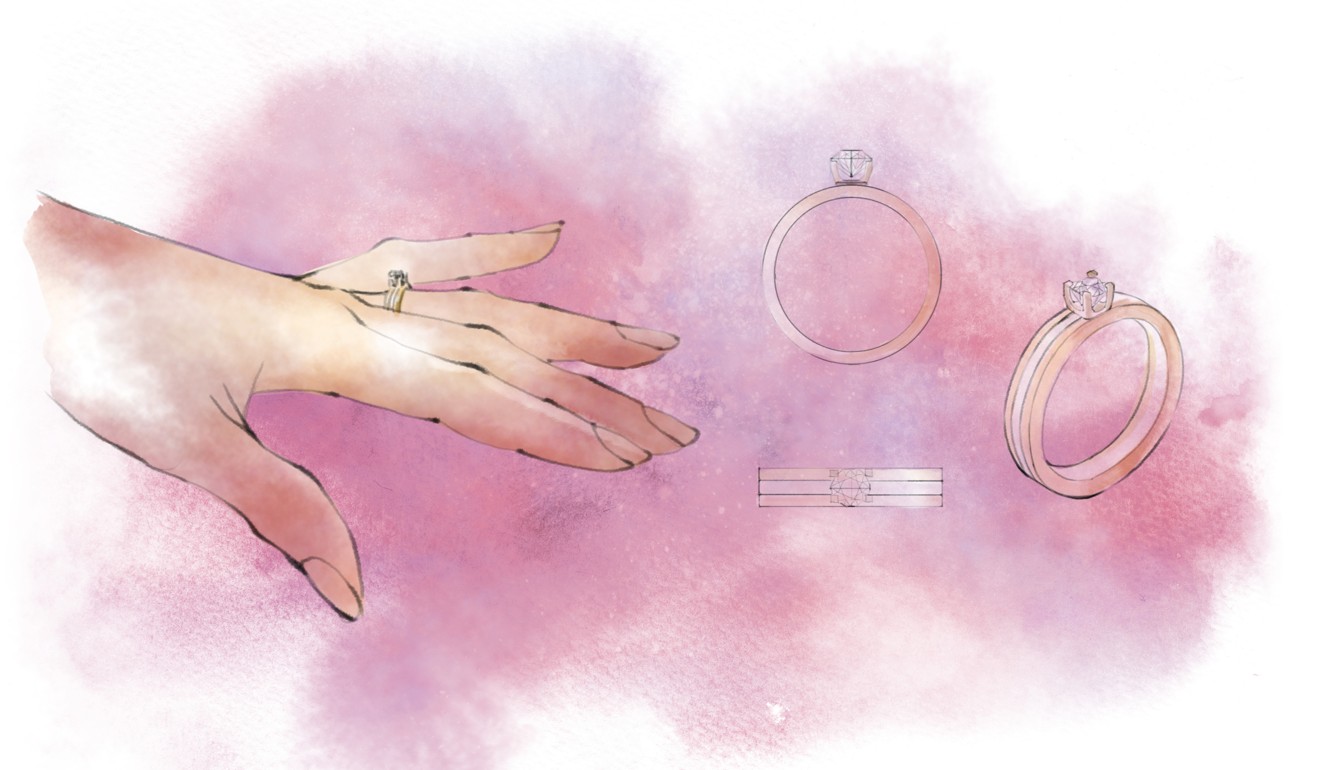 Samantha: Honestly, I'm convinced that you will look at dozens – even hundreds – of rings, then suddenly one ring will stand out, and you'll say, "This is it! This is Meaghan's ring".
Just take your time, look at the rings and let the magic happen.
This story is part of a series sponsored by Cartier, whose "Set for You" bespoke service features a choice of 17 mountings in platinum or yellow gold, and diamonds of 0.18 to 2.99 carats for creating the perfect ring.
Yes, the story is fictional, but it could happen to you!