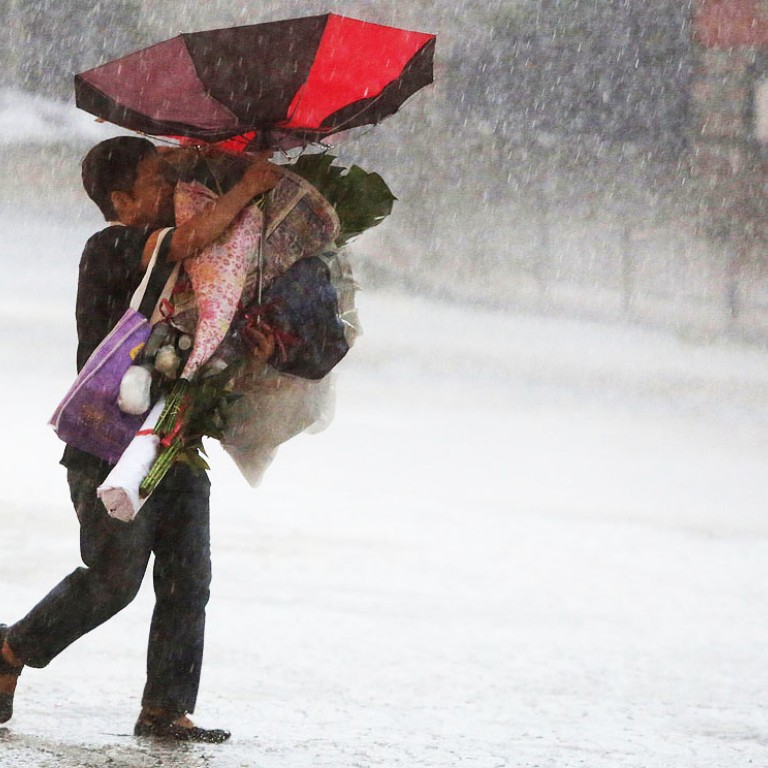 Developing
T8 signal lowered as Typhoon Kalmaegi makes landfall in China; gales to continue
Hong Kong woke this morning to the first T8 signal of the year, which closed schools, halted ferry services and led to cancelled flights.
Hong Kong woke this morning to the first T8 signal of the year, which closed schools, suspended trading and led to dozens of flight cancellations.
Gusts of up to 166km/h were recorded by Hong Kong Observatory overnight as Typhoon Kalmaegi barrelled past on its way towards Guangdong and Hainan Island.
A total of 39 flights in and out of Hong Kong Airport had been cancelled and more than 500 delayed as of 6am.
Trading was suspended for the morning session.
The T8 signal was lowered at 10.40am and replaced with the T3.
The government said it had received 44 reports of fallen trees, while the Drainage Service Department received four reports of flooding, in Eastern District, Kwun Tong, North District and Islands District.
The MTR was running limited frequency rail services on its lines, with train running every 10 to 20 minutes.
Classes were suspended at schools for the morning.
Eleven men and six women had sought hospital treatment for typhoon-related injuries, the Hospital Authority said.
The Observatory raised the T8 tropical cyclone signal at 10.30pm, after a day that began with a very hot weather warning quickly deteriorated as the fast-moving storm neared Hong Kong.
At 11 am Typhoon Kalmaegi was estimated to be about 430 kilometres southwest of Hong Kong and is forecast to move west-northwest at about 30 kilometres per hour towards Beibu Wan.," the Observatory said.
"Kalmaegi has made landfall over Wenchang, Hainan Island, and will continue to move further away from Hong Kong. Its associated squally showers will still affect Hong Kong intermittently. Although Kalmaegi is moving away, occasional gales will still affect the southwestern part and high ground of Hong Kong at first. Members of the public should remain on the alert.
"In the past hour, the maximum sustained winds recorded at Cheung Chau Beach, Ngong Ping and Kai Tak were 75, 93 and 50 kilometres per hour with maximum gusts 92, 158 and 84 kilometres per hour respectively."
China's National Meteorological Centre said Kalmaegi, landed in the northeastern Hainan Island at city Wechang at around 9.40am.
Moving west-northwest at 30km per hour, the typhoon is estimated to hit Leizhou Penninsula in Guangdong province within several hours.
First Ferry last night halted ferry services before midnight, with the last boats sailing from Central to Cheung Chau and Mui Wo at 11.45pm and 11.30pm respectively.
Earlier on Monday the city's education department suspended classes in kindergartens and special schools.
Red flags were raised at beaches across the territory, warning people not to swim as seas became rougher, while the Marine Department urged boat owners to take precautions to secure their vessels.
"The circulation of Kalmaegi is quite big and it is edging closer to the south China coast,"Observatory senior scientific officer Sandy Song Man-kuen said last night.
Southern China was bracing for the worst, with Kalmaegi expected to make landfall in Guangdong soon.
Locals are still reeling from Typhoon Rammasun in July, the worst tropical storm to hit southern China in 41 years. The super typhoon killed 62 people and destroyed swathes of land.
The intensity of Kalmaegi is being compared to Rammasun, with the provincial governments of Guangdong and Hainan issuing top-level emergency response alerts.
Chen Yihu, village chief of Beigang on Beigang Island near Hainan provincial capital Haikou, said preparations were being taken to a new level after the province was badly struck by Rammasun two months ago.
"We are really worried about seawater overflowing - and very likely, it will," Chen said. "If this typhoon is as bad as Rammasun, it will be deadly disastrous."
Schools in Zhanjiang and Maoming in Guangdong and Haikou in Hainan are expected to be suspended for one to two days from today, local authorities say.
Philippine forecasters said Typhoon Kalmaegi, with gusts of 160km/h, blew into the boundary of Cagayan and Isabela provinces on Sunday.
The storm has been blamed for enhancing monsoon winds that whipped up big waves and caused a stalled ferry to sink in the central Philippines late on Saturday. Cargo and passenger ships plucked at least 110 survivors from the rough waters and recovered three bodies after the ferry sank.
Such storm surges – referring to tsunami-like walls of water driven inland by wind from the sea – were blamed for many of the nearly 8,000 people left dead or missing when Super Typhoon Haiyan devastated large parts of the country last year.
Even people who had taken refuge in government evacuation centres drowned as the water caught many unaware.
The Philippines is hit by about 20 storms or typhoons each year. Typhoon Rammasun killed 98 people and left five others missing in provinces around Manila in July.
Watch: How typhoons are predicted in Hong Kong