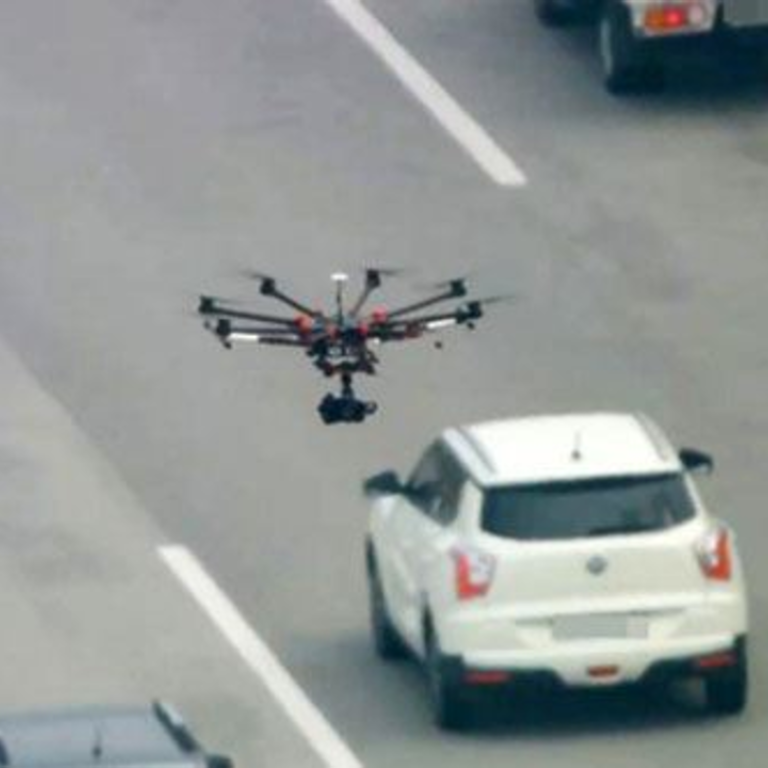 South Korean drone traffic police in action
More then 100 traffic offenders were caught on the first day of deployment
By Kang Aa-young
If you feel tempted to cut in ahead of a long queue of cars on a South Korean motorway after making sure there are no policemen or surveillance cameras, don't. There may be traffic officers overhead — drones hovering to film whatever violation you are about to do.
South Jeolla Province police put the traffic monitoring drones to use on the 103km route from Gwangju to Nonsan. The five drones reinforced the job of monitoring the traffic and catching violators. They were part of an operation that included a helicopter, five patrol cars and 40 officers.
What was observed from the drones was transferred live to an operator at the Korea Highway Corp. regional monitoring centre. Sitting next to the operator was a police officer who checked whether any traffic violation took place. The drone monitoring was focused on illegal driving on the shoulder, parking violations and using designated lanes.
Once violators were detected, patrols about three kilometres ahead were notified and caught the offenders. On Monday alone, about 113 offenders were caught thanks to the drone traffic police.
However, some people are unhappy about the drones, which measure about one metre across.
"It is an extremely dangerous idea," said Oh Seung-hwan, a professor at Kyungsung University in Busan, adding that the drones should be kept away from roads.
"The drones shouldn't be used to spot illegal activities, but rather be used to save people's lives" a commenter wrote on a drone community site.