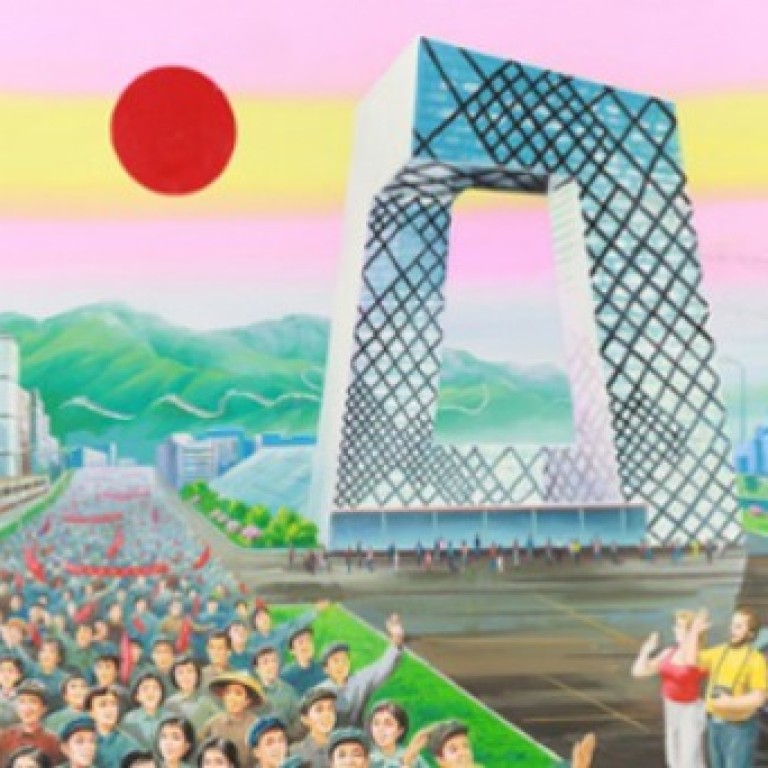 North Korean painters add 1970s twist to Chinese propaganda posters
Under the rose-tinted skies in Beijing marches a festive group. The seemingly endless procession marches past skyscrapers, factories, the famous twisted loop of the China Central Television (CCTV) headquarters, waving to two foreign tourists standing to the side. Everything looks as it should be in this Communist Party propaganda poster, except for the 1970s-style style and the heavy polluting factories in the corner of the picture.
However this poster was not produced by the Chinese government, but rather made in North Korea – China's closest ally in Asia – and there are seven more like it.
reported last Thursday that a team of propaganda painters in Pyongyang had created an optimism-themed series called . The series is based on sketches by two long-term Beijing-based British ex-pats – independent designer Nick Bonner of Koryo Studio, and Dominic Johnson-Hill of Plastered 8, a famous boutique store selling 1970s-fashioned décor and clothing in Beijing.
In series, North Korean painters thrust China's contemporary life into the aesthetic landscape of early Communist propaganda. They place icons of Beijing's modern skyline in the middle of golden farmlands, paint Red Guards singing in gaudy karaoke parlours, put pollution-intensive factories under clear rosy skies, and incorporate red flags and banners. People in the paintings either dress in the green army uniform, Mao suits or plain 1970s-style clothes.
"Don't you think this is sarcastic, seeing people from the '80s living in today's Beijing?" a reader commented on Tencent News, which reposted the paintings over the weekend.
"The most realistic thing in all these paintings is the heavy smoke from factories," another commenter added.
While the majority of comments on Chinese social media criticised the narcissism conveyed by the Kim Jong-un regime and showed little love for the paintings, some did find them refreshing.
"Really miss those days when things were simple and easy," a commenter posted on Tencent News, receiving 100,000 likes.
Another comment on Netease's 163.com said: "Based on the North Korean artists' impressions, buildings in China are modern but the people still live in the '70s and '80s. Nevertheless, this innovation is a breath of fresh air."
The series was on display from September 21 to October 3 in the capital as part of Beijing Design Week. According to Koryo Studio, the series "wanted to portray a place lost in time, uniting a challenging past, a dynamic present and an imagined future where all is bright and beautiful".
"The artists are in a situation where they are painting things they've never seen before," Bonner told , "which gives the images an even more unreal, dreamlike quality."