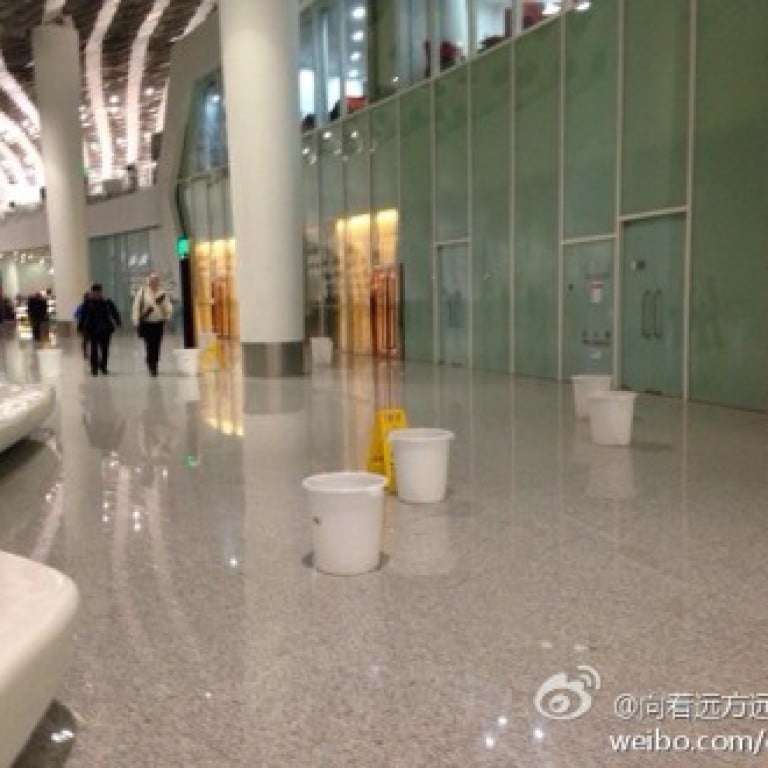 New

|
New Shenzhen Airport terminal suffering water leaks
The futuristic new Shenzhen Bao'an airport terminal 3, open for less than a month, has already hit turbulence. Water leaks have sprung up at several places in the new terminal after recent heavy rains.
Unhappy travellers took to China's social media platform to complain on Sunday night, blaming the thousands of hexagonal skylight windows on the ceiling of the departure lounge. They said they not only brought in sunshine, but also the rain.
"What is this 'honeycomb' for? Thank God it's not the typhoon season. Hours of raining have already created quite a few leaks," a passenger from Shenzhen posted on Monday morning.
The Italian design company Studio Fuksas in Shenzhen told the that there were leaking problems during the testing process, but they had solved the problem. A member of staff surnamed Zhou, who works at the Shenzhen studio, claimed that they hadn't received any complaints from the airport.
Local Hong Kong newspaper reported that leaking also happened at the parking lot and bus terminals. The heavy rain and the poor working environment have caused trouble, including strikes, at the air cargo department, which led to delays since Sunday night.
Neither the airport nor Shenzhen Airline responded to requests for interview from the .
According to the Meteorological Bureau of Shenzhen municipality, heavy rain will continue until later on Tuesday night.