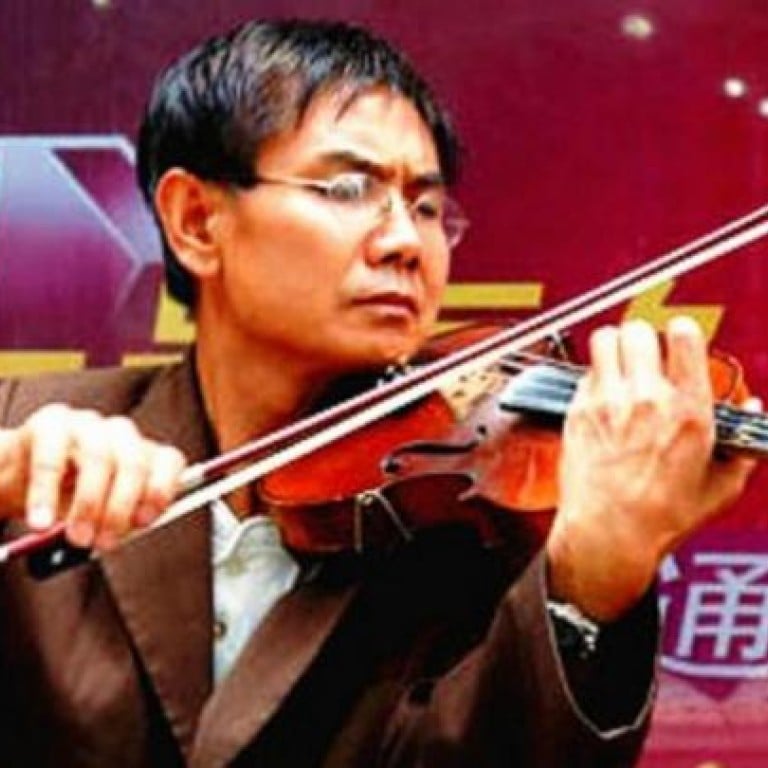 Teacher garners public sympathy after writing 'seditious' essays
Chen Pingfu was left penniless after suffering a heart attack. His essays on how officials treat the poor led to charges - and public sympathy
If not for his heart attack in 2005, Chen Pingfu would still be a maths teacher, leading an ordinary life in Lanzhou, Gansu province.
That misfortune was followed by several more. Having no medical insurance from the state or his college, the 55-year-old fell into debt paying for his operation. Then he lost his job when his state factory-affiliated college closed in 2008.
Without an income, he turned to playing violin on the street for money - an act regarded as begging on the mainland. Police and officials would rough him up. But the experience opened Chen's eyes to how people at the bottom of society are often abused.
Furious over the humiliation, Chen turned to writing essays criticising the government for mistreating the poor and exacerbating their plight. He would post them online and soon he had written hundreds.
On Tuesday last week, he went on trial at the Lanzhou Intermediate People's Court for "inciting subversion of state sovereignty", he said in an interview. The charge carries a maximum jail term of 15 years.
"I wrote those essays because I wanted people to be informed so they can see what's good and evil," he said. "I asked the prosecutor: Dr Sun Yat-sen overthrew the Qing imperial court and Mao Zedong subverted Chiang Kai-shek's regime - can you say they were guilty of subversion? He was silent."
An employee at the Lanzhou court said on Friday he had no knowledge of Chen's case.
The court did not announce a verdict after the one-day trial. Chen wasn't sent to jail, likely due to his heart condition, but instead back home for "residential surveillance" - a form of detention he has undergone since June. "I told them that convicting me would be a violation of the constitution and amount to trampling of human rights," he said. Freedom of expression is supposedly protected under the Chinese constitution.
Beginning in 2007, Chen detailed the rough treatment he and others received from police and officials, posting more than 300 essays on blogs carried by popular websites such as Netease, Baidu and Sina.
He railed at authorities for abusing their power and oppressing ordinary people. He said party education was brainwashing the nation's children.
Chen talked of the deep degradation he felt when police pushed him to the ground, kicked him and threw him in their vans simply because he was busking. In one of his essays, he wrote: "How could I live with dignity, and not live like a pig? I have thoughts, expressions and ideals. I'm alive so I want to do meaningful things, not kowtowing or petitioning or self-immolating."
He accused the government of making life impossible for those who were working hard to simply survive. When he found a job at a private school in Yunnan province, police barred him from leaving Lanzhou to take up his post, he said.
"Not only are the authorities not helping me, they are stopping me from making a living," Chen said. "I cannot suffer the humiliation in silence, so I have to write it down … to make people realise how hard life is for people at the bottom," he said.
In the court indictment, prosecutors accused him of expressing "seditious views" in his essays. One was titled: "The horn that topples dictators has been sounded" and "Nations that stifle thoughts have no hope".
Chen's ordeal appears to have struck a chord with internet users, many of whom are ordinary people like Chen who post their opinions online. Social media and microblogs last week were awash with messages expressing sympathy for him. An online petition has garnered the support of at least 767 as of yesterday, including many well-known activists and intellectuals.
Ai Xiaoming, a Zhongshan University professor who helped initiate the signature campaign, said Chen's ordeal resonated with people - here was a powerless person who could not afford his medical bills, who tried to make ends meet by working hard but was oppressed by officials. He tried to make his voice heard but was accused of subversion.
She said Chen's ordeal worried many because they too fear the same fate could happen to them some day. "The internet is full of people like him."
This article appeared in the South China Morning Post print edition as: From teacher to enemy of the state