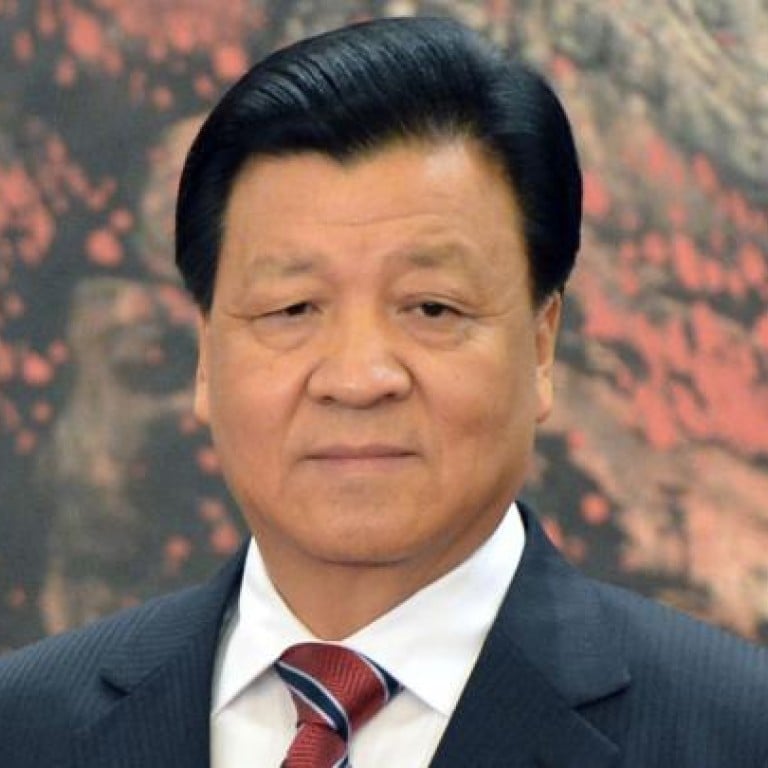 Elevation of Liu Yunshan heightens censorship fears
With the mainland's top censor now on the Politburo Standing Committee, activists and journalists worry over media freedom
The elevation of top censor Liu Yunshan to the powerful Politburo Standing Committee this week worries some mainland journalists and activists who fear a tougher line on media and internet freedom, though analysts say the situation will depend on the direction set by the new party chief, Xi Jinping.
Liu, the Communist Party's propaganda chief for the past decade, has a reputation as a conservative who comes down hard on dissent.
Many blame Liu and his former boss Li Changchun, who was in charge of censorship and ideology on the last Politburo Standing Committee, for the draconian control of the media and internet during the past 10 years.
Journalists and editors on the mainland dread receiving orders from the party's central propaganda department that censor stories exposing officials' wrongdoings. Many believe freedom of speech on the mainland regressed during the 10-year reign of Xi's predecessor, Hu Jintao.
China ranked 174th in Reporters without Borders' press freedom index in 2011-2012, ahead of only Iran, Syria, Turkmenistan, North Korea and Eritrea. It ranked 163rd in 2007.
Some now fear that Liu's elevation, and a new Politburo Standing Committee dominated by hardliners, signal an even harsher environment for media and free speech.
Cheng Yizhong , the former chief editor of the outspoken , said that with Liu in charge, "the control on ideology will only get tougher. Most people on the Politburo Standing Committee are either left [the conservative side in mainland politics] or mediocre."
Cheng was detained for five months in 2004 on trumped-up charges of corruption after the paper published daring reports exposing government flaws.
Another media veteran, recently detained by police on subversion charges, was also pessimistic, saying signs of openness were nowhere to be seen in the official domain.
"You never see words like freedom or political reform in official documents or interviews," he said. "In the wrestling of strength, conservatives have basically won." Even if Xi and the premier-in-waiting, Li Keqiang, have reform ideas, "the effect will be cancelled out by these people," he said.
But others veteran observers say Liu has a reputation as a faithful enforcer of superiors' orders and may behave differently under a different boss.
Chen Ziming, a Beijing-based independent political commentator, said: "He is not someone who doggedly believes in Marxism and Leninism - he is a bureaucrat. He won't have a direct hand in the control of ideology any more and he would be glad to be out of it."
Chen expects Liu will take over the party Central Committee secretariat, in charge of not only the propaganda department but also the party school and other party apparatus.
Chen believes Xi, as the party's new leader, would have his own ideas about reforms, including ideology and press freedom issues. But while he is establishing his own clout in the first couple of years of his reign, he would have to move very slowly, Chen said: "It is a complex process of negotiation."
Reformist party veteran Du Daozheng , a former censor as chief of the General Administration of Press and Publications in the politically liberal 1980s, agreed that Liu's actions would depend on his new boss, Xi, more than anything else.
"If Xi Jinping advocates more democracy, more rule of law and [ideology] can loosen a bit, people like Liu can change from one position to another quickly," Du said.
Du, a former senior editor at the Xinhua news agency, was Liu's boss in the 1970s when Liu was a reporter in Inner Mongolia . He said Liu became conservative after entering the party's propaganda department.
"Liu himself is not a bad person. I have known him for years. He is a boy from the countryside, worked hard at school," Du said. "Later, he went to the central propaganda department and basically followed that tune."
Du said his hopes for the country rested on ordinary people, who were increasingly exploiting the internet and social media to get their voices heard, despite hardening government restrictions on traditional media and cyberspace.
This article appeared in the South China Morning Post print edition as: Rise of Liu raises censorship fears