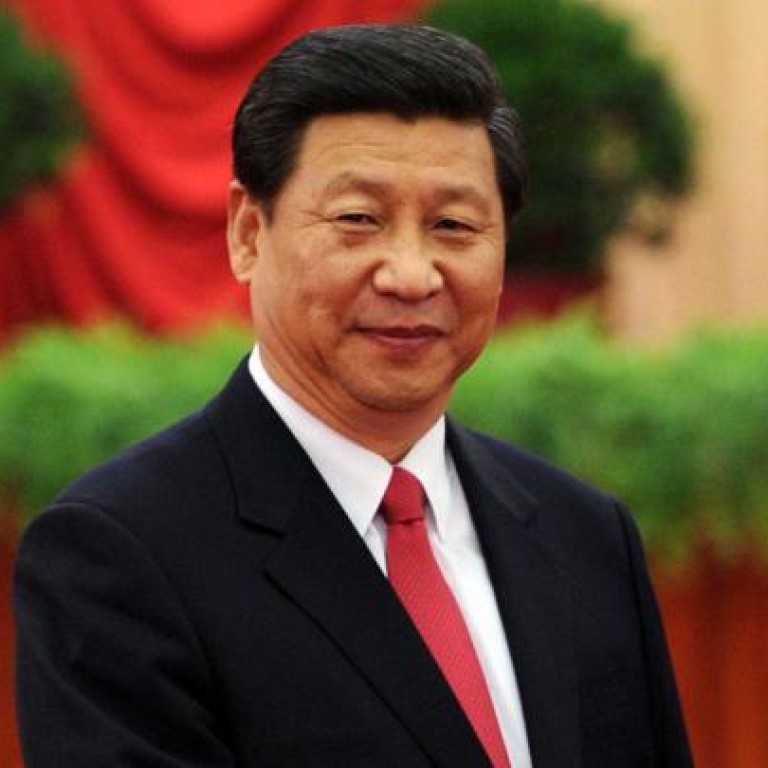 Xi Jinping pledges renewal of the nation
In 10-minute speech president-in-waiting calls for political pragmatism and an end to 'empty talk' as he consolidates his hold on power
Two weeks after being installed as general secretary of the Communist Party, Xi Jinping took another step forward as the new paramount leader yesterday by making his second high-profile public speech.
In the nationally televised speech, carried by state broadcaster China Central Television's prime-time news last night, the president-in-waiting appealed to the nation and its people to unite under the party's new leadership and achieve what he called "China's renaissance".
"We are at the closest point towards the Chinese nation's renaissance than any time in modern history … and I am sure we will accomplish our goal," Xi, 59, said as the other six members of the party's supreme Politburo Standing Committee and members of the party's secretariat, its nerve centre, stood by his side.
The speech lasted for more than 10 minutes.
Xi made his first public speech a fortnight ago after he was installed as head of the world's largest political party. It was notable for lacking the strong regional accents, jargon and ideology often employed by his predecessors.
Last Friday, Xi promoted the commander of the People's Liberation Army's strategic missile force, Wei Fenghe , to full general - the first officer formally elevated to the highest rank by Xi in his capacity as military chief.
In yesterday's speech, Xi called for political pragmatism and an effort to prevent ideological debate within the ruling hierarchy that might divide the party.
"Empty talk is useless; only hard work can achieve the revival of a nation," Xi said. He made the speech after visiting an exhibition entitled "China's Road to Renaissance" at a Beijing museum with the other Politburo Standing Committee members.
Analysts said Xi's high-profile activities suggested he was moving quickly to consolidate his hold on power in preparation for taking over from Hu Jintao .
"He appears to be strong and assertive due to his strong political resources as a son of a revolutionary and his swift action indicates that he has moved faster to consolidate his power," said Zhang Lifan , a political affairs analyst formerly with Chinese Academy of Social Sciences.
Analysts agreed that the new party leadership faced daunting challenges during the next decade.
"His high-profiled activities also indicated the new leader's desire to gain popularity at a time when the leadership is faced with unprecedented severe challenges," Zhang said.
Many China-watchers hope that Xi, known as a "princeling" because he is the son of a former party leader, will push for bolder reforms in his second five-year term, once he has consolidated his power base.
Xi, looking confident and composed, spoke without a prepared speech, in stark contrast to his predecessors.
He will take over as president in March when Hu retires completely, along with Premier Wen Jiabao and other fourth-generation leaders.
This article appeared in the South China Morning Post print edition as: Xi pledges renewal of the nation