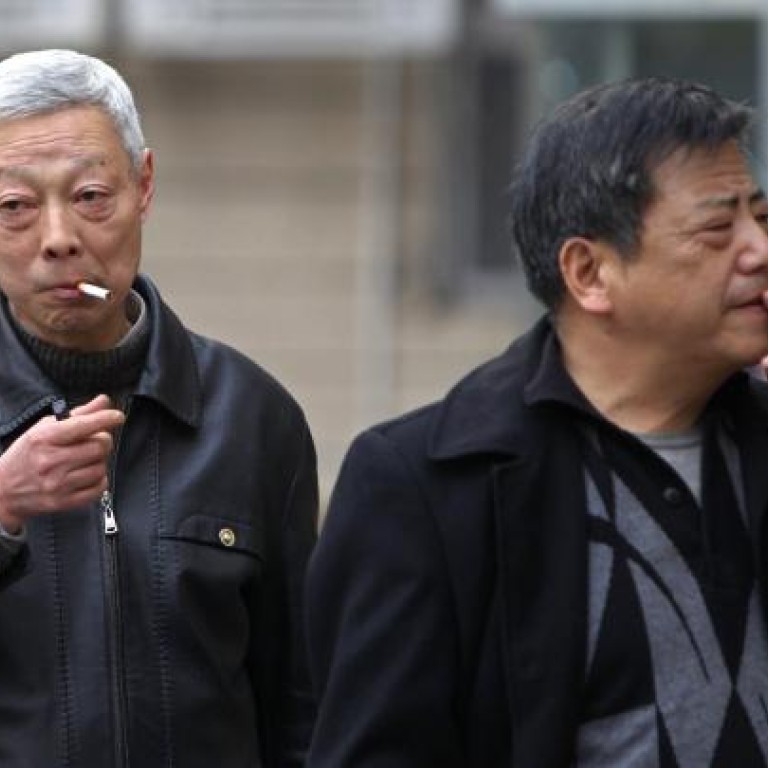 Smoking on increase in Shanghai's 'disaster zones'
Despite the introduction of tobacco controls three years ago, the city's inspectors find that the habit is on the increase in targeted areas
Shanghai saw smoking rates rise in internet bars, entertainment venues and restaurants last year, despite becoming one of the first mainland cities to attempt to restrict the habit in public places.
Officials referred to the three areas as smoking "disaster zones" and admitted the outlook for implementing the restrictions - imposed three years ago - was "not optimistic".
The smoking occurrence rate, in places where inspectors detect smoking within 15 minutes, rose to 54 per cent in internet bars, 46 per cent in entertainment venues and 26 per cent in restaurants.
Only 48 per cent of public venues said they had hired staff to persuade people to give up cigarettes last year, the lowest level in the past three years. Li Guangyao , deputy director of the municipal health enhancement commission, said the rising smoking occurrence rate was partly due to more government inspections.
But he said it could be attributed mainly to a lack of co-operation from business owners, society's poor awareness of the issue and the toothlessness of Shanghai's tobacco control regulation.
He said officials found it difficult to punish perpetrators as the regulations stipulate that officials can only educate them the first time they are caught.
In Shanghai, people caught breaching the regulation for a second time face fines ranging from 50 yuan (HK$62) to 200 yuan while companies face fines from 10,000 to 30,000 yuan.
Inspectors put 192 companies and 101 people under judicial investigation last year and fined them a total of 347,650 yuan, more than the total penalties levied from 2010 to 2011.
Most public places in the city must be smoke-free, including schools, hospitals, sports venues and shopping centres.
But Li said smoking was not banned in parks, where most visitors were the elderly or children, and controls had not been extended to office buildings.
He added: "We are taking stock of the [smoke control] pilot programme in some small parks and we are also lobbying the municipal legislative body to improve clauses in the regulation.
"For example, currently there is no clear requirement for what percentage of seats in big restaurants that should be assigned as non-smoking areas and what devices should be installed in restaurants to keep cigarette smoke from flowing to non-smoking areas."
Shanghai's rules were not as strict as those in other mainland cities, Li said.
"We hope Shanghai can forbid smoking in all indoor places, as required by the World Health Organisation Framework Convention on Tobacco Control," he said. "But right now officials at the municipal People's Congress - the legislative body - haven't reached a consensus yet."
Tang Qiong , another deputy director of the commission, said one of the next steps was to try to make the tobacco control campaign more appealing to the public.
She said: "Two or three years ago … many people would pay attention to the issue. But now they've got tired of our health education. Therefore, we should relate our campaign to public concerns like PM 2.5 (the measure of respirable suspended particles that can cause cancer)."
With some local media present, the commission and Fudan University's public health school conducted a test last week in a closed 20 square metre room and found that smoking a cigarette increased the PM2.5 level as much as fourfold.
Li said Shanghai plans to make 100 government departments and institutions and another 100 enterprises smoke-free environments this year.
On the mainland, small Chinese characters warning that smoking is detrimental to health are printed on the sides of packs.
This article appeared in the South China Morning Post print edition as: Smoking on the increase in Shanghai's 'disaster zones'