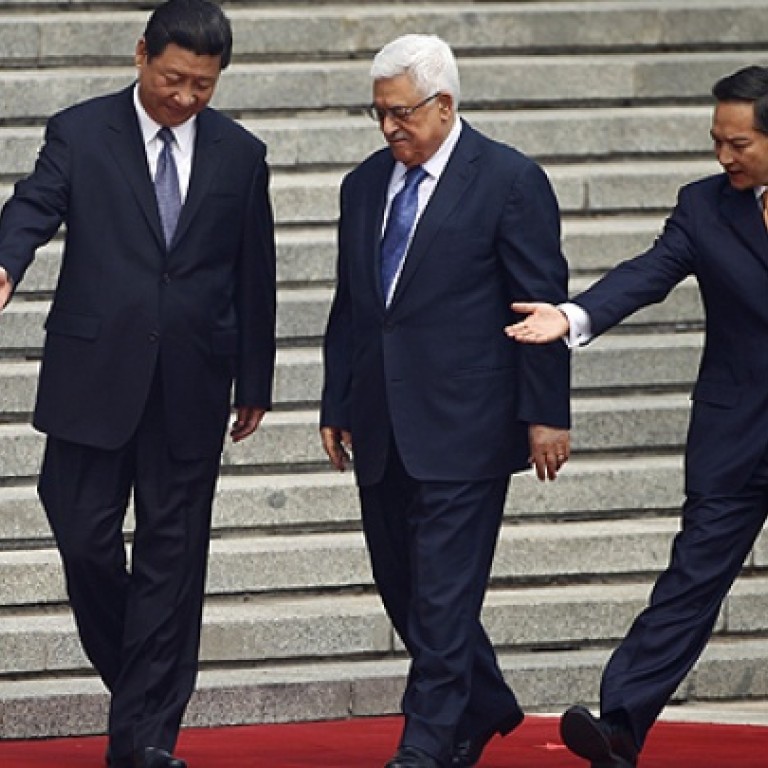 Xi proposes four-point plan to resolve Palestinian issue
Palestinian Authority leader arrives in Beijing as Israeli Prime Minister lands in Shanghai ahead of travelling to capital tomorrow
President Xi Jinping gave visiting Palestinian Authority leader Mahmoud Abbas a full state welcome in Beijing yesterday as Israeli Prime Minister Benjamin Netanyahu made a lowkey landing in Shanghai before flying to Beijing tomorrow to meet Chinese leaders.
Xi made four suggestions on the Palestine-Israel conflict in talks with Abbas, a week after a top Chinese envoy said Beijing would be willing to help broker peace talks. Analysts said it was a clear sign that China wanted to play a bigger role in Middle Eastern affairs as it sought more resources and markets in the region, from which it has traditionally remained distant.
"The arrangement of overlapping visits by the leaders of both Palestine and Israel, even by accident, suggests China's new leaders' increasing interest in Middle East affairs and its willingness to play a bigger role in mediating the long-stalled peace talks," said Professor Xiao Xian, director of Yunnan University's Institute of Western Asian Studies.
Foreign Ministry spokeswoman Hua Chunying said last week that "if the Palestinian and Israeli leaders want to meet each other in China, we will happily provide the necessary assistance." 
Abbas' three-day trip is the first by a Middle Eastern leader since Xi took office in March. He is due to leave Beijing tonight, with Netanyahu due in the capital at about noon tomorrow.
Xi called for an independent Palestinian state and the peaceful co-existence of Palestine and Israel. He also said negotiations were the only way to peace between Palestine and Israel, principles such as "land for peace" should be firmly upheld, and the international community should provide important guarantees of progress in the peace process.
"It is an inalienable right of the people of Palestine to build an independent state, with Jerusalem as the capital and based on the 1967 boundaries, with full sovereignty, which is the key to the settlement of the Palestinian question," Xinhua quoted Xi as saying. Xi added that Israel's right to exist and its legitimate security concerns should be fully respected.
Abbas later met Premier Li Keqiang, who pledged Beijing would encourage more businesses to invest in Palestine, help with infrastructure, train more people and strengthen people-to-people exchanges.
Last week special Middle East envoy Wu Sike said China was willing to make efforts leading to the resumption of the Israeli-Palestinian peace talks and Chinese leaders would try to bring Abbas and Netanyahu together for such talks. But analysts said that while China was getting more active in Middle East diplomacy, its role in Israeli-Palestinian peace talks would be limited.
"The issue has been pursued under the four-party mechanism, which excludes China," said Professor Yin Gang , an expert on Middle Eastern affairs at the Chinese Academy of Social Sciences' Institute of Western Asian and African Studies. The four parties are the United States, European Union, Russia and the United Nations.
Yin said it was "very unlikely" that China would help break the deadlock in the peace talks or host such talks in China.
This article appeared in the South China Morning Post print edition as: Xi accords full state welcome for Abbas visit