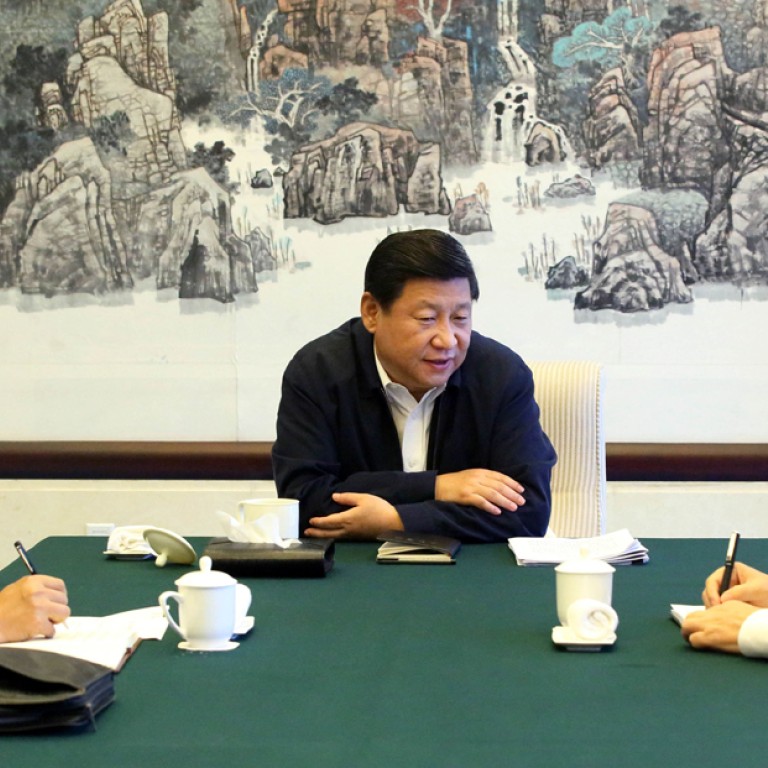 Xi Jinping oversees self-criticism sessions in Hebei
Cadres made to confess mistakes in president's presence in latest step in campaign to fix party
President and Communist Party chief Xi Jinping has taken his "criticism and self-criticism" campaign on the road, attending a series of meetings where provincial cadres were made to admit shortcomings and offer ideas for correcting their behaviour.
Xi has participated in four separate half-day meetings with standing committee members of Hebei's provincial party committee since Monday, Xinhua reported yesterday. The president listened as the officials criticised their own conduct, laid out major problems and set down plans for rectification, the state news agency said.
"Every member of the standing committee in the provincial party committee made self-criticisms and heard criticism by other comrades at the meetings," Xinhua said.
Such sessions are time-honoured Communist Party tradition and have been employed frequently over the decades by leaders seeking to fix party problems and enforce discipline. The tour follows Xi's call for party officials to follow a "mass line", a Maoist leadership model stressing a close connection with the grass-roots.
"After we were promoted and were officials for a long time … we started feeling good and arrogant," a senior Hebei cadre said, according to Xinhua. The official said they were "surrounded by praise and constantly pleased by others".
"We began just glancing at 'shop fronts' and rarely checking out 'the backyards' and 'corners' during inspection trips," an official said, adding that some senior provincial officials focused on policies and projects that offer quick harvests and failed to control the extravagant lifestyles of their colleagues.
The 25 members of the party's Politburo, of which Xi is the head, reportedly made similar self-criticisms during a special four-day meeting in June. Xi encouraged Politburo members to speak out, but also cautioned them to toe the established party line.
Xi has instructed regional officials to "promote self-criticism and criticism" to implement his "mass line" campaign, which he said is necessary to eliminate formality, bureaucracy, hedonism and extravagance among rank-and-file cadres.
This article appeared in the South China Morning Post print edition as: Xi oversees 'self-criticism' sessions