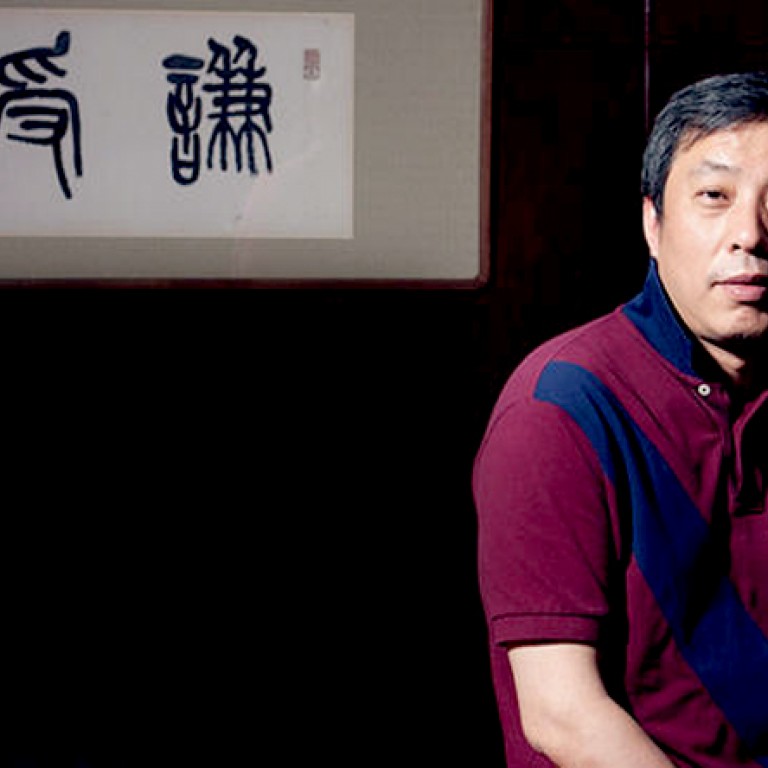 'Uncultured' multi-billionaire is China's biggest fine-art collector
Liu Yiqian alway bids for the top lots, and has amassed a collection on a par with mainland's best
He deprecatingly calls himself a - the Putonghua term for nouveau riche with barely the culture to match the wealth. But billionaire Liu Yiqian's huge collection of Chinese art suggests a finer taste than he lets on.
At a Sotheby's auction early this month, the Shanghai collector paid HK$281.24 million for a palm-sized Ming dynasty (1368-1644) cup. Showing a garden scene of a rooster and hen tending to their chicks, the "chicken cup" is one of just 16 known to exist.
"Though Liu likes to say he knows nothing about antiques, he has an eye for the best in the market," says Zhu Shaoliang, an art collector who has known Liu for several years. "That's why his collection so far is on a par with the treasures at the Palace Museum and other top museums on the mainland," Zhu says.
Liu, 50, comes from humble beginnings. Born in 1963 to a working-class family in Shanghai, he left school at age 14 to help the family business, making handbags which his mother would sell on the street. At 20, he rented a shop at the Yuyuan Bazaar in the centre of old Shanghai, selling souvenirs and accessories.
His first big break came in 1990, when he was 27. Liu was in Shenzhen buying materials for bags when he heard about stock trading for the first time from a former classmate. In December that year, China launched its first exchange, in Shanghai.
Yuyuan Bazaar was listed and Liu bought 100 shares at 100 yuan each. Within a year, their value rose to 10,000 yuan a share.
He later set his sights on corporate shares, which remained closed to individual investors, and in 2000, he set up investment firm Xin Liyi.
Over the next two years, he bought heavily into a dozen firms and his wealth rose significantly.
In 2004, Liu ventured into the insurance business, setting up Tianping Auto Insurance and Guohua Life Insurance. In April last year, Tianping formed a joint venture with AXA.
On last year's Forbes China Rich List, Liu was ranked at 200, with an estimated worth of US$900 million.
"Liu's success is against the backdrop of China's reform and opening up. He has seized every opportunity that is available to most of us," said Dong Guoqiang, Liu's business partner at Beijing Council Auction House. "His secret is he made correct judgments at each crucial moment in the country's economic growth and acted quickly on it. He was among the first to try out stock trading, to own corporate shares and to buy antiques at auctions."
Liu began to buy art in 1993, when he acquired two Chinese paintings at the first auction by China Guardian in Beijing. Unlike in the stock market, where his rule was to go for the cheapest, he bid for the most expensive lots.
"His art collection does not have a boundary. He bids on anything, from ancient musical instruments to furniture and paintings," Dong says.
Since then, Liu has set several auction records. In October 2009, at Sotheby's Hong Kong, he paid HK$85 million for an emperor's dragon throne from the Qing dynasty (1644-1911). A month later, he bought a Ming dynasty painting for 170 million yuan at a Beijing Poly International auction.
In September, when a calligraphy piece by Northern Song dynasty (960-1127) poet Su Shi went under the hammer for US$8.2 million in New York, it ended up in Liu's hands.
"Liu is a good listener. But the final decision is always his own," Dong said.
Liu prefers high-priced works partly because he wants to steer clear of the fakes believed to be common at the lower end of the market. But some of Liu's acquisitions have stirred controversy. Two months after the calligraphy auction, three experts from the Shanghai Museum claimed it was a fake. Doubts were also raised about the authenticity of another painting by 20th-century ink master Qi Baishi which Liu sold for US$65.4 million at a China Guardian auction in 2011. The winning bidder has since refused to pay for the work.
Liu contends that both works of art are authentic, but no definitive judgment has been made.
As China's biggest individual art collector, Liu is widely seen as a significant market mover. "Every year, he injects over 1 billion yuan into the art market. He is certainly the biggest player here," Dong says.
Ji Tao, from China Auctioneers' Association, agrees. "Every auction house loves him. When he appears at an auction, the highest bid will probably be from him. Other times, he sends really good works for auction. He is our biggest client," Ji says.
In December 2012, Liu and his wife, Wang Wei, opened to the public their 10,000 square metre private art gallery, known as Long Museum, in Shanghai's Pudong district.
A few weeks ago, a branch three times that size opened in the West Bund.
"We are competitors at auctions but I respect him for what he does," Zhu says. "He bought all these treasures at auctions and then built these two huge galleries to exhibit them permanently. He is a real art collector who loves art over profit."
This article appeared in the South China Morning Post print edition as: Only the best will do for biggest private art buyer