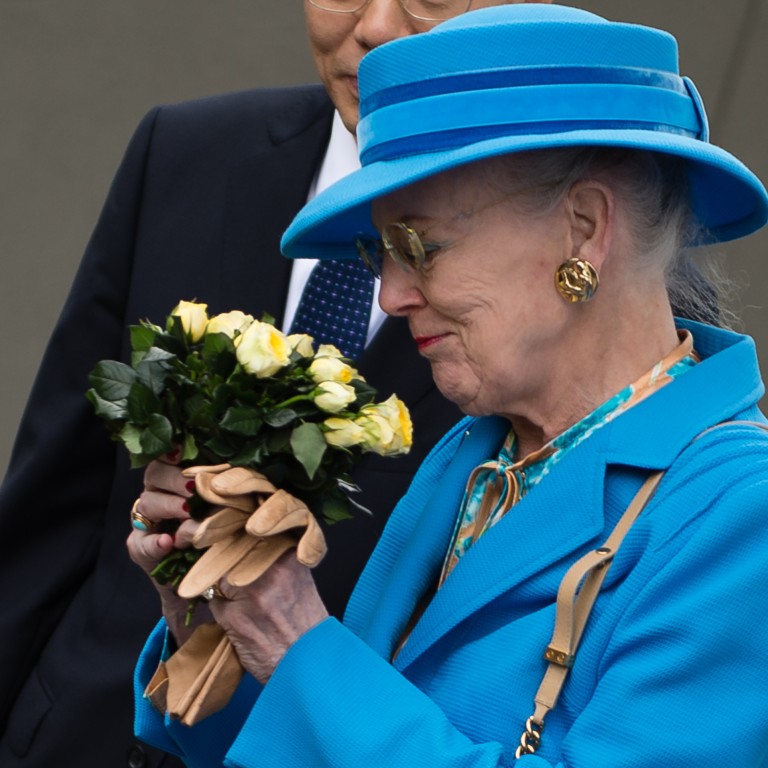 Danish queen's Nanking visit a crowning moment for China amid row with Japan
Despite Danish FM saying visit was non-political, queen's visit may encourage Beijing to place Nanjing on world leaders' itineraries as a mark against Japanese aggression
China is expected to encourage more world leaders to visit the Nanking Massacre memorial after the Queen of Denmark's landmark visit, which mainland analysts say may increase awareness about this period of Chinese history and Japan's past military aggression.
Margrethe II, accompanied by Danish officials, visited the memorial hall to the Nanking victims in Nanjing, Jiangsu province, yesterday as part of her mission to boost Sino-Danish economic and cultural co-operation.
It came during a fraught period in Sino-Japanese relations, when both sides are locked in territorial disputes and amid concerns that Japan's increasingly nationalist rhetoric signals a departure from its pacifist constitution. Some Japanese officials have previously denied that the 1937 atrocities took place, in which an estimated 300,000 Chinese died during Japanese occupation.
In a move widely seen as staged, the queen reportedly "bumped into" a massacre survivor, Su Guobao, there.
"The queen's visit set a precedent. In the future, the government will certainly arrange this kind of visit in foreign guests' schedules," Zhou Yongsheng, a China Foreign Affairs University professor specialising in Japanese diplomacy, told the South China Morning Post today.
"This visit sends out a good signal. I hope the world will have a better understanding of this history, to learn lessons from it," former ambassador to London Ma Zhengang, who is now with the China Public Diplomacy Association, told The Beijing News.
However, Danish Foreign Minister Martin Lidegaard played down politics in the queen's visit.
"I think it shows that the relationship between China and Denmark have flourished in the last five years," Lidegaard said in a small group interview on the sidelines of the royal tour. "I don't think you should put political [meaning to] it."
The total trade volume between Denmark and China was more than US$19.85 billion in 2013, according to Xinhua.
The queen became the first sitting head of state to visit the site, following government leaders such as ex-Japanese prime minister Yukio Hatoyama and former US president Jimmy Carter.
Zhou said the central government was sorely lacking in its efforts to inform international audiences of Chinese historical events. "We passed legislation on setting up a public memorial day for Nanking Massacre victims only this year," he noted.
But he believes the queen's visit is significant in helping Europeans learn about this historical event.
Chinese netizens noted that news about Queen Margrethe's visit on Sunday aired during other broadcasts dealing with Japan's tensions with Beijing.
"The propaganda is so powerful," a Weibo user from Shaoxing, Zhejiang province, said. "The movie the Pearl Harbour is playing on TV, CCTV 7pm news broadcast the Queen's visit and its news channel interviewed the filmmaker of documentary Diaoyu Islands. All of these show our firm position."
Japan asserts control over the Diaoyus, which it calls the Senkakus, in defiance of China's territorial claim.
Another Weibo blogger from Wuhan, Hubei province, said: "Salute to the Queen of Denmark! China should demonstrate more Japanese atrocities to the world."
Sino-Japanese ties hit a low note when Prime Minister Shinzo Abe visited the Yasukuni Shrine, a second world war memorial widely considered to be the equivalent of a Nazi memorial, in December.
Later, it was reported that a visit to Berlin's Neue Wache Memorial for war dead, but not war criminals, might be included in President Xi Jinping's European itinerary in March. This would have been seen as a pointed message to Japan, but the idea was Neue Wache idea was rejected by Germany.
During an interview with the Post in March, Michael Clauss said: "We do not want to see our approach to history exploited to stir up tensions between Tokyo and Beijing. That is a different matter."
Last Thursday, Tokyo Governor Yoichi Masuzoe paid a three-day visit to Beijing at the invitation of Beijing Mayor Wang Anshun, a gesture seen as a way to signal China's willingness to ease tensions. But news agencies Xinhua and Kyodo said Chinese vice-premier Wang Yang slammed Abe's Yasukuni visit during his meeting with Masuzoe.
Last week, the Jilin Provincial Archive released confidential Japanese wartime documents, including accounts of Japanese troops' second-world-war atrocities and papers detailing Japanese mass migration to northeast China, where they "seized lands" from Chinese peasants.
The People's Daily, a mouthpiece of China's Communist Party, described these as "ironclad proof of Japanese atrocities".