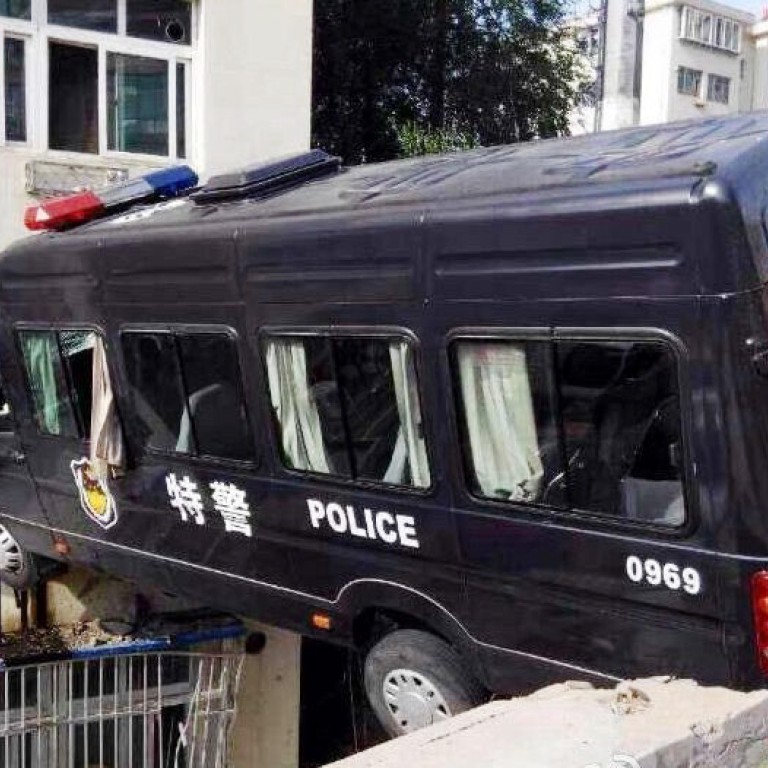 Send in the flying squad! Chinese SWAT car stuck in mid-air after veering off road
Police respond by asking public to excuse the youth of its drivers - and to treat incident as 'amusement'
Confusion surrounds how a SWAT car came to be suspended in mid-air, stuck between a building and a concrete ledge, some three storeys above ground in Shandong province.
The van drove off the road in Weihai city as it was trying to avoid oncoming traffic on Sunday morning, according to state media. It ended up in its gravity-defying position due to "improper operation", state media said today, without providing further details.
There were no reported injuries. Photos of the scene circulated earlier today.
The Weihai police posted a mild reprimand to the unnamed driver on their verified Weibo account, but put a light-hearted spin on the accident.
"This driver needs to improve his road sense! There are plenty of young guys in the SWAT patrolling team, [and] many are not mature enough," the police said.
"Sometimes they do some 'special' things unavoidably. Please forgive him, everyone. Treat this as an amusement," it said.
A photo posted today by the party mouthpiece People's Daily on Twitter showed the dark blue vehicle, emblazoned with the word "police", with its front resting on a window ledge of one apartment, and its back stuck on the wall.
Passers-by snapped a photo of the car, which apparently flew off the shoulder of the road and smashed through guardrails.
It was unclear how the driver was able to alight the vehicle or if there were any passengers.
Most mainland netizens were unsatisfied by officials' explanations, and their speculation filled in the lack of other facts.
"Only with special training can one reach this level. Seems like police are really doing hardcore training, even risking their lives," said a commentator from Chongqing.
This article appeared in the South China Morning Post print edition as: S'WAT happened here then? Police van jammed between buildings after 'careering off road'