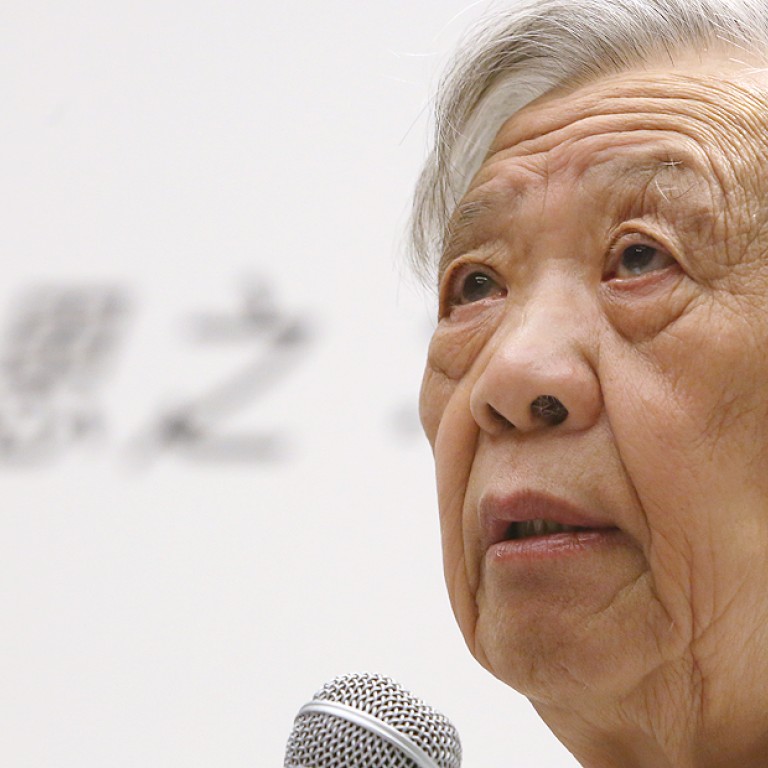 Zhang Sizhi, lawyer for detained journalist, points to legal breach by authorities
Zhang Sizhi says officials breached law by failing to notify family of Gao Yu of her formal arrest
Veteran mainland rights lawyer Zhang Sizhi, who represents arrested journalist Gao Yu, said yesterday the authorities have breached the law by failing to notify her family of her formal arrest a month and a half ago.
"There is one thing over which the investigation authorities have failed to act in accordance with the law," the 87-year-old lawyer said in response to a reporter's question at a press briefing at the Hong Kong Book Fair. "They have already arrested Gao Yu on May 30, but as far as I know, up until now, [they] have not notified the family - this has seriously violated the law," Zhang said.
Gao, 70, an outspoken journalist who has published many exclusive stories on Communist Party leaders, was taken away by Beijing police on April 24 and later placed in criminal detention on charges of revealing state secrets.
The footage of Gao making a confession expressing "deep remorse" over allegedly leaking a confidential party document was aired on China Central Television in early May.
Zhang made many attempts to meet her since then but has only been allowed to see her once, in late June.
Gao, who had previously been jailed for a total of seven years for her political writings, is one of a number of intellectuals and activists detained ahead of the 25th anniversary of the crackdown on the Tiananmen Square pro-democracy movement.
Zhang, who is also defending lawyer Pu Zhiqiang - arrested during the recent round of suppression - said he worried about Pu's health and was demanding the authorities grant him bail on medical grounds.
Zhang said he visited Pu last Friday and said he was able to have his diabetes and prostatitis treated at a hospital.
Pu, who was placed in criminal detention in early May after attending a commemoration of the anniversary, was last month formally arrested on the charges of "picking quarrels and provoking trouble" and "illegally obtaining personal information".
Zhang said he had scant information on facts and evidence surrounding Gao and Pu's cases and it was difficult to predict how the situation would develop as they were political cases.
"What I am most worried about is that they will make a judgment not based on facts," Zhang said.
He also expressed concern that the authorities often resort to targeting perceived troublemakers by detaining them first and investigating them after putting them into custody.
Fellow lawyers have noted that Pu was detained after the Tiananmen commemoration but police only started investigating his law firm's financial accounts after he was detained. They also took several of his associates, including his niece and lawyer - Qu Zhenhong - into custody.
Zhang, who is in Hong Kong for the recent publication of his biography, said: "It's impossible to have judiciary independence under one-party rule". He added that lawyers did not fare well under dictatorial regimes. "It's impossible for the legal profession to develop normally," he said. "Lawyers and dictatorial regimes do not co-exist well."
Zhang said lawyers on the mainland faced many limitations and he has been denied entry into courts and barred from entering pleas of innocence.
Zhang, who was chosen to defend Mao Zedong's wife, Jiang Qing , in 1980 for her role in the 1966-1976 Cultural Revolution but was rejected by her, has famously said he had never won a case.
But he said he never regarded himself as a failure - he was proud he had always based his arguments on evidence and strict adherence to the law. "I never see myself as having failed," he said.
This article appeared in the South China Morning Post print edition as: Famed lawyer voices case fears