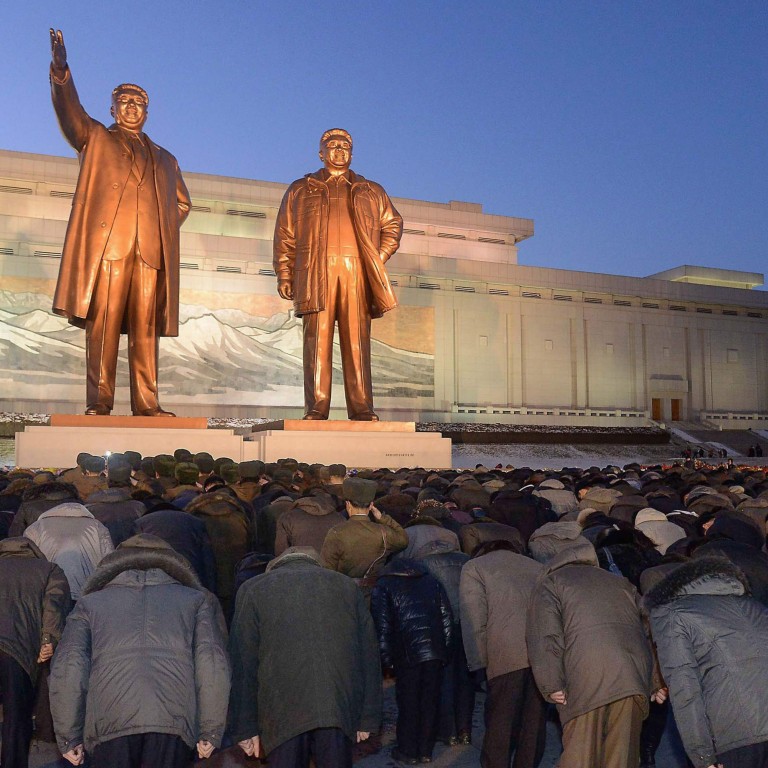 North Korea's snub signals declining ties with China, as Kim Jong-un expected to improve relations with Russia and Japan
North Korean leader expected to put effort into boosting relations with Russia and Japan instead
Pyongyang's decision not to invite Chinese officials to yesterday's event marking the third anniversary of late North Korean leader Kim Jong-il's death signals the state's intention to distance itself from its chief ally amid a cooling of ties, analysts say.
Beijing sent only Politburo Standing Committee member Liu Yunshan to the capital's North Korean embassy to pay tribute to Kim, foreign ministry spokesman Qin Gang said.
Qin did not elaborate on the state of bilateral relations between the two nations, saying only that China remembered Kim's contributions.
But analysts said the absence of an invitation from Pyongyang pointed to worsening ties.
"The lack of an invitation reflects that the relationship between China and North Korea has gone down," said Sun Xingjie , an expert in Korean peninsula affairs at Jilin University's Institute of International Studies. "It also indicates that North Korea is trying to stop relying so heavily on China."
Although China is still seen as North Korea's biggest ally, ties between the two have been affected by Beijing's criticisms over Pyongyang's nuclear tests and the latter's fears about China's influence over its economy.
Much of media attention is now focused on when Kim's son and existing North Korean leader, Kim Jong-un, will make his first trip abroad.
Japan's newspaper reported that Kim Jong-un, along with other heads of state, had been invited to Russia in May to commemorate the 70th anniversary of the Soviet Union's victory over Nazi Germany.
In an apparent effort by Pyongyang to boost its diplomatic ties with other nations, Kim Jong-un's special envoy Choe Ryong-hae held talks with Russian President Vladimir Putin in Moscow last month.
South Korean Professor Lee Jung-nam, of the Asiatic Research Institute at Korea University in Seoul, said Pyongyang was expected to expand ties with Russia and Japan.
"The current relationship between China and North Korea is not in good shape, and Pyongyang wants to offset the impact caused by such a deteriorating relationship," Sun said.
North Korea's ceremony yesterday marked the end of the three years of national mourning for Kim Jong-il.
Last year, Chinese media widely covered the second anniversary, stressing Beijing-Pyongyang ties despite the execution of Kim Jong-un's uncle Jang Song-thaek, who was seen as China-friendly.
In Pyongyang, a memorial service was held at the Kumusan Palace of the Sun and was attended by Kim Jong-un, his wife Ri Sol-ju and Premier Pak Pong-ju.
This article appeared in the South China Morning Post print edition as: Pyongyang's snub 'signals declining ties with Beijing'