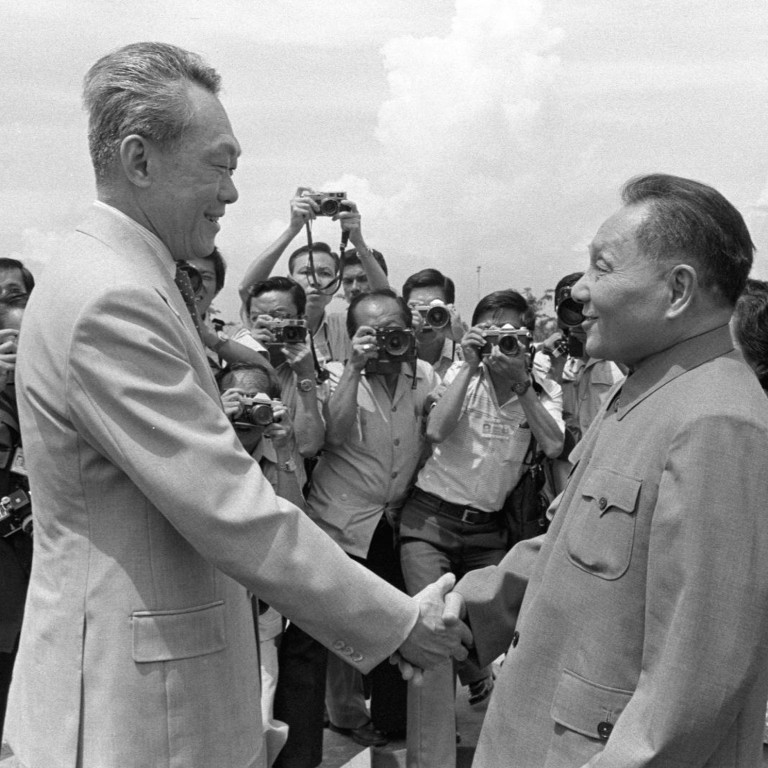 How Lee Kuan Yew crafted Singapore into a role model for China
Statesman's influence was felt and appreciated on both sides of the Taiwan Strait, and the Pacific
For years, China's leaders have been obsessed with learning from Singapore's success.
The city state has maintained single-party rule with popular legitimacy, retained good governance with an uncorrupted bureaucracy, and delivered inclusive growth with equal opportunities for its people in a harmonious, multiracial society.
But beyond its success, what makes Singapore most attractive to China is the special bond between the two states, nurtured by their respective patriarchs Deng Xiaoping and Lee Kuan Yew.
In November, 1978, Deng, then senior vice-premier, made an official visit to Singapore during which both strongmen statesmen sowed the seeds to cultivate that special relationship, historians say.
Lee developed a keen understanding of China and its leadership during 33 visits starting in 1976, when he shared a brief handshake with the ailing chairman, Mao Zedong .
In the four decades since, Lee maintained cordial relations with five generations of Chinese leaders. Only former United States secretary of state Henry Kissinger can boast the same.
Singapore's success as an overseas Chinese-majority society made the tiny city state all the more relevant to China as it opened up its economy with market-oriented experiments in the late 1970s and throughout the '80s and '90s, said Zhuang Guotu , a Southeast Asian affairs expert and dean of Xiamen University's Centre for Southeast Asian Studies.
China's leaders embraced the "learn from Singapore" slogan as they tried to fathom the secrets behind the island's good governance and successful socio-economic policies including housing, health care and welfare.
They have been particularly drawn to the Singapore model of "managed democracy" or "benevolent dictatorship", viewing the Southeast Asian country as boasting the world's most successful authoritarian rule, according to Zhuang.
Steve Tsang, dean of the University of Nottingham's School of Contemporary Chinese Studies, said China was inspired by the achievements of Lee, who insisted on maintaining his People's Action Party's single-party leadership. This was especially so after the collapse of communism in Eastern Europe and the Soviet Union, casting doubt on the sustainability of China's own communist rule.
Lee's advocating of so-called "Asian values" also gave China's Communist Party an external "intellectual" justification to revamp itself from old-fashion Leninism to the post-Deng consultative Leninist variant, which continues under President Xi Jinping .
"China under Xi has gone beyond the need for Lee Kuan Yew, but its leadership still find the success of the authoritarian Singapore under Lee a useful ideological partner in the contest of political models against liberal democracies," Tsang said.
Over the past two decades, China has sent large groups of officials to Singapore each year on study tours and training courses. To date, more than 20,000 mainland officials have undergone such training with the National University of Singapore's Lee Kuan Yew School of Public Policy.
In a speech at the school in 2010, Li Yuanchao , then chief of the Central Committee's Organisation Department, said China saw Singapore as its first choice to provide overseas training for leading cadres, as the city state's road to development was relevant for China.
David Zweig, director of the Hong Kong University of Science and Technology's Centre on China's Transnational Relations, said he believed most of China's regional leaders favoured the Singapore development model.
Zweig recalled that years ago, the party secretary of Zhangjiagang , a port city in Jiangsu province, said after a visit to Singapore that he found city a wonderful model for his own town, especially its orderliness, cleanliness and its people's work ethic and discipline.
"He made [Zhangjiagang's] entire population study Singapore. I'm sure many local leaders in China share this view of Singapore," Zweig said.
Chinese leaders also remember with gratitude Lee's help as an arbitrator in cross-strait relations.
The Singapore government hosted the first direct talks between mainland China and Taiwan in 1992, during which the Communist Party and the Kuomintang government reached the "1992 consensus", laying the ground for sustained exchanges across the straits over the next two decades.
Beijing also appreciated Singapore's role in Asia Pacific diplomacy, maintaining balanced relations between China and the US.
Lee probably had the longest and most diverse influence on international politics of any post-war Asian statesman, said Kerry Brown, a Chinese politics professor and director of the University of Sydney's China Studies Centre.
"Lee uniquely balanced excellent relations with the US against equally strong relations with China," Brown said.
Beijing also acknowledges Singapore's special role as a leader of the Association of Southeast Asian Nations (Asean).
"China is certainly looking towards Singapore for an impartial solution to the disputes in the South China Sea and other regional issues," Zhuang said.
This article appeared in the South China Morning Post print edition as: How Lee Kwan Yew crafted Singapore into a role model for China