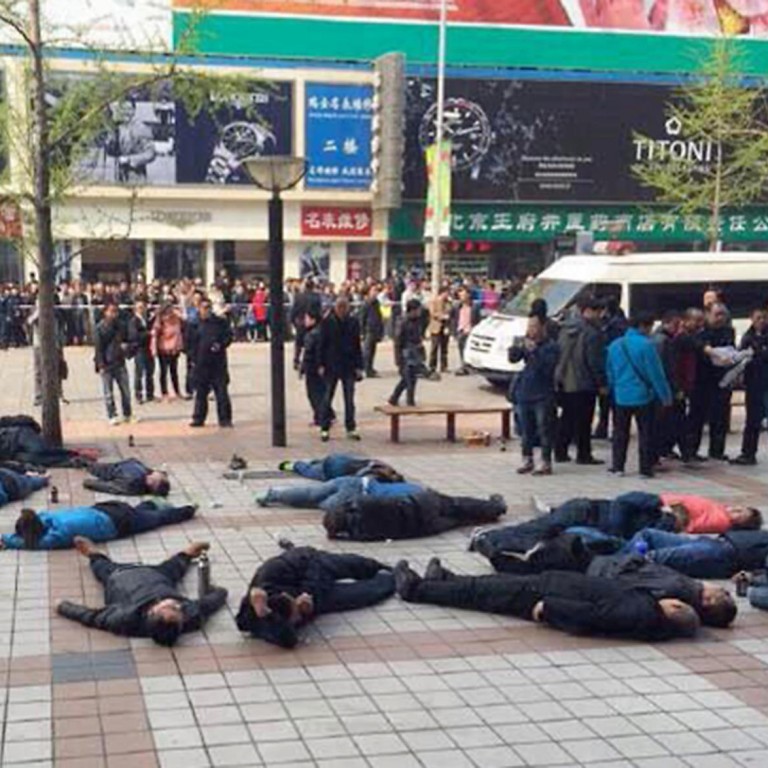 Chinese taxi drivers attempt mass suicide in Beijing during vehicle leasing protest
More than 30 cabbies collapse after swallowing poison in protest at vehicle leasing requirements
More than 30 taxi drivers tried to kill themselves in a busy Beijing shopping street yesterday by drinking pesticide in protest at the way taxi companies renewed the leases of their vehicles.
Police found them unconscious in front of a shopping mall in Wangfujing, with bottles of pesticide beside them, at about 11am, Beijing police officials said on the force's weibo account.
They were taken to hospitals, including Beijing Union Medial College Hospital and the Tongren Hospital, but all were out of danger, the police report said.
Police, who are now investigating, took away several of the petitioners at 3pm.
One protester told mainland media outlet Caixin they had travelled to Beijing to petition against a 2011 reform affecting taxi company leasing renewals.
"We arrived by train on Monday but got no response after taking our complaint to both the State Bureau for Letters and Calls and the Ministry of Transport," he said, before police halted the conversation.
The reform in Suifenhe required taxi drivers to join government-appointed taxi operators or leave the industry in return for compensation. Taxi drivers are not allowed to be self-employed.
On the mainland, people with grievances against local governments often appeal to the highest authorities in Beijing - a tradition dating back to imperial times.
Last July seven people attempted suicide by drinking poison outside the gates of the in Beijing.
Mainland media reported the seven were from Qingyang, in Sihong county, in the eastern province of Jiangsu. They were dissatisfied with the compensation paid after the local government seized their land.
The protesters were held in an illegally run detention centre, or "black jail", after they took their protest to a higher level of government, the reported at the time.
The petitioning system involves complaints made to the State Bureau for Letters and Calls and its local offices, which send cases to the relevant authorities.
Sometimes petitioners take radical action because many of them are threatened or abused by local government officials, who try to stop petitions reaching the attention of the central government because it could harm the careers of local leaders.
Yet even if petitioners file their complaints, the cases are often sent back to be decided by local governments - which are often the targets of the complaints.
This article appeared in the South China Morning Post print edition as: Taxi drivers stage mass suicide attempt in Beijing