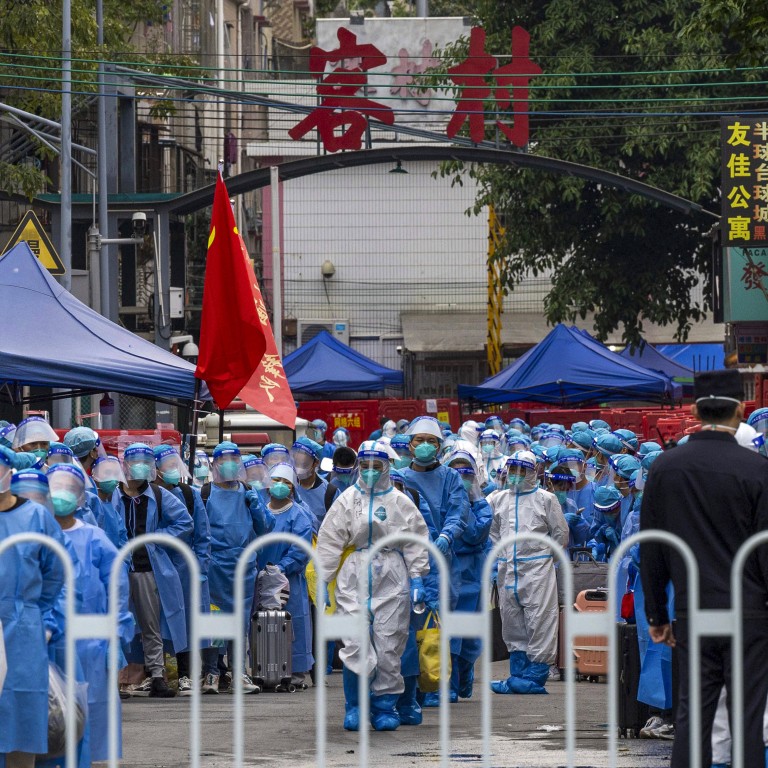 Chinese migrant workers stranded in Guangzhou's Covid-19 homeless crisis
Multiple sources say hundreds seek temporary shelter after their release from quarantine, denied access to their homes in Haizhu
Most of those affected are from Hubei province in central China but even those who want to go home face challenging delays
Hundreds of migrant workers have been left homeless on the streets of
Guangzhou
in southern China, according to multiple sources in the city where the most severe
Covid-19
outbreak of the pandemic has been raging for a month.
The workers – mostly from the central province of Hubei – have been released from Covid-19 quarantine centres, called fangcang hospitals, but cannot return to their homes in the urban villages of Guangzhou's Haizhu district, epicentre of the latest outbreak.
Officials say the district is still in a severe epidemic situation and one government notice encouraged the workers to return to their home provinces, saying management of the outbreak will take a further month.
With nowhere to go, the migrants carry their backpacks as they look for temporary shelter under bridges, in underpasses or by the riverside near the urban villages, workers and community volunteers said.
Xiong Xiong, a restaurant owner from Hubei who has been living in Guangzhou for more than 10 years, is doing what he can to help after watching their plight from his establishment near the entrance to an urban village.
Rain was falling this week as temperatures plummeted and about 200 homeless migrant workers gathered outside. "Who would like to wander on the streets? They just have nowhere to go," Xiong said.
He joined a volunteer group to put up tents and buy food and masks. He has also offered the workers use of the restaurant's charging station and the staff bathrooms, where they can get warm showers.
"Our Hubei workers are discharged from the fangcang hospitals, shuttled back to the urban villages and dropped off at the main entrance," Xiong said.
"But it's sealed off and they can't get in. They're most familiar with the surrounding areas, so they gradually gather around [my restaurant]. There is a roof, a corridor. It can't protect them from the wind but they can take shelter from the rain."
Xiong said he started helping the workers last Wednesday, but was ordered to shut down over the weekend by local officials who swiftly sealed off his restaurant and warned him of the potential risk of Covid-19 transmission.
He said one of the officials told him "nobody can take responsibility if the virus spreads".
Another official, speaking to the South China Morning Post on condition of anonymity, admitted there is no space in the densely packed quarantine areas. "Community workers can't even find a place to sit down … [but] we are already delivering food to residents," he said.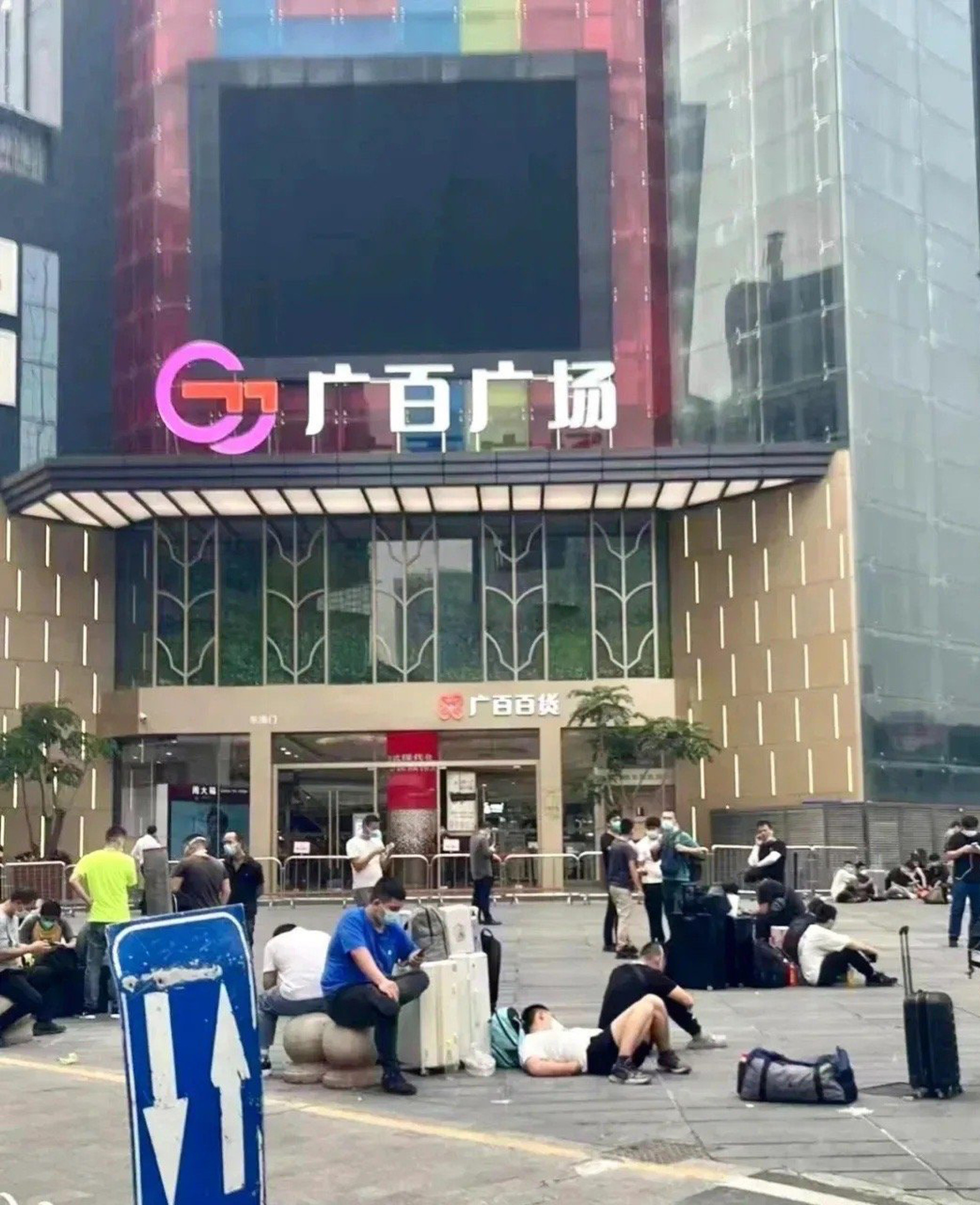 On Monday evening, Xiong's volunteer group negotiated with the Hubei Chamber of Commerce and the local government to arrange shelter for 200 people in Haizhu's giant fabric market.
On Tuesday, with the help of the local women's federation, the group found hotel accommodation for 25 women and children. "But it's far from enough," Xiong said. "There are too many people."
Xiong continues to send daily supplies to the workers living in tents along the streets, but the situation is creating a vicious circle.
"Now there's a shortage of shelters for those released from the quarantine hospitals, so people become reluctant to come out. Therefore, the people in fangcang won't leave, and then those home quarantining in the urban villages can't be transferred in," he said.
With 7,970 new cases on Tuesday – about 27 per cent of the national numbers – there is no sign yet that the situation is easing in Guangzhou.
Haizhu district's Zhongda fabric market – the largest of its kind in China – accounted for about 90 per cent of the daily infections. The market is closed, but it is also home to hundreds of thousands of migrant workers, including more than 300,000 from Hubei.
The high density population of the market and its surrounding urban villages – as high as 100,000 people per square kilometre – has made containing the outbreak challenging and some of the residents have already been in lockdown for a month.
Local authorities said there were 70,000 beds in Guangzhou's 19 fangcang hospitals, as of Wednesday. Cities across Guangdong province are speeding up construction to make nearly 130,000 more beds available by the end of this week. Most stays last between seven and 10 days.
As of last Thursday, 95,300 people had been moved from Haizhu to quarantine sites, according to the district's deputy head Zhang Yongliang. As of Tuesday, 11,000 had been released from the hospitals.
There are claims that people in the district who contract the virus or are identified as close contacts are waiting days or even weeks to be transferred to a hospital or a quarantine site.
Li Wei, a textile factory worker locked down in Kangle urban village, said his wife waited three days to be evacuated after she tested positive on November 8. He has been identified as a close contact but is still waiting to be transferred to a quarantine site.
Residents have to "fight over daily necessities" during home quarantine and it is hard to get timely help from the local officials, he said.
Li, who is originally from a county near Hubei's provincial capital Wuhan, said management of the outbreak in Guangzhou is "such a mess".
"We experienced the time when Hubei was sealed off for three months [in 2020] and it was not as difficult as this time," he said.
"The government is saying not to gather repeatedly … but we are asked to assemble on a large scale and line up for 12 hours and even days, waiting for the shuttle buses, only to be told none are available at the end of the day," Li said.
"So many people are queuing up in the crowded lanes, with red or green [health] codes. How could you not get infected?"
The Hubei chamber in Guangdong, backed by the local authorities, has been sending workers back to their hometowns since last weekend, in a constant flow of coaches, but there are too many and not everyone wants to leave.
"Some extremely poor workers without a stable and fixed income prefer to stay and wait," said a local government worker. "But many want to go home as the traditional Lunar New Year is earlier this year and they can't make much money [now that the factories are closed]."
But even those workers who are willing to go home face difficulties and delays. Once released from the fangcang hospitals they are given an amber health code that restricts their mobility and bars them from staying in hotels.
Xiong said the migrant workers have to wait one week to get a green code and then they can choose to stay in the city or go home.
But before they can return to their hometowns, the workers must obtain permits from both the Haizhu district authorities and community committees in Hubei. According to some community workers, some Hubei villages are dissuading them from returning and, once home, they must quarantine for five to 10 days.