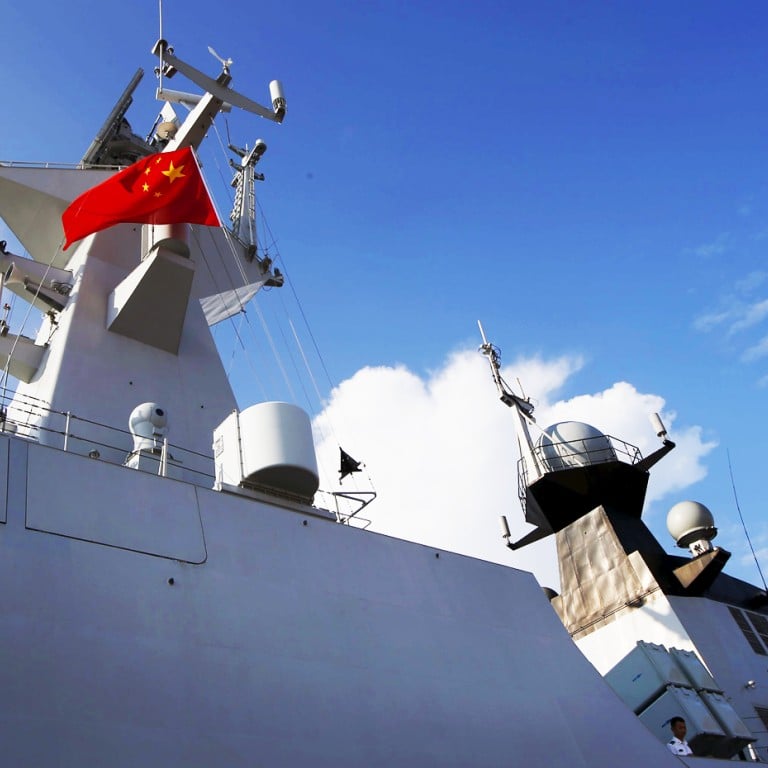 PLA Navy to show off stealth frigate in return to Asian military expo
Chinese military sends warship as tensions grow with the US over the South China Sea
The Chinese navy plans to showcase a stealth frigate at a key Asian defence expo this week, the first time it has had a presence at the international event in eight years.
The People's Liberation Army Navy said on its microblog yesterday that it would send a 4,000-tonne Type 054A Jiangkai II frigate to the International Maritime Defence Exhibition (Imdex) Asia in Singapore.
The exhibition starts today. The last time China sent a similar warship to Imdex Asia was in 2007.
The announcement follows United States Secretary of State John Kerry's visit to Beijing on the weekend, which ended with a stalemate over China's land reclamation projects in the disputed Spratly Islands chain in the South China Sea.
The move also comes after reports last week that US Defence Secretary Ash Carter had asked the US military to explore options for using aircraft and naval ships to contest Chinese territorial claims in the area.
The US is also sending vessels to Imdex Asia, including a combat ship, a destroyer and an unidentified fast-attack submarine.
Other exhibitors at the event this year include India, France, Germany, Israel, Italy, Singapore and Britain.
Shanghai-based naval expert Ni Lexiong said both China and the US wanted to lift their military profile in Asia.
"In light of recent developments in the South China Sea, both countries will want to show the importance they are willing to give to the [Asia-Pacific] region," Ni said.
Richard Bitzinger, a senior fellow at the S. Rajaratnam School of International Studies in Singapore, said China wanted to underscore its status as an emerging great naval power.
"China will also want an opportunity to show off a little bit. The country is proud of its achievements in naval design and construction and there is some export potential for the ship," Bitzinger said.
China is also sending Shen Jinlong, the commander of its South China Sea fleet, to discuss regional maritime security and challenges to regional stability with other Pacific Rim nations at the International Maritime Security Conference.
The conference is part of Imdex Asia and gives senior military officers from around the world the chance to hold talks.
Admiral Michelle Howard, the US Navy's vice-chief of naval operations, will also speak at the conference.
"It's likely that Shen will use the occasion as a soapbox to talk about the so-called indisputable sovereignty of the South China Sea," Bitzinger said.
This article appeared in the South China Morning Post print edition as: PLA Navy to show off stealth frigate in return to Asian military expo