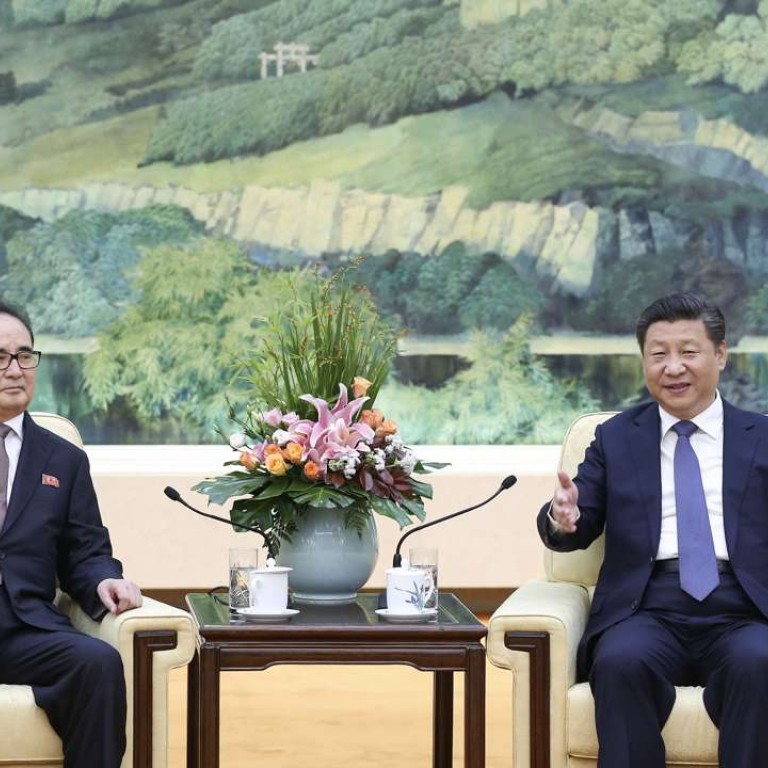 Update

|
North Korean envoy tells Xi Jinping nation will not scrap its nuclear programme
China's leaders have been angered by a series of nuclear weapons tests by its neighbour and long-standing ally
A North Korean envoy has told China's President Xi Jinping that his nation will continue to develop its nuclear programme.
Ri Su-yong, a vice chairman of the ruling Workers' Party of Korea, told Xi on Wednesday in Beijing that Pyongyang's policy of developing its nuclear programme and economy together remained unchanged, the North's state-run Korean Central News Agency reported.
China has been angered by North Korea's pursuit of nuclear weapons and relations between the traditional allies have been rocky for several years.
Despite Ri's reference to North Korea's dual-track policy, the meeting at the Great Hall of the People was held in "a friendly atmosphere", according to the North Korean report.
Chinese official media reports about the meeting on Wednesday, which marked Xi's first talks in three years with a senior North Korean officials in Beijing, did not touch on Ri's remarks about the country's dual-track policy on nuclear weapons and its economy.
The state-run Xinhua news agency quoted Xi as telling the envoy that China would work with North Korea to safeguard, consolidate and ­develop the two nation's friendship.
China also hoped all parties ­involved in the North Korean ­nuclear issue would exercise ­restraint to better aid communication, Xinhua quoted Xi as telling Ri, a former North Korean foreign minister.
Analysts said the meeting was a significant development in the improvement of relations between the two nations.
"The meeting sent out a positive signal that both countries are actively seeking to improve bilateral relations," said Yu Shaohua, director of the Department for Asia-Pacific ­Security and Cooperation at the China Institute of International Studies.
Ties have suffered since the North carried out a fourth nuclear test in January and followed it up with a long-range rocket launch in February. In response, China joined the rest of the United ­Nations Security Council in backing tough sanctions. Yu said the two countries' differences over the North's nuclear programme would take time to resolve.
Xi has never met the North's leader Kim Jong-un, but sent a message to ­congratulate him on his election as ruling party chairman at a congress last month. Beijing did not send an envoy to the political gathering, but the Pyongyang ­delegation was due to brief Chinese officials on the meeting.
Xi said the visit suggested Kim attached great importance to ties between the parties, as well as the two nations. Yu said it was a tradition for China and North Korea to update each other after a major party congress. "Although it is a bit late … both sides have placed a high emphasis on developing bilateral relations," she said.
Daniel Russel, the top American diplomat for East Asia, said on Tuesday that high-level talks between the US and China in Beijing next week would provide an ­opportunity to "game out" how to ­pressure the North to agree to negotiations on the denuclearisation of the Korean peninsula.
"That's not unconditional surrender. That's a reasonable and consistent objective of ours. We have a vastly improved chance of getting that with China's full ­cooperation," Russel said.
"The outcome that we're looking for is North Korean agreement to negotiate the denuclearisation of the Korean peninsula."
China is the only major ally of the reclusive North and is estimated to provide up to 90 per cent of its energy imports, 80 per cent of its consumer goods and 45 per cent of its food, according to the US-based Council on Foreign Relations.
Although Beijing was angered by Pyongyang's nuclear and missile tests, the Chinese leadership has been reluctant to take tougher action – for example by shutting their shared border – out of concern the country could collapse or fall into civil strife.
Additional reporting by Reuters and Kyodo