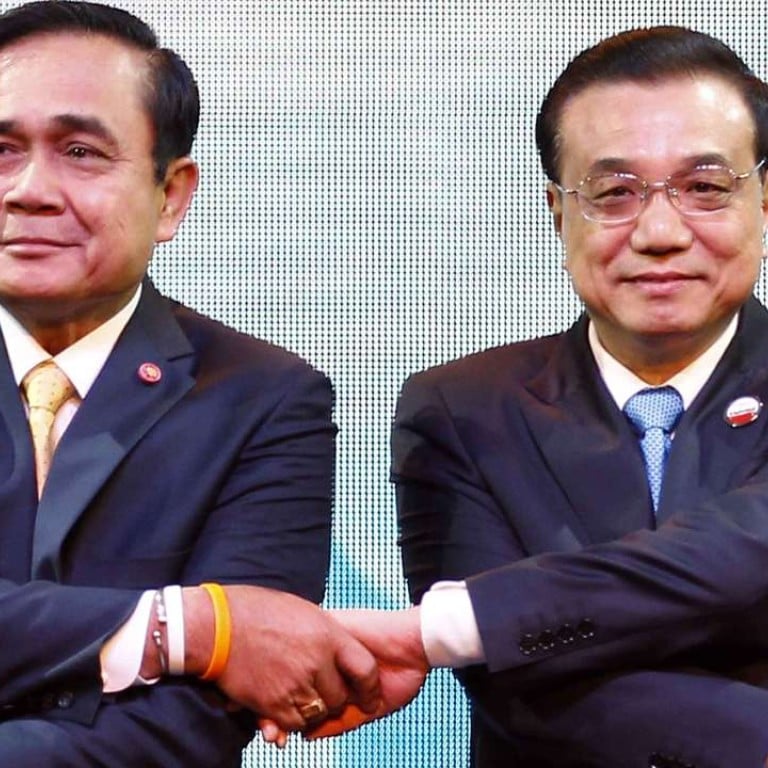 After death of Thai king, just how strong are China's ties with key regional ally?
Southeast Asian country is an important trading partner and one of the favourite destinations for Chinese tourists
After the death of Thailand's 88-year-old King Bhumibol Adulyadej, the uncertainty hanging over the country's future has cast a shadow over bilateral ties with China, its largest neighbour.
As one of China's key allies in Southeast Asia, Thailand's support is becoming increasingly crucial as simmering tensions in the disputed South China Sea sour China's relations with other countries in the region.
Unlike the Philippines, Vietnam and some other neighbouring countries, Thailand is not involved in any territorial disputes with China that could fuel tension or sour ties.
And unlike the situation in Indonesia and Vietnam, there has been no friction with the sizeable ethnic Chinese community in Thailand, which has been fully assimilated into Thai society and acts as a useful bridge between the two countries.
The absence of such disputes has allowed bilateral ties to bloom since the two countries established formal diplomatic relations in 1975.
One does not need to look at trade figures or listen to political statements to grasp a sense of the deep, close ties between the two countries: Bangkok's Chinatown is one of the largest and most prosperous in the world; the Chinese embassy in Thailand is the country's largest in Southeast Asia; and numerous Chinese investment projects have mushroomed across Thailand, in sectors ranging from agriculture and energy to infrastructure.
Here is an overview of the political, economic and military ties between the two neighbours.
Political ties
China has accorded Thailand "comprehensive strategic cooperative partnership" status, placing the bilateral relationship near the top of its rankings.
Members of the Thai royal family, especially Princess Maha Chakri Sirindhorn, the king's 61-year-old second daughter, are frequent visitors of China, as are Thailand's government and military leaders. Generations of Chinese leaders have also paid visits to Thailand, starting with late Communist Party patriarch Deng Xiaoping in 1978.
The Thai government has also been extremely cooperative with China's requests for the deportation of Chinese nationals from its territory, unlike some Western countries that have expressed concerns about China's lack of due process and its human rights record.
In July 2015, Thai authorities deported more than 100 Uygur refugees from Xinjiang, a move that drew international condemnation.
Economic ties
After overtaking Japan in 2014, China is now Thailand's largest trading partner, spending tens of billions of US dollars annually to buy food, raw materials and mechanical and electrical products from its neighbour to the south.
Thailand, meanwhile, is China's fourth-largest trading partner among the 10 members of the Association of Southeast Asian Nations (Asean).
Bilateral trade between the two countries topped US$75 billion in 2015, with a trade surplus of about US$1 billion for China.
But when it comes to investment, the difference is much bigger. In 2014, China directly invested US$370 million in Thailand, six times the amount Thais invested in China that year.
Also in 2014, Chinese companies signed US$1.78 billion of contracts with Thai companies for construction projects, labour service collaboration and design consultation.
Besides infrastructure projects, including a plan to build a high-speed railway that has been dogged by disputes over its cost, Chinese companies are also increasingly targeting Thailand's renewable energy industry. Chinese manufacturers or developers are involved in 14 per cent of all renewable energy projects in Thailand, according to research firm BMI Research.
Thailand is also one of the favourite destinations for Chinese tourists. In 2015, more than 7.9 million Chinese tourists visited Thailand – exceeding the number of visitors the country received from the whole of Europe.
Defence ties
Defence links between Thailand and China date to the 1980s, when Thailand became the first Asean country to buy military equipment from China at "friendship prices".
In the past few years, Thailand's military has been eager to build closer ties with China, after its ties with the United States cooled. The US downgraded its military relationship with Thailand following a 2014 coup during which the Thai army seized power after months of street protests.
The Chinese and Thai air forces conducted their first joint exercises in November 2015 and in May this year, Chinese and Thai marines launched a joint drill code-named Blue Strike at Thailand's largest naval base, Sattahip, on the Gulf of Thailand south of Pattaya. About 1,000 Thai and Chinese personnel participated in the exercise.
Meanwhile, Thailand has also stepped up its military equipment procurement from China.
In May, the Royal Thai Army signed an agreement with China to procure VT-4 main battle tanks produced by China North Industries Corporation, one of China's biggest arms manufacturers.
In July, Thailand's defence minister announced his country would purchase three submarines, worth a total of around US$1 billion, from China, starting next year.
This article appeared in the South China Morning Post print edition as: Rising trade and tourism assure ties between China and Thailand