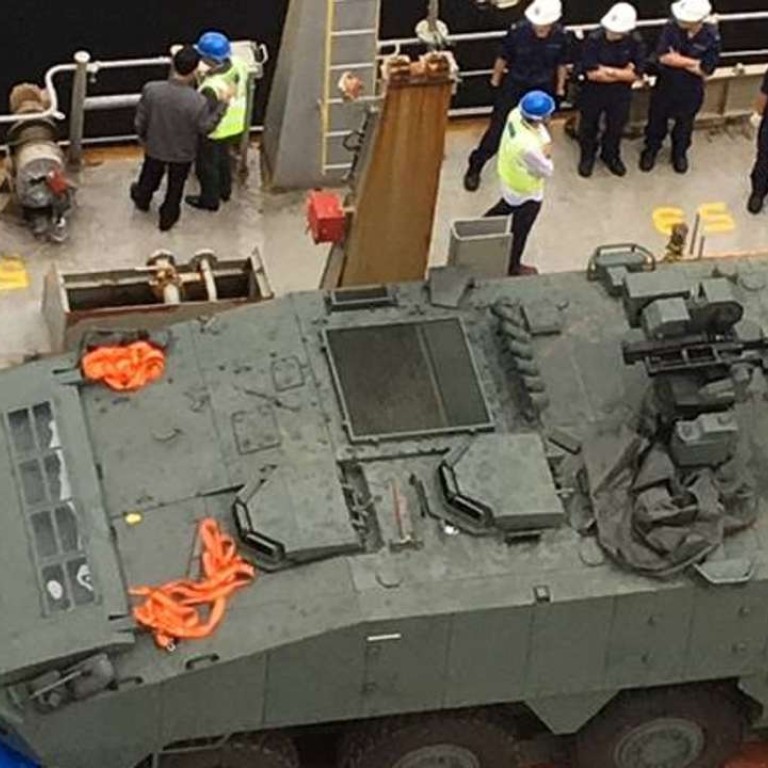 Is Beijing trying to discourage Singapore-Taiwan relations by having Hong Kong seize armoured vehicles?
Analysts question if the seizure reflect China's intolerance to other nations having a relationship with Taiwan
An armed forces team from Singapore was due in Hong Kong last night on a mission to establish why nine of their brand new military vehicles were seized and impounded by customs during their return from Taiwan.
Singapore's top diplomat in Hong Kong has also become involved in what one military expert said could be a "strategic calculation'' by Beijing which yesterday reaffirmed its opposition to any sovereign state having official or military ties what it regards as a renegade province.
Watch: What's going on with the Singaporean military vehicles in Hong Kong
The interception of nine advanced combat vehicles at the Kwai Chung container terminal on Wednesday places fresh scrutiny on four decades of military co-operation between Taiwan and the city state which an extremely unhappy Beijing has tolerated.
The stand-off – in which Hong Kong is playing man in the middle – comes as China adopts and increasingly hostile attitude towards Singapore which has recently had strategic geo-political disagreements with Beijing.
Yesterday afternoon Singapore's Ministry of Defence said in a statement that an armed forces team was "en-route to Hong Kong to address the security of the equipment". The nine vehicles are impounded at a customs facility in Tuen Mun.
If Beijing is behind the incident on Wednesday, it could demonstrate a determination by the Chinese government to sever military ties between Taiwan, which China regards as a renegade province, and Singapore, to which China is taking an increasingly hostile attitude since the Southeast Asian city state refuses to fully join China's orbit.
Experts say the situation could indicate a shift in the relationship between mainland China, Taiwan, Hong Kong and Singapore, and signal an increasingly confident Chinese government signalling its readiness to thwart military alliances it dislikes, especially as the new Trump administration appears to offer less commitment to Asia.
"There have been regular Singapore-Taiwan military exchanges for a long time" and no similar incidents have been reported before, said Ni Lexiong, a Shanghai-based military expert.
"This time, it is difficult to exclude the possibility of strategic calculation," Ni said. "It is a delicate moment in South East Asia, when the Obama administration is going out and the new administration is yet to take power. There is a gap of power in between."
Beijing has a free hand to deal with the seized vehicles as it wishes, whether that is to release them, confiscate them or even punish Taiwan or Singapore, Ni said. Diplomatic and defence authority in Hong Kong belongs to Beijing.
Although sources within the Hong Kong customs administration said the seizure of the vehicles was a result of a routine inspection rather than a move directed by Beijing, the discovery of the undeclared vehicles had already been reported to China's foreign ministry in Beijing, a source within the Hong Kong administration, who declined to be named, told the South China Morning Post.
China's foreign ministry spokesman Geng Shuang said all personnel and shipments in and out of Hong Kong must follow local rules and that the Chinese government always opposes any sovereign state conducting any form of governmental exchange with Taiwan, including joint military activities.
Lee Chih-hong, a research fellow at the Longus Institute for Development and Strategy in Singapore, said it was standard practise for many years for Singapore to ship military vehicles, without ammunition, back to Singapore via Hong Kong after military exercises in Taiwan.
"In the past, such things never got reported, but it's reported this time – it's really puzzling," Lee said.
"There is a view that China is trying to give a hard time to Singapore" because Beijing is not happy about Singapore's stance over the South China Sea, he added.
The military exercise the vehicles are believed to have taken part in is part of "Project Starlight", initiated by late Singapore Prime Minister Lee Kuan Yew and his late Taiwanese counterpart Chiang Kai-shek in 1974, to help train Singaporean troops overseas, because of the tiny space of the city state. At the time, the mainland was still very weak and Taiwan hadn't officially given up its claim on mainland China.
According to Macau-based military expert Antony Wong Dong, the military vehicles are Singapore's AV-81s, the most advanced vehicles Singapore has.
The Chinese government's attitude towards Singapore has turned hostile in recent months as Beijing believes Singapore is backing the Philippines' position on an international arbitration ruling on claims to the South China Sea.
However, the incident could be just a diplomatic hiccup.
Xu Guangyu, a retired major general at the People's Liberation Army, played down the incident.
"I personally do not think we should complicate this simple incident," he said . "It should just be handled according to the relevant maritime law."
"It does trigger speculation in such an international atmosphere, but I believe it is an accident, not something done on purpose to create tension," Xu said. "Even if China wants to send Singapore a signal, there are numerous ways and channels. This case as leverage is just too loose and weak".
Even if Beijing is not directly responsible for the seizure, the fact that Beijing is able to influence or even break the logistics chain between Taiwan and Singapore will add pressure on the city state.
Arthur Ding, a research fellow at the Institute of International Relations at Taiwan's National Chengchi University, said Singapore might be in a somewhat "awkward" situation to conduct military exchanges with Taiwan now, at a time of strained relations between Beijing and Taipei.
"Because the Democratic Progressive Party is seen as pro-independence, if Singaporean troops continue to conduct exercises here, it might give people an impression that Singapore is supporting the pro-independence government," he said.
Additional reporting by Raymond Cheng
This article appeared in the South China Morning Post print edition as: Singapore military team due in HK in seized vehicles row