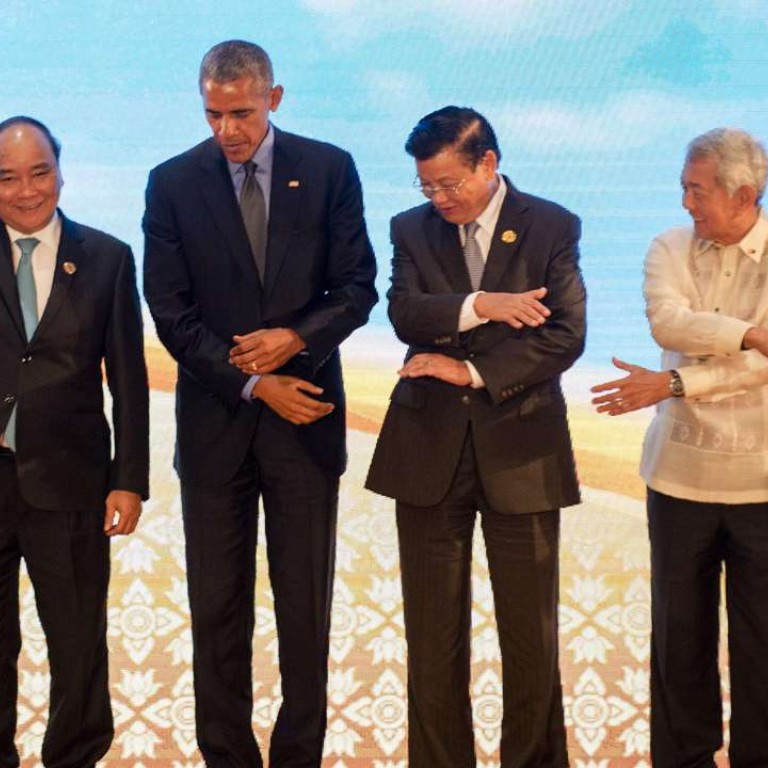 Is Obama's diplomatic legacy in Asia about to be erased?
US president-elect Donald Trump has vowed to kill off the TPP trade pact, the key economic plank of America's 'pivot to Asia'
A transpacific free-trade deal, support for an international tribunal's ruling on territorial claims in the South China Sea and deepening engagement with China were among the regional legacies outgoing US President Barack Obama hoped to leave behind.
Yet his administration's vision of the United States as the anchor of a liberal, rules-based Asian order, built on the back of strong regional institutions, has been difficult to implement, with many analysts doubting its long-term impact given the vagaries of American politics and the region's volatile diplomatic dynamics.
Despite criticism from across the political spectrum, supporters and critics alike say Obama, who was born in Hawaii and proclaimed himself "America's first Pacific president", tried to reshape Washington's global priorities with his "pivot to Asia" strategy – later dubbed a "rebalance".
Watch: What Trump's trade war with China would look like
"It was a well-intentioned effort to strengthen the US role as the anchor of the liberal, rules-based regional order," Benjamin Herscovitch, a regional security expert and research manager at China Policy, a Beijing-based policy analysis and advisory firm, said.
However, he added, it had since been mugged by reality.
"The 'pivot' was hard to implement, and soon it may be hard to discern any longstanding impacts of this policy," Herscovitch said.
Then US secretary of state Hillary Clinton announced the advent of Obama's "pivot to Asia" in an article posted on Foreign Policy magazine's website in October 2011.
Clinton asserted that the world's sole superpower was in Asia to stay, and outlined a slew of policies to make sure the 21st century was "America's Pacific century". Two years earlier, trying to reassure allies and rivals during a four-nation tour that included visits to Japan, Singapore, South Korea and China, Obama had billed himself as "America's first Pacific president".
The pivot's critical strategic initiative was the decision to deploy 60 per cent of American air and sea power in Asia by 2020. It's economic arm, the 12-nation Trans-Pacific Partnership (TPP) – was envisaged as a free-trade pact involving the US and 11 Pacific Rim countries, with the notable exception of China – that would represent 40 per cent of global output.
But US president-elect Donald Trump has vowed to kill off the TPP on his first day in office – January 21.
John Ciorciari, an assistant professor of public policy at the University of Michigan, said Obama had adopted a sensible, multi-pronged Asia policy, and his administration had significantly raised the level of US diplomatic engagement.
However, even before November's presidential election, Obama's legacy in Asia had been under threat from multiple sources, Ciorciari said. Fractures in America's relationship with long-time ally the Philippines following that nation's election of a new president and disunity among members of the Association of Southeast Asian Nations (Asean) about how to respond to Chinese island building in the South China Sea had highlighted the vulnerability of the regional alliance structures and multilateral institutions that Obama had sought to strengthen.
"Trump's election, the downward spiral of the TPP, and uncertainties surrounding US policies and commitments to Northeast Asia, have begun to erode other aspects of the rebalance," Ciorciari said, adding that the rebalance had failed to deliver on its potential in several key areas.
"As he leaves office, the economic pillar of the strategy is wobbling, alliance politics are more challenging, and regional institutions look no more equipped to address Asia's most pressing strategic challenges," he said.
Victor Cha, a senior adviser at the Washington-based Centre for Strategic and International Studies who was the US National Security Council's director for Asian affairs for three years during the presidency of George W. Bush, Obama's predecessor, said the pivot had four major points of focus: deeply engage China; balance that with a strong alliance with Japan; address the North Korean problem; and re-evaluate free-trade agreements.
In an interview posted on the website of The Diplomat magazine in November, former US diplomat Stapleton Roy, who served as ambassador to China, Singapore and Indonesia, highlighted four major policy changes incorporated in the Obama's pivot: Southeast Asia was now part of America's overall strategy for the region; the US had begun attending the annual East Asia summits; it had adopted a pragmatic approach that recognised the new geopolitical reality; and the TPP had shown it did not intend to abdicate its role in the volatile region.
Some analysts said that since his inauguration in January 2009, Obama had generally pushed to expand US influence and engagement in Asia. However, others said he had merely been continuing the diplomatic trajectory set by George W. Bush, which had been built on bipartisan consensus.
American diplomacy in Asia – and Southeast Asia in particular – had been episodic in previous decades, often buffeted by more pressing challenges such as human rights or terrorism.
Under Obama, the US strengthened its position in Asia by investing more resources in the region and bolstering its core alliances with Japan, South Korea, Singapore, the Philippines and Australia. The US and Japan updated bilateral defence cooperation guidelines and Washington encouraged Tokyo to assume greater responsibility for its own defence and regional security. The US also concluded new agreements with Japan and South Korea on their hosting of American troops, signed an agreement to base US marines in northern Australia and concluded a landmark defence cooperation agreement with the Philippines.
It also proved the US and China can work together, with Obama and President Xi Jinping jointly ratifying the Paris Agreement on climate change in Hangzhou, Zhejiang province, in September, on the eve of the G20 summit. That showed the two countries could find common ground and act together for the greater good, despite their differences.
In Bali, Indonesia, in 2011, Obama became the first US leader to join the East Asia Summit, which is hosted by Asean, and he also established a US-Asean summit and appointed America's first ambassador to Asean.
In South Asia, he sought the upgrade America's strategic partnership with India through regular summit meetings.
Jessica Chen Weiss, a foreign policy expert with Cornell University's department of government, said that while many on both sides of the Pacific had been overly preoccupied with the rhetorical "pivot", the Obama's administration had ultimately been effective in keeping the peace in Asia and had helped prevent many potential crises in the East and South China seas from escalating into conflict.
China and the ripple effects of its rise were central to Obama's pivot to Asia.
Compared with George W. Bush, who enjoyed strong and generally trusting relationships with the major Asian powers – China, India and Japan – Obama has overseen a very unstable relationship with Beijing. Obama's two four-year terms overlapped with the Chinese presidencies of Hu Jintao and Xi, who succeeded Hu in March 2013, just two months after Obama began his second term.
Generally speaking, Obama maintained a relatively stable and friendly working relationship between the two countries during his first term in office. However, relations became increasingly fraught during his second term.
In his first visit to China as US president, in November 2009, Obama and Hu launched a bilateral strategic and economic dialogue, an expansion of a framework for economic cooperation between the two countries that was initiated by Bush and Hu in 2006.
Beijing and Washington have maintained frequent high-level interaction since then to keep their relationship on track, however, the relationship grew rockier towards the end of Obama's first term, as his pivot came into conflict with Xi's "China dream" of national restoration and the resumption of China's historical dominance of the region. Analysts say the Obama era will end with more doubt and mistrust between Washington and Beijing.
China saw Obama's pivot as a conspiracy chiefly designed to contain a rising communist power, and the TPP as an attempt to open a second front targeting its economy, the world's second biggest.
Meanwhile, Washington has viewed China's fast rising economic, political and military status with alarm and seen its increasingly assertive foreign policy and military projection in Asia, under an increasingly nationalistic leadership, as evidence of an effort to challenge the US-dominated post-cold war order in the region.
Weiss said the Obama administration had succeeded in managing tensions with China while forging cooperation on a number of issues, such as climate change, and improving bilateral military-to-military dialogue. However, its failure to force North Korea to abandon its nuclear weapons programme and its recent decision to deploy a missile-defence system in South Korea as a countermeasure had complicated its relations with many countries in Northeast Asia.
Trump's vow to scupper the TPP will be a blow to many US allies, including Tokyo, Singapore and Taipei, who saw the pact as a way of checking China's rising economic influence. It will also do serious damage to the credibility of America's regional commitments.
Herscovitch said the Trump administration would probably end – in word if not deed – many of the Obama administration's pivot policies.
"Gone will be the talk of the United States as the underwriter of peace, security and prosperity in Asia," he said. "Instead, American allies and partners in the region will be called on to shoulder more responsibility for their own defences, while good economic deals for the United States rather than open trade for all nations will be the calling card of Washington's trade policy."
This article appeared in the South China Morning Post print edition as: A n t icl imax in As ia