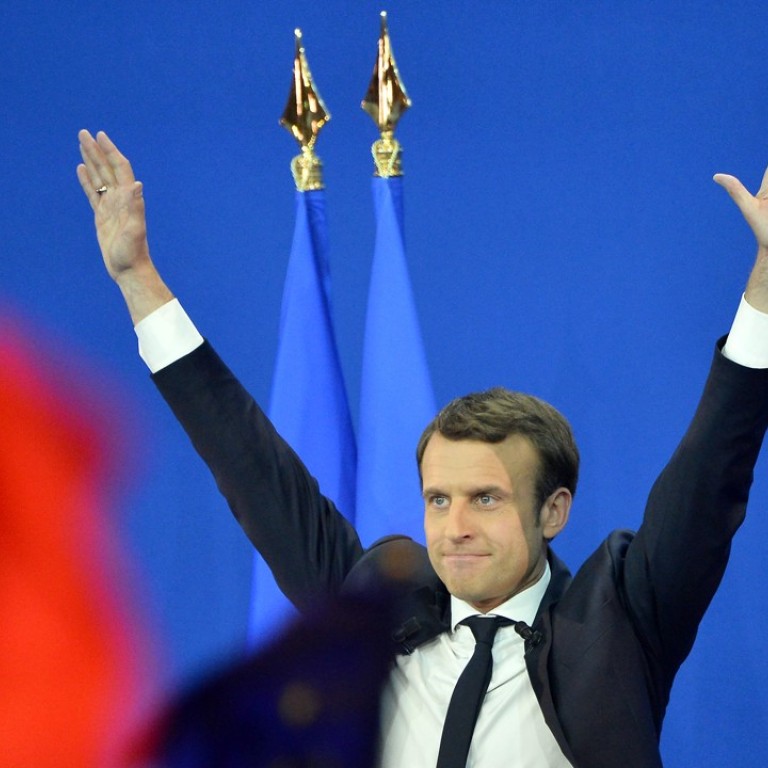 Opinion: what Macron's victory in French presidential election means for China
Emmanuel Macron will be sworn in as President of the French Republic on May 14.
His victory last Sunday has shaken the traditional foundations of the French political party system, organised around a left-right divide: the mainstream right-wing and left-wing parties were eliminated at the first round of the election and Macron has run on a social-liberal platform seeking to bridge the gap between the two sides.
No observer, however, expects major change when it comes to foreign policy. During the campaign, Macron has not articulated a detailed road map for France's foreign relations under his presidency. But the general orientations that will affect France-China relations in the coming years are already apparent from the team of advisers he has gathered around him, the positions he took on specific issues during the election campaign and his brief experience in government as economy minister between 2014 and last year.
As elsewhere, Macron's victory has been interpreted in China as a major setback inflicted against rising populist forces in Europe. This matters particularly when viewed from Beijing. Since the election of Donald Trump, Chinese diplomacy has sought allies for the pro-globalisation and pro-free trade narrative championed by President Xi Jinping in his speech at Davos in January.
Relations with Europe play an important role in that new posture against protectionism. In that sense, the election of a European leader promoting a positive narrative on globalisation is music to Chinese ears.
Thus, for China, Macron's victory means first and foremost no disruption in relations with France and the European Union. China has a stake in the stability of the Euro and the continuation of the European integration project. In this sense, a new crisis is avoided and China can assume predictability and reliability, which would not have been the case had the far-right National Front won the election. The Chinese Ambassador to Germany publicly admitted concerns that a Le Pen presidency would put the Euro sovereign bonds held by China at great risk.
However, this commonality of views is no guarantee that the Franco-Chinese trade and investment relationship will proceed without friction. The two sides trade relationship is deeply unbalanced – China was the number one source of trade deficit for France, ahead of Germany, at 30.4 billion euros (US$33.3 billion) last year. And the investment relationship is increasingly politicised, with questions regarding Chinese acquisitions in France arising from the perspective of the long-term competitiveness of French firms. The question of reciprocal market access in China also shows no sign of being addressed thoroughly.
As a former economy minister, Macron has an interesting track record when it comes to dealing with China. On the one hand, he authorised the sale of state shares in Toulouse-Blagnac airport to the Chinese company CASIL Europe, which has purchased 49.9 per cent of the company at a cost of 308 million euros. While not a major acquisition, this proved controversial in a country with a tradition of state intervention to maintain control over critical infrastructure. The Toulouse story shows the most liberal side of Emmanuel Macron and suggests he will be particularly eager to attract foreign capital.
But on the other hand, Macron is also a proponent of a European screening system to ensure that foreign investment does not undermine the competitiveness and the security interests of Europe. Therefore, a balancing act between more openness and more regulation is to be expected during the upcoming negotiations with China over an investment agreement, in which France will play a leading role.
In fact, China only appeared in Macron's election campaign as an example of how France's approach to trade should be further Europeanised. Macron is a strong advocate of a European trade policy, citing Germany going around the EU in 2013 to negotiate directly with China on solar panels as an example of what should be avoided.
As French economy minister, he was a leading European figure in the defence of the continent's steel industry against Chinese dumping practices, criticising the European Commission for its slow reaction time in imposing anti-dumping duties, advocating more efficient EU trade defence instruments and calling on China to respect the rules of global trade.
Under President Macron, trade and investment issues will certainly continue to prevail over other priorities in EU-China relations and may also dominate the France-China agenda. On international crisis management, counterterrorism and global governance, Macron's campaign suggests continuity with the Hollande presidency.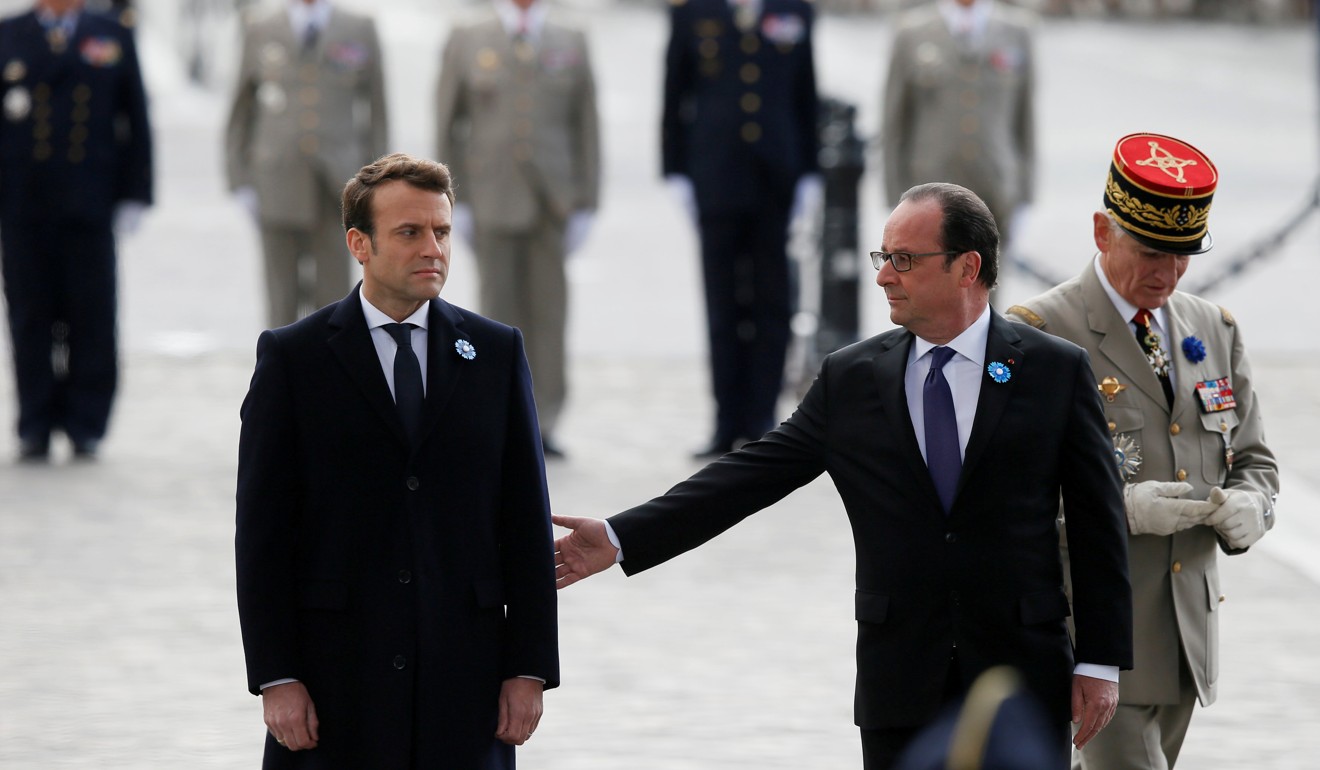 Towards China, one important distinction is the resolutely pro-European tone. Macron's campaign platform showed awareness that the rise of emerging powers results in a relative decline of French influence and advocated European integration as the only realistic solution to mitigate this unavoidable trend. It also advocated a European approach to advance security cooperation and to address the global environmental crisis with China.
What will be most interesting to watch will be how President Macron will position France and the EU strategically in relation to the United States, China and Russia. Macron has surrounded himself with people attached to the transatlantic alliance and his distrust of Russia is obvious. Of all the major candidates in the presidential election, he was clearly the most in tune with the idea of a Western camp in international politics. But on trade relations and climate change after the successful UN Paris conference, to cite only these two, confrontation with the Trump administration will be difficult to avoid. How to find the right balance between his self-proclaimed pragmatism and his strong pro-EU beliefs to address specific international problems will be a defining element of his presidency.
And in the end, the global strategic game for France and the EU is not limited to these three powers. Macron's programme mentions India as France's first strategic partner in Asia and he has already had a telephone conversation with Prime Minister Shinzo Abe of Japan. It is likely that French foreign policy will continue to seek strategic diversity and balance in Asia and avoid being too Sino-centric. Of importance for Asia is the fact that current Defence Minister Jean-Yves Le Drian will most probably stay in government. He has promoted a firm approach on maritime security in support of freedom of navigation and supports defence cooperation with Australia, India and Japan, which puts France at odds with China on the South China Sea.
This is only a broad sketch of what to expect and a major uncertainty remains: the June legislative elections. In the French semi-presidential system, the prime minister and the government are responsible before the National Assembly – a vote of no confidence can force them to resign at any time. Without a clear-cut majority, the new president will face the delicate task of bringing together a coalition of political parties. He may even be imposed with a cohabitation with a government from a different political camp.
During the campaign, Macron stated that he intended to preside, while his prime minister will govern. On paper, this suggests that he will fix broad strategic goals, but in practice, it may mean very different things in a country where the president retains important space to conduct foreign and defence policy even during periods of cohabitation.
Mathieu Duchâtel is deputy director of the Asia and China programme at the European Council on Foreign Relations