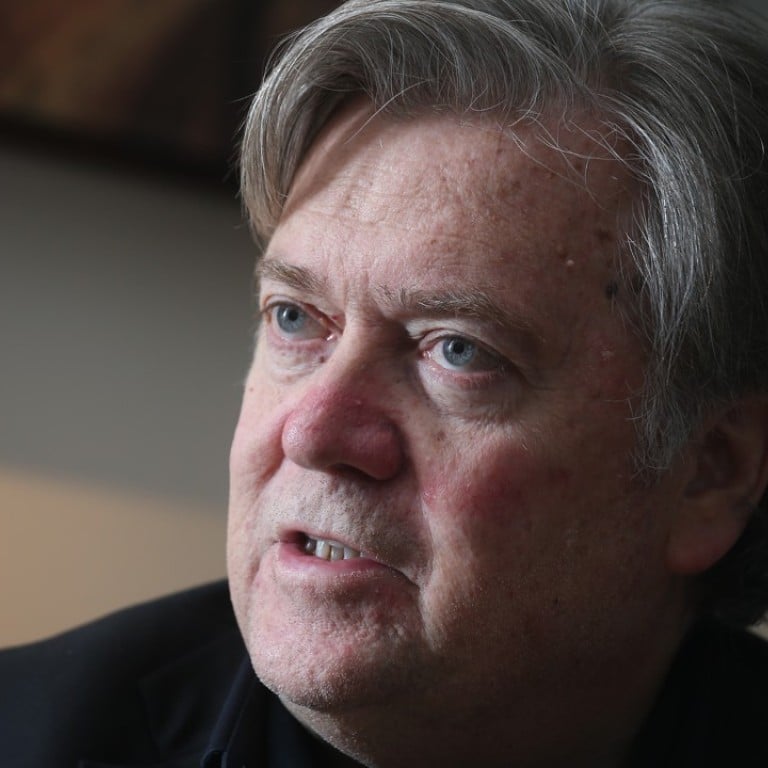 Exclusive
China and US can avoid trade war - if Beijing stops 'appropriating our technology', says Steve Bannon in Hong Kong
Former White House chief strategist accuses China of forcing technology transfers but says conflict with the US can be avoided
Washington will release the results of an investigation into alleged Chinese intellectual property theft before a Sino–US summit in Beijing so both sides can reset bilateral trade with "a whole series of negotiations", former White House chief strategist Steve Bannon told the South China Morning Post.
In Hong Kong for an investors forum, Bannon said on Tuesday that China and the United States had "a lot of issues over trade that need to be worked out" but conflict between them could be avoided.
"I believe we can avoid a trade war, which is detrimental to both countries. We have to somehow reach an agreement," he said.
Bannon said trade would be at the top of US President Donald Trump's agenda when he met his Chinese counterpart, Xi Jinping, in November.
He said a stable trade relationship could help the two countries manage their differences over "other potential conflict points such as North Korea and the South China Sea".
The 63-year-old appeared less belligerent on Tuesday – just before arriving in Hong Kong he accused China of being at "economic war" with the US.
But he did charge China with using forced technology transfers to undermine US competitiveness.
"[Our trade relationship] is basically that we ship raw material to China and they send back high-value manufacturing goods to our market. That happens because they appropriate our technology," he said.
Last month, the Trump administration launched a formal "Section 301" investigation into alleged Chinese intellectual property theft, a rare move that could see the US slap tariffs on Chinese products within a year.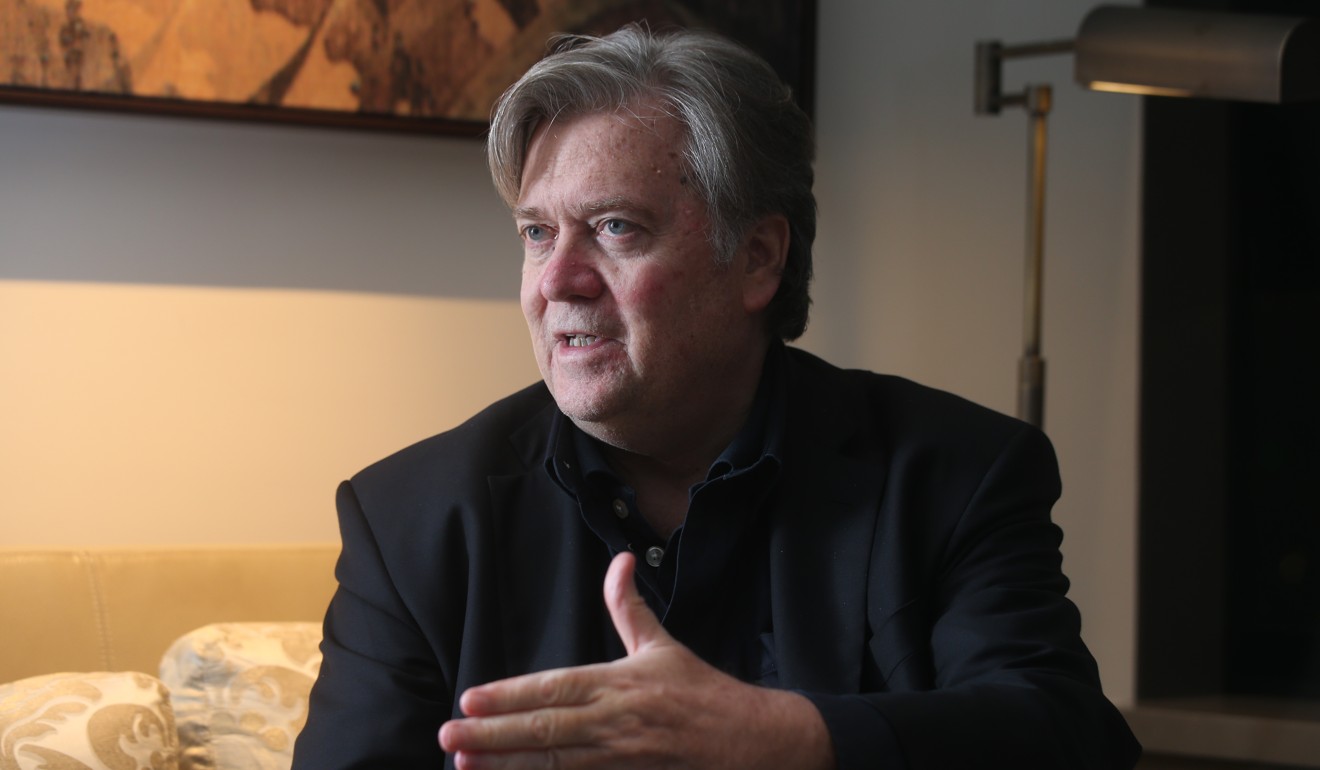 Bannon, one of the most prominent economic nationalists in Trump's camp, said the results of the investigation would come out before Trump's arrival in Beijing. He said the US would hold a series of talks with China to reshape their trade relations.
But Bannon also said bilateral ties would be stronger if both countries worked out their differences.
"The conflict [between China and the US] is not preordained. It can be avoided if we work together," he said.
Bannon was full of praise for Xi, whom he met at the Mar-a-Lago summit in Florida in April. He said Trump and Xi had developed a strong rapport and that could help the trade talks.
"Xi is very impressive. He really understands what's in the best interests of his people," Bannon said. "He is very smart, very tough but fair. He is direct and to the point – just like President Trump. That is why they like each other so much."
Bannon has a reputation for tough talk on China but he said he "had never been anti-China".
"I talk about China as somebody who knows China and knows how to best work with them."
He said other Asian countries should not feel torn between the two giants.
"You don't have to choose sides. I don't think the US ever said you have to choose, and neither did the Chinese. The [Pacific Rim] is important to the whole world."
He said China and the US were allies in the second world war and helped each other against the threat of the Soviet Union during the cold war.
"This is different from the cold war. We are clearly competitors but we can work out the issues between us," he said.
This article appeared in the South China Morning Post print edition as: U.S. seeks to reset trade with china, ex-trump aide says