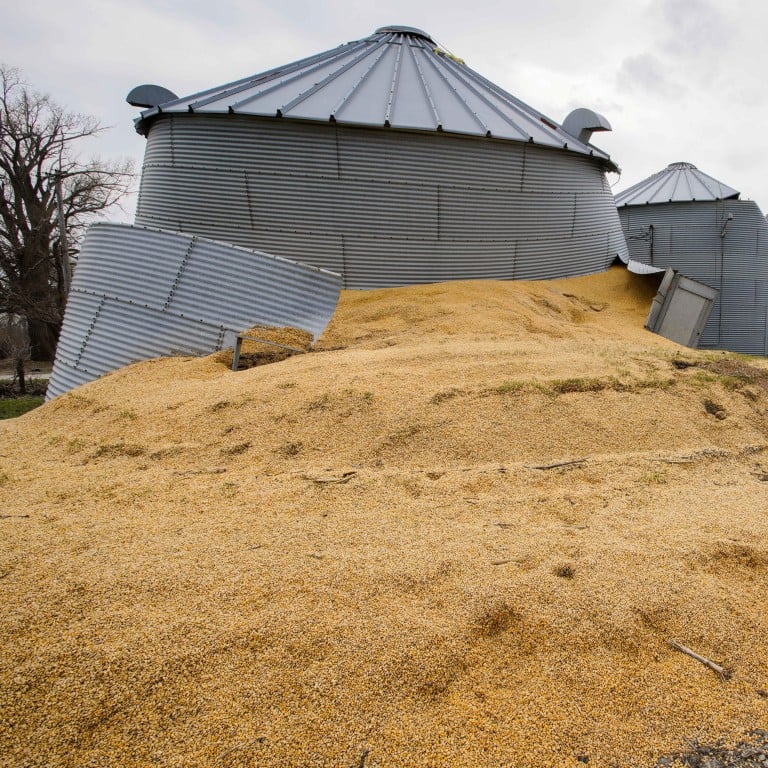 Donald Trump's plan to buy US$15 billion of crops for humanitarian aid does not thrill farmers
Such programmes wind up hurting both farmers and developing countries, economists say
'Here's a handout to make you happy? That doesn't make us happy,' a farmer in Minnesota says
The unresolved trade dispute between the United States and China roils global financial markets episodically, but over the past year its escalation has sharply curtailed US farmers' access to one of their biggest markets, exacerbating the pain they are feeling from already low commodity prices.
Adding insult to injury, they say, is being offered a handout by US President Donald Trump, who tweeted on Friday that he would use the money raised via tariffs on China to purchase US$15 billion worth of agricultural products to help the farm sector. The purchased food would go towards humanitarian aid, Trump said.
Agricultural economists and farmers note that such plans have been tried before with less than desirable results for both farmers and the nations receiving the food aid.
"Here's a handout to make you happy? That doesn't make us happy. We want our markets back," Bill Gordon, a fourth-generation farmer in Worthington, Minnesota, who is also vice-president of the American Soybean Association, said in a telephone interview.
"It is not up to us to tell the president how to negotiate, but a handout from the government is not how I want to run my business," Gordon said.
"It took us 40 years to build these markets … and while no trade deal is perfect, for the most part the agriculture trade with China was on the up and up, or mutually beneficial," he added.
The increased tariffs came a day after Chinese Vice-Premier Liu He arrived in Washington for talks that had been seen as part of a possible final round of trade negotiations. Beijing almost immediately vowed to take the "necessary countermeasures" in response to the decision.
Moreover, the trade talks ended early on Friday with no deal, with Chinese state media reporting that the trade delegation would be returning to Beijing later that day.
US Treasury Secretary Steven Mnuchin told reporters at noon that the talks had been constructive as he left the US trade representative's office, where the 11th round of talks took place.
Trump's tweets left unclear what products the US government would purchase or whether it was a roundabout way of saying that the Market Facilitation Programme (MFP) that his administration started in mid-2018 would be extended.
The MFP authorised up to US$12 billion in payments to US farmers – particularly soybean farmers – to help them cope with the retaliatory tariffs China placed on their crops as the trade dispute unfolded last year.
According to the Office of the US Trade Representative, the US exported US$9.3 billion worth of agricultural products to China last year, the nation's fourth largest agricultural export market, even with the tariffs, which began at midyear. Soybeans made up one-third of that total, at US$3.1 billion.
Agricultural economist Scott Irwin, a professor at the University of Illinois Urbana-Champaign, said in an interview that farmers were currently looking at losses per acre of US$50 to US$100 on planted corn and soybeans. That is without any government assistance, he said.
Irwin believes the government will probably just hand out checks to farmers rather than purchase their crops.
"They are likely going to roll out that MFP and probably expand it because Trump believes he has plenty of money to cover any checks he is going to write the farmers," Irwin said.
"Every developed country in the world subsidises its ag sector," he said. "We have an over 80-year history of doing that here in the US. If it is socialism, it is not new socialism."
Farmers like Gordon stress they are simply looking to compete on a fair and level playing field, not seeking handouts during a time when prices for crops such as soybeans are down sharply. Soybeans are trading close to their lowest levels in a decade.
"What we want people to understand is that we don't want people to think we are complaining because we are not becoming super profitable," he said.
"Today, If I plant soybeans, I'm guaranteed to lose US$65,000 on this planting. I have to find somewhere else that money just to get me back to zero."
"That is the real hurt right now. The markets are so low, we cannot even break even to pay our bills. Farmers are losing their farms every day. The suicide rate among farmers is at an all-time high," Gordon added.
The outlook, however, on prices for soybeans is not particularly good, even though there were bumper crops for the past several years in the US and South America.
On Friday the US Department of Agriculture's global supply and demand estimates for May indicated that while the supply of soybeans was falling, prices would continue to erode, said agricultural economist Chad Hart at Iowa State University.
Hart said that starting around 2013, the global supply of soybeans had been outstripping demand, leading to a fall in prices. "The agriculture economy was struggling before this dispute but the dispute has exacerbated the reasons why it was down," he said.
According to Agriculture Department estimates, there will likely be a decline of 400 million bushels of soybeans in the 2019-20 planting season to around 4.15 billion bushels in the United States.
"Even though supply is going down, demand is not strong enough to lift prices higher," Hart said.
And the potential grain purchases to feed needy nations, as Trump suggested? Previous experience suggests that food aid to those markets is a double-edged sword.
Developing nations typically do not have the infrastructure in place for industrial size farming, and Irwin of the University of Illinois noted that the US government started to purchase agricultural commodities domestically to give as humanitarian aid starting in 1954 under president Dwight Eisenhower.
What became known as the Food for Peace programme is run by the United States Agency for International Development.
"What Trump is suggesting is nothing new. The scale would be unprecedentedly large," he said.
However, he said, the economic literature over decades has shown that if the goal is to support farm incomes because of low commodity prices, it is better to just write a check rather than buy and stockpile the grain.
Otherwise, history showed, he said, "you are literally then dumping the grains into local markets in less developed countries, bringing cheap foodstuffs that then harm the local farm production sector".
This article appeared in the South China Morning Post print edition as: Trump's plan to buy crops does not thrill US farmers