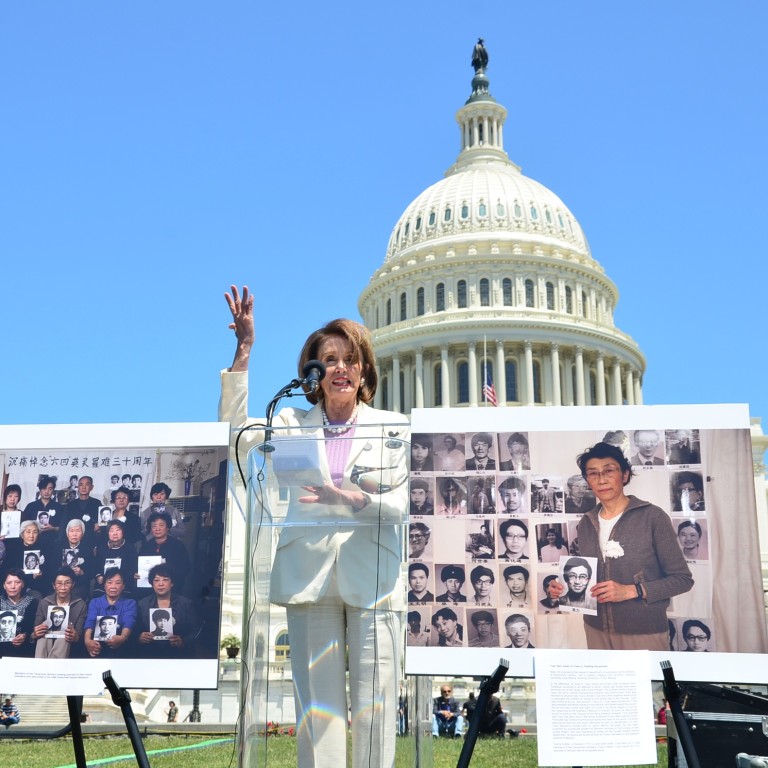 For Pelosi, it's personal: US House Speaker meets Tiananmen survivors, blasts China's 'moral injustices'
Nancy Pelosi's long-standing advocacy of human rights in China includes a commemorative trip to the square in 1991
The US must remember the protesters, she says, 'because China still shamefully tries to hide the history of the atrocity it inflicted on its own people'
US House Speaker Nancy Pelosi met more than 30 survivors of the Tiananmen Square crackdown on Tuesday in Washington, one of a number of events in the US capital commemorating the 30-year anniversary of the Chinese government's brutal repression of pro-democracy protests.
Several of those protests' former student leaders, who had travelled to Washington from around the country, were hosted by Pelosi – the United States' most powerful Democrat – in her offices and included prominent human rights campaigners Wang Dan, Zhou Fengsuo and Wang Juntao.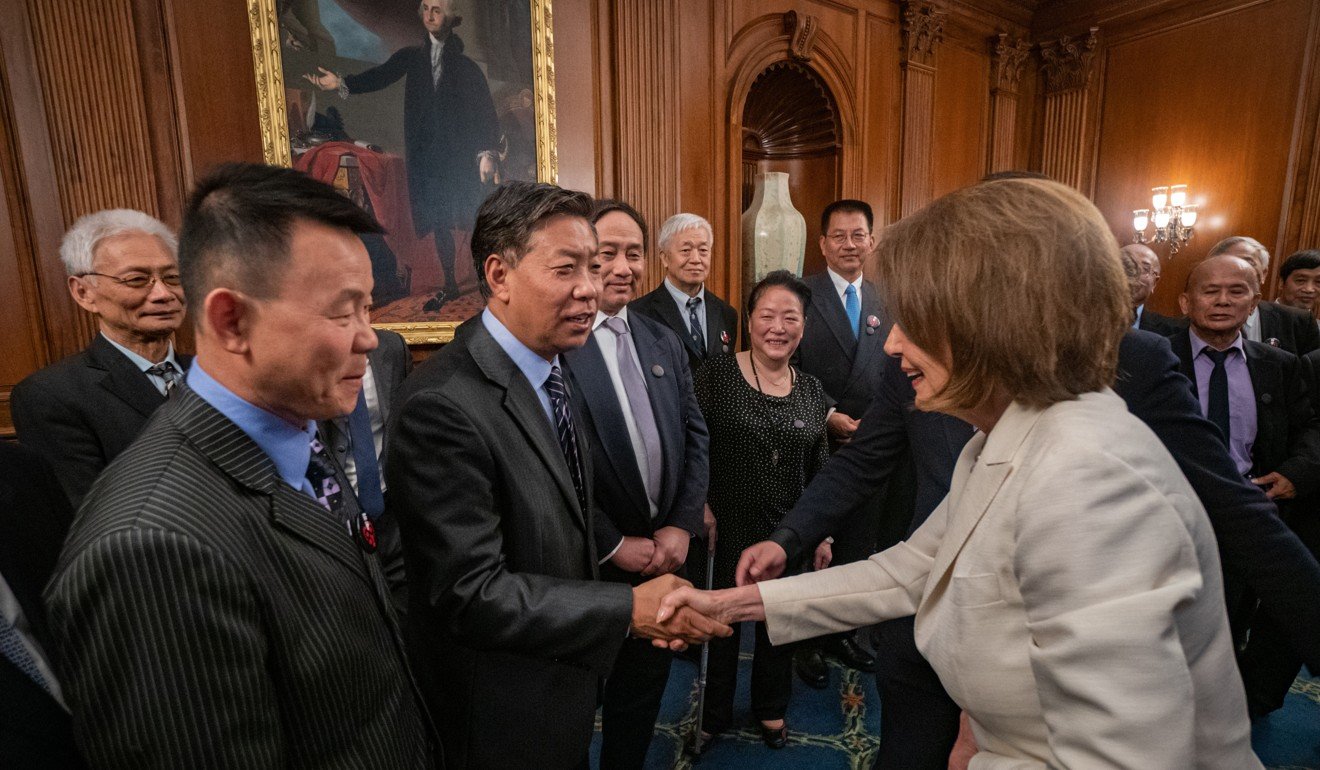 "It was a profound honour to meet with the courageous, inspiring veterans of Tiananmen today," Pelosi, for decades a supporter of calls for improved liberties and human rights in China, told the South China Morning Post in a statement.
It fell on America to remember their heroism, said Pelosi, "because China still shamefully tries to hide the history of the atrocity it inflicted on its own people 30 years ago".
Zhou, a student leader of the protests and once No 5 on Beijing's most wanted list, said he was grateful for the meeting, calling it "a special moment in history".
Being received in a congressional meeting room at the centre of power in the United States, however, stirred mixed feelings among the dissidents, Zhou said.
"There are so many friends who are not present, who are not able to speak out in China, who are jailed for trying to commemorate June 4. The stark contrast of their absence is a reminder of the huge responsibility upon our shoulders," he said.
Testifying before the Congressional Executive Commission on China (CECC) earlier on Tuesday morning, Pelosi called on the Trump administration to place human rights on an equal footing with economic and trade issues in the US' dealings with China.
"America must demonstrate the moral courage to use our leverage to not only guarantee fair trade for our products in Chinese markets, but also to advance human rights in China," Pelosi told a panel of fellow lawmakers at a hearing entitled "Tiananmen at 30: Examining the Evolution of Repression in China".
"We cannot allow economic interests with China to blind us to the moral injustices committed by China."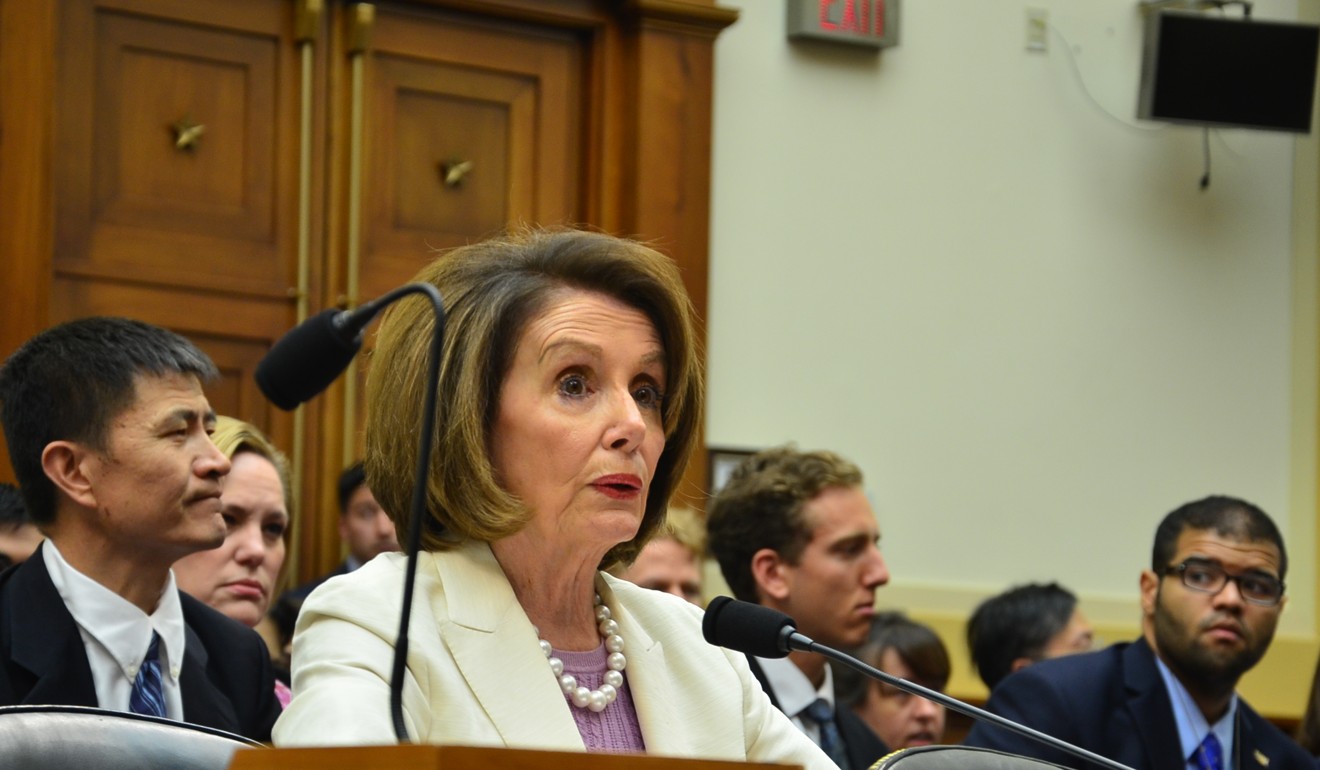 Pelosi, who has led the House of Representatives since January, said that "the greatest tribute Congress can make to the fallen freedom fighters of Tiananmen is to use our influence to advance the democratic aspirations of that generation".
As Pelosi delivered her testimony on Tuesday morning, the former student leaders and protesters held a news conference in downtown Washington both to memorialise those killed during the crackdown and to seek more vocal support for human rights in China.
The three decades had left those survivors disheartened by the international community, in particular the US government, said Xiang Xiaoji, who now works as a lawyer in New York.
"The appeasement among the Western countries – they just want to have business with the Chinese government, they just want to make money," said Xiang, who in 1989 led dialogue between students and government officials during the weeks-long protests. "They seldom put forward the demands for human rights in China."
Human rights have not featured prominently in the current US administration's policies towards China, despite blooming tensions stemming from the trade war that have spilled out to other fronts.
For three decades, Pelosi has been a human rights advocate in Congress, pushing for tougher positions on China's transgressions and fighting for the release of numerous political prisoners. She co-sponsored the 1992 Chinese Student Protection Act, which granted tens of thousands of Chinese students permanent residency permits in the US after the Tiananmen Square crackdown.
In 1991, two years after the crackdown and under the glare of the security cameras and scrutiny of Chinese police, Pelosi unfurled a memorial banner in Tiananmen Square with two other US congressmen that read "To those who died for democracy in China" – before being chased away by Chinese troops.
On Tuesday, at a public rally held on the lawns of the Capitol, Pelosi spoke before several hundred people, delivering a message to China's leaders: "You may be in the crowd, you may be down the street, but I want you to hear what I have to say," she said. "You can tell the prisoners all you want that we don't remember them or know why they are in prison. But we do."
She added that Congress was feeling a renewed spirit when came to addressing human rights abuses in China, something she called a matter of "great pride".
As well as two pieces of legislation calling on the US government to take action in the face of China's reported detention of an estimated one million Uygurs and other largely Muslim minority groups in Xinjiang, two recently introduced resolutions condemning Beijing's actions in 1989 await approval in Congress.
At the end of her speech, Pelosi unveiled the cast of a "Tank Man" statue by sculptor Thomas Marsh, based on the photo of a man who blockaded a column of tanks on June 5, one of the 20th century's most iconic images.
In comments later to the Post, Pelosi said the "bipartisan Congress must always speak out in defence of all who strive to achieve the Tiananmen protesters' dream of freedom".
Those pursuing that dream in today's China, she said, ranged "from Uygur communities to the people of Tibet to the people of Hong Kong fighting a dangerous proposed extradition law and to the journalists, human rights lawyers, democracy activists and Christians who unjustly languish in jail."