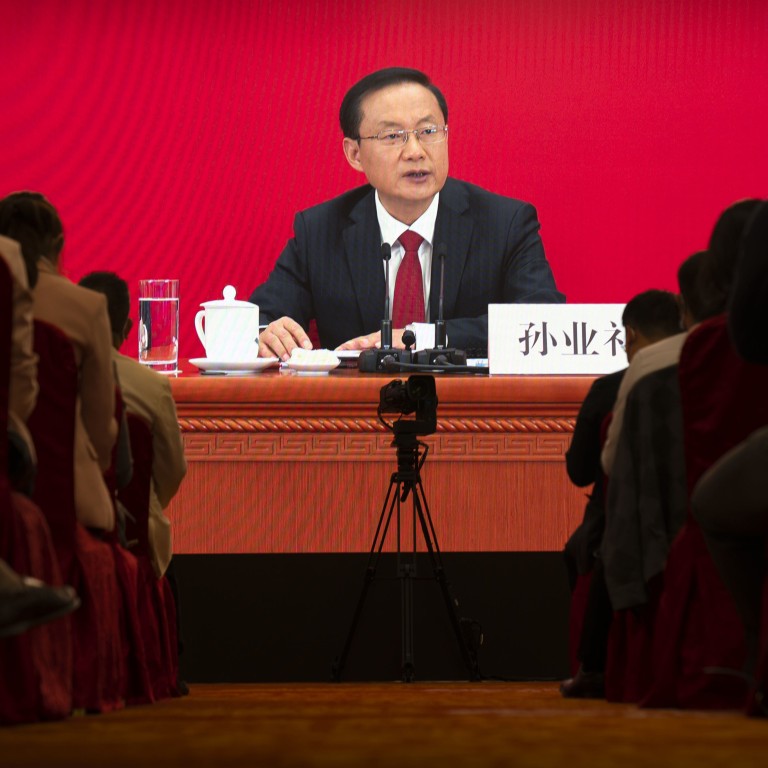 China and US must get along, Communist Party says on eve of national congress
Common interests between the two countries outweigh their differences, party spokesman says
'We don't provoke, but we're not afraid of provocation,' he says
China offered an apparently conciliatory message to the United States on Saturday, saying it did not believe that
the two major powers
would necessarily be locked in confrontation.
The assessment was delivered by a senior Communist Party official ahead of the opening of the
party's national congress
, an event held every five years.
In a press conference before the congress
gets under way on Sunday, deputy propaganda chief Sun Yeli said the most important thing in international relations in the next 50 years would be "a right way" for the US and China "to get along".
"China-US ties concern the world's future, and whether [we] can handle relations with each other is the question of the century that both countries need to answer well," Sun said.
"[We also] oppose the idea that 'a strong country must seek hegemony' and the mindset of zero-sum game thinking.
"We don't provoke, but we're not afraid of provocation."
He said the common interests between the two countries far outweighed their differences, with trade relations hitting a record US$750 billion in 2021 and trade cooperation with China had resulted in2.6 million jobs in the US.
"There are many challenges in today's world that require cooperation between the two countries. The international community generally expects China and the United States to play a leading role, assume the responsibilities of major powers, stabilise bilateral relations, and promote global cooperation," Sun said.
Beijing sees the island as part of its territory and most countries, including the United States, do not recognise the island as an independent state. But Washington opposes any move to take the island by force.
In a meeting in July, Chinese Foreign Minister Wang Yi told US Secretary of State Antony Blinken that the relations between the two nations would face more challenges than under the previous US administration, warning that a "dead end" would come if the US continued to see China as a threat.
"If this 'threat' theory is allowed to further develop, US policy towards China will be entering a dead end that it cannot exit," Wang said.
Foreign relations and Taiwan are expected to be on the agenda when President Xi Jinping launches the twice-a-decade party congress on Sunday by delivering a work report that will lay out a vision of the country for the next five years.