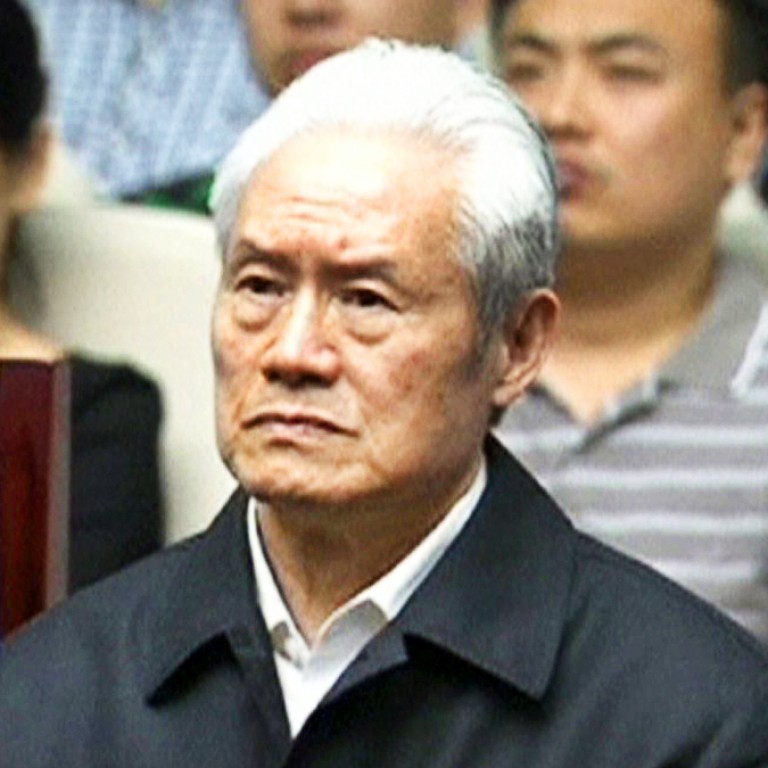 With ex-security tsar Zhou Yongkang behind bars, where will China's President Xi Jinping turn next?
Analysts say case against Zhou Yongkang marks climax of anti-graft drive, but others disagree
Thursday's abrupt announcement that Zhou Yongkang had been brought to trial, pleaded guilty and sentenced has left an important question hanging in the air - what's next for President Xi Jinping's anti-graft campaign?
A day after the announcement that surprised many, including lawyers close to the cases of Zhou's family members, the Communist Party's graft watchdog announced the first batch of inspection findings of major state-owned enterprises, such as China Huaneng Group. It accused some of Huaneng's leaders of "receiving bribes, abusing power and facilitating transactions for its spouses, children and relatives".
Findings of inspections of other state giants, including China Power Investment Corporation, which is under close scrutiny following the surprise departure of Li Xiaolin, the daughter of party heavyweight Li Peng , would also be announced soon.
While such announcements may serve as a sign the anti-graft campaign would continue, analysts are divided about whether the drive has reached its high-water mark with the sentence against Zhou - the first Politburo Standing Committee member to be put behind bars in decades.
Some suggested the hasty procedure signalled Xi wanted to quickly wrap up the case and move on to more important items on his agenda, such as economic development. Others believe this is only the beginning of a tougher battle, now that the unsaid taboo against charging former or incumbent committee members had been broken.
WATCH: Zhou Yongkang repents for crimes as he receives life sentence
Zhou, a former security chief, was convicted of abuse of power, accepting bribes and revealing state secrets. He was sentenced to life in prison on Thursday following a secret trial on May 22.
Huang Jing, a public policy professor at the National University of Singapore, believed more senior officials would be targeted. "It's the end of the beginning, not the beginning of the end," he said.
But Kerry Brown, professor of Chinese Politics at the University of Sydney, said the authorities were eager to turn the page. "I think they have made their point, and the drama does not serve them well now. Now it is back to bread and butter politics - implementing the vast raft of policy proposals they have made in the last few months and years," Brown said.
Warren Sun, who studies Chinese elite politics at Monash University in Australia, said the graft campaign had reached its climax. It had been an exercise in party discipline rather than a display of rule of law by the state.
The momentum of the campaign might ebb slightly, but it would not come to a halt, Sun said. Guo Boxiong , a former vice-chairman of the Central Military Commission, was the most likely next target, Sun said.
Some observers have said Zhou had formed a faction with former Chongqing party boss Bo Xilai , former commission vice-chairman Xu Caihou and former head of the party's United Front Work Department Ling Jihua - labelled the new "Gang of Four." Xu died of cancer in March.
"Maybe Ling Jihua will be dealt with, but Xi and his allies must have expended so much political capital in getting Zhou buried that I think they risk causing antagonism within the party if they persist in going after more high-profile targets," Brown said.
Analysts said the anti-graft campaign was popular, but it might trigger a power struggle and it remained unclear how much political cost Xi was willing to pay. Xiaoyu Pu, a political science professor at the University of Nevada, said: "Perhaps Xi might have to balance the needs of the anti-corruption campaigns with legal reforms as well as the maintenance of political stability.
This article appeared in the South China Morning Post print edition as: With Zhou behind bars, where will Xi turn next?