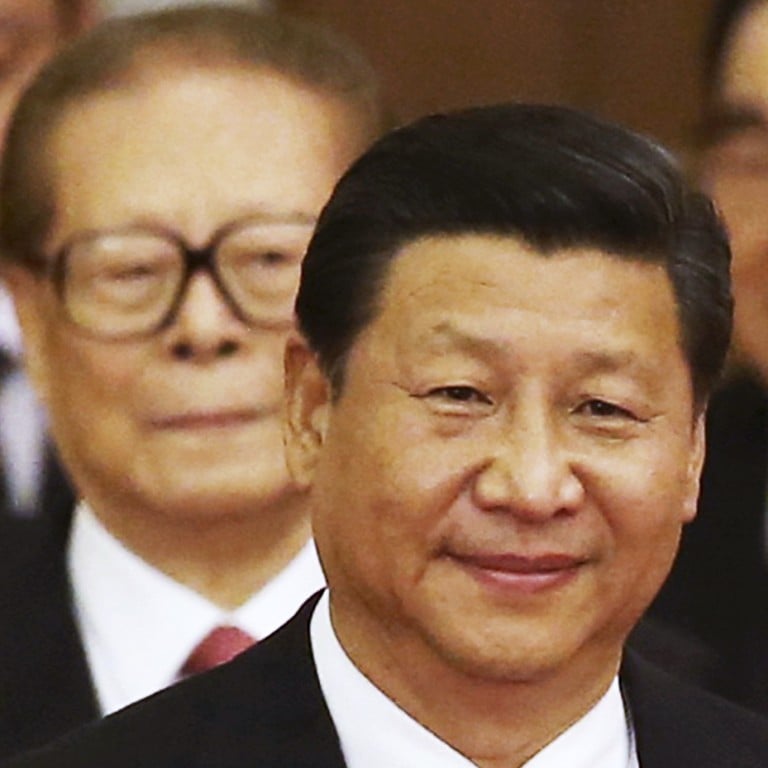 Stop meddling in politics: Chinese President Xi Jinping's coded message to Jiang Zemin
That's the message analysts believe has been sent to the retired leader by recent state media articles
With , it's all about reading between the lines and this week some China watchers are seeing a pointed message in the Communist Party mouthpiece aimed at former president Jiang Zemin.
A commentary on Monday lambasted unnamed "retired leaders" for clinging to power and causing rifts within the party. It was followed yesterday by an article on the website of the overseas edition chronicling how late paramount leader Deng Xiaoping and his archrival Chen Yun worked together to establish a retirement system for party leaders.
There was no mention, though, of the "old men" era of politics of the 1980s and 1990s when the so-called Eight Elders held on to the reins of power long after their official retirement.
As ever, context is everything, with the articles being published as leaders are believed to be meeting at an informal summit at the seaside resort of Beidaihe to make important national decisions.
Several analysts said the articles were a sign of how much President Xi Jinping wanted Jiang, who retired from his last top job in 2004, to stay out of politics.
Bo Zhiyue, professor of political science at Victoria University of Wellington, said the message was plain.
"Clearly, Xi used to send a message to Jiang to stop meddling in politics," Bo said.
Warren Sun, professor of Chinese Studies at Monash University, said it was a fresh warning to party elders such as Jiang and ally and former vice-president Zeng Qinghong to stop trying to destabilise the administration.
"We can only hope it's not merely for the … convenience of the present leadership, but the beginning of a virtually impossible effort to achieve a 'new norm' that formally ends 'old-man politics', and more importantly, creates a more healthy political culture at every level of the gigantic Chinese bureaucracy," Sun said.
Steve Tsang, chair of the School of Contemporary Chinese Studies at the University of Nottingham, said Jiang - rather than former premier Zhu Rongji or former president Hu Jintao - was the most influential of the retired leaders.
"It is therefore difficult to avoid the conclusion that the message is directed to all interfering elders, including Jiang," Tsang said. "There is no mention of Zhu, who probably was the most exemplary of the retired, or of Hu, who handed over all top offices when his time was up. Jiang did the opposite of what Zhu and Hu did."
Xi's much-publicised drive against corruption has ensnared a long list of senior officials, many of whom were Jiang's close allies, including former security tsar Zhou Yongkang , and Xu Caihou and Guo Boxiong , both of whom were vice-chairmen of the Central Military Commission.
But the analysts agreed it did not mean Xi would pursue Jiang any time soon.
"It should not be assumed that Xi is now going to purge Jiang. It is more like a shot across the bow to make it clear to Jiang and his followers that Xi is now drawing a line there," Tsang said.
This article appeared in the South China Morning Post print edition as: Xi, Jiang and reading between the hard lines