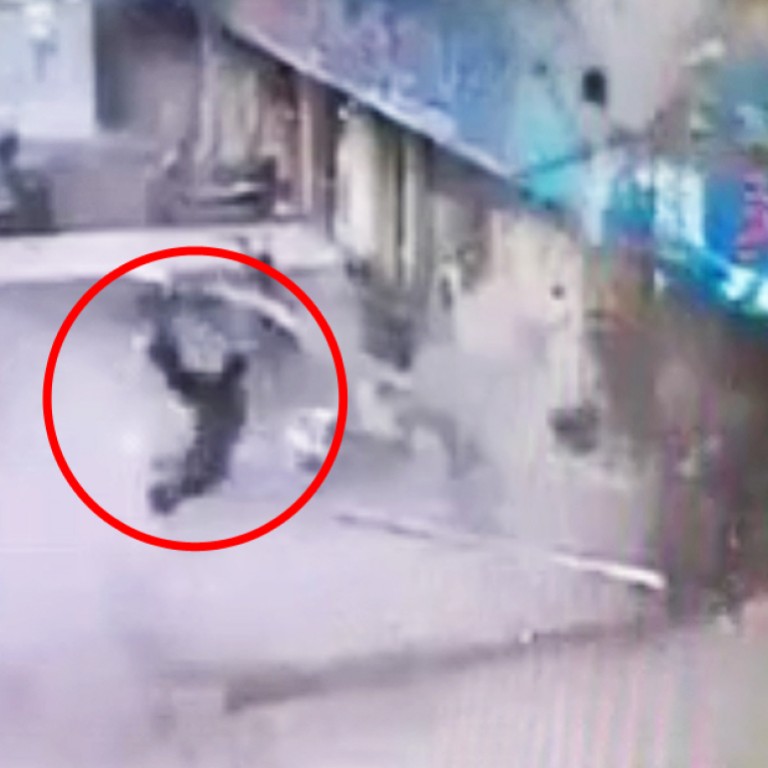 Video captures 'body' flying from exploding building as 18th blast rocks China's Guangxi province on National Day
Confusion over whether anyone was injured in explosion at Liucheng county block of flats on Thursday after 17 blasts on Wednesday kill at least seven people and injure dozens more
A new explosion rocked Liucheng county in China's southwestern Guangxi province on Thursday morning – the day after a series of bombs hidden in parcels exploded and killed at least seven people and injured dozens more.
The latest blast happened at about 8am in a fifth-floor flat in a residential block on the first day of China's seven-day National Day.
It caused structural damage to the brick building and led to parts of the brickwork falling onto the street below. 
Residents said they felt the building shaking after hearing the sound of a large explosion.
There have been conflicting reports over the blasts because of the chaotic situation in the area.
Xinhua reported that one person was injured in Thursday morning's blast, but its official Weibo account said in the afternoon that no one had been hurt.
Nanguo Zaobao reported on Wednesday evening that a suspect had been arrested, but police said later in the evening that they were still pursuing the suspect.
On Wednesday afternoon, 17 blasts occurred in the county, in the city of Liuzhou and its surrounding area, with the first bang heard at around 3.50pm.
Five of those killed by the explosions died at the scene. Two other people have been reported missing, while more than 50 other people were injured.
Local police said on Wednesday that they had launched a criminal investigation and identified a 33-year-old male suspect, surnamed Wei, from Dapu township.
They claimed the suspect had hired other people to send the parcels, Xinhua reported.
Parcel deliveries have been suspended by the Liuzhou postal service until Saturday.
Wednesday's fatal blasts were triggered by explosive devices hidden inside express delivery packages delivered across the county, police said.
Later on Wednesday Nanguo Zaobao reported that Wei had been arrested.
The targets of the earlier attacks include the Dapu township government office, supermarkets, malls, a hospital, prison, bus terminal, an animal husbandry staff dormitory and a centre for infectious disease and prevention.
Cai Tianlai, Liucheng's public security political commissar, told a press conference on Wednesday that tip-offs from the public had led to 60 suspicious courier parcels being identified.
The suspicious parcels were being guarded, pending examination by bomb squad officials, China News Service reported.