Focus
Get more with myNEWS
A personalised news feed of stories that matter to you
Learn more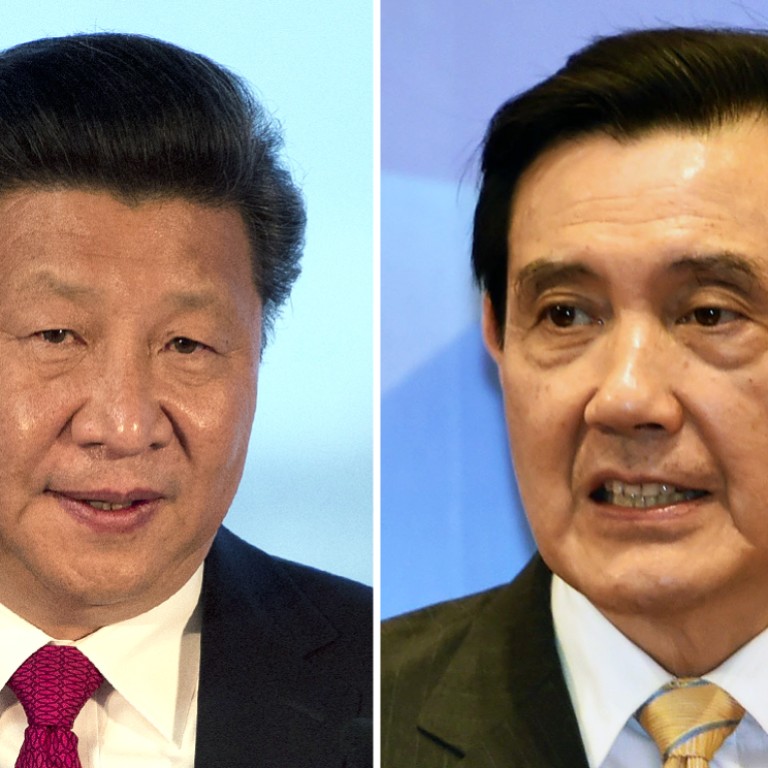 New
Xi's a mister, so is Ma: China and Taiwan have an unusual solution for an old problem
The leaders of the mainland and Taiwan have solved the problem of how to address each other during landmark meeting in Singapore
They've worked weeks to decide just how to address each other and have finally come to a consensus. On Saturday, President Xi Jinping and Taiwan's Ma Ying-jeou will make history in the first meeting of both sides' top leaders since the Chinese civil war ended in 1949.
Xi and Ma's meeting in Singapore will see them refer to each other simply as "Mister". Their meeting in the capacity of "leaders from both sides of the Taiwan Strait" avoids the political embarrassment of each having to call the other "President", as neither officially recognises the other.
Analysts say the talks will open a channel of direct communication between the two sides even if Taiwan sees a change of power after its presidential election in January. It would also pave the way for future political talks, the experts said.
The mainland and Taiwanese governments made the sudden announcement of the two leaders' meeting after working for weeks to achieve the consensus. Ma would fly to Singapore to meet Xi, Taiwan's presidential office said on Tuesday night.
Confirming the news yesterday morning, Zhang Zhijun, head of the mainland's Taiwan Affairs Office, said the decision for Xi and Ma to address each other as "Mister" was a practical arrangement based on the "One China" principle as the two sides' political differences had yet to be resolved.
Andrew Hsia Li-yan, chairman of Taiwan's Mainland Affairs Council, said he had proposed to Zhang during their talks in Guangzhou last month, that Xi and Ma meet on the sidelines of this month's Asia-Pacific Economic Cooperation summit in Manila. But Zhang said it would be more appropriate for the talks to be held elsewhere.
It took a few weeks to finalise the date and venue, Hsia said
"This is a milestone in cross-strait ties as it will set a precedent for future relations," said Taiwanese affairs expert Xu Xue of Xiamen University's Institute of Taiwan Studies.
The talks would allow for future direct communication between the two sides' highest levels of political leadership no matter who was in office, Xu said.
Singapore's former foreign minister George Yeo applauded the mainland and Taiwan for their pragmatic approach towards reaching a consensus.
"That the meeting should now take place is because of careful diplomatic preparation. The symbolism of the meeting will alter the psychology of cross-strait relations in a positive way for years to come," Yeo, the chairman of Kerry Logistics, said. Kerry Logistics is part of the Kerry Group, which also controls the SCMP Group, publisher of the .
"The meeting is the drama that will hopefully open a new chapter in the history of China and the peaceful revival of the Chinese nation," Yeo added.
Xi and Ma's summit comes at a politically sensitive time, as Taiwan prepares for its presidential election and amid escalating tension over territorial disputes between China and Japan as well as other Southeast Asian nations backed by the United States.
"Any meeting between the leaders of the mainland and Taiwan would be delicate, but the Taiwanese elections add to the political risks for both sides," said John Ciorciari, assistant professor at University of Michigan's Ford School of Public Policy.
Cross-strait ties had been frozen until the late 1980s. In 1993, the two sides held their first direct semi-official talks in Singapore. In 2005, Taiwan's Kuomintang chief Lien Chan paid a historic visit to the mainland for a leader-to-leader meeting with then Communist Party head Hu Jintao. Beijing and Taipei held their first government-to-government talks last year.
Lin Chong-pin, former vice-chairman of Taiwan's Mainland Affairs Council, said Xi and Ma's meeting was seen as Beijing's attempt to improve ties with Taiwan before the island's presidential poll, which is likely to see the pro-independence Democratic Progressive Party take power.
Xu said Beijing was eager to forge closer ties with Taiwan before the elections as it believed the DPP would surely come to power in January. By holding the first summit of both sides' leaders, Beijing had set the stage for Taiwan's future leader Tsai Ing-wen, if elected, to hold direct talks with Xi or other top mainland leaders, he said.
Xu said it was Xi's political agenda to see a breakthrough in cross-strait relations in his 10-year tenure. "Without a breakthrough in cross-strait ties, Xi's political legacy of the Chinese dream would not be fully realised," Xu said.
This article appeared in the South China Morning Post print edition as: 'Mister' sets the stage for Xi-Ma historic talks 'Mister' sets the stage for historic Xi-Ma talks