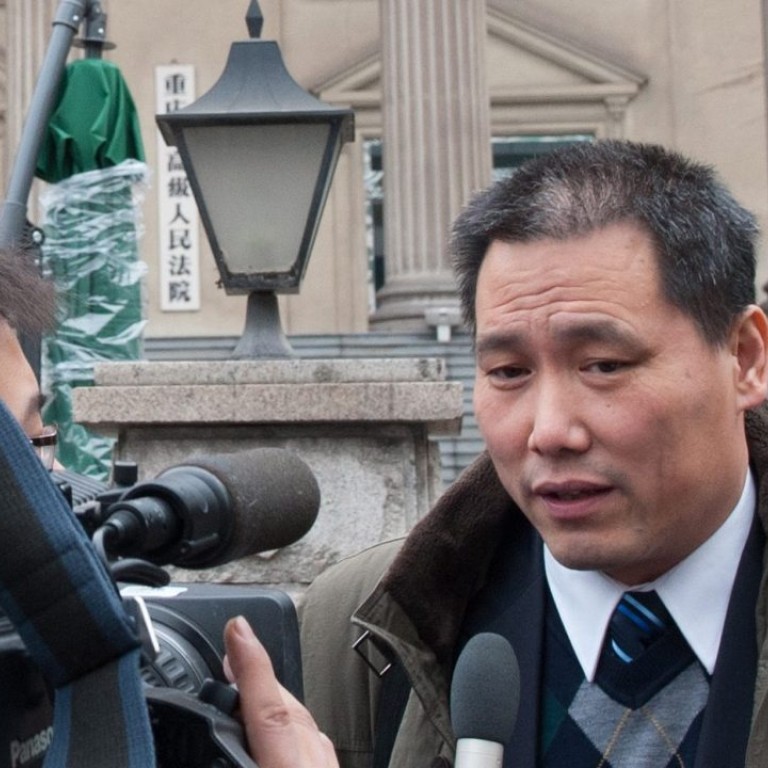 New
Chinese rights lawyer Pu Zhiqiang rejects charges in heated trial over social media posts critical of Communist Party
His ordeal is widely seen as a political case to silence him and to warn other rights advocates against speaking up.
Pu is charged with "inciting ethnic hatred" and "picking quarrels and provoking trouble" for the content of seven Weibo messages that he posted online between July 2011 and May 2014. He faces up to eight years in jail.
Pu's online messages were mostly remarks critical of the government's handling of an ethnic conflict in Kunming, Yunnan province, last year and sarcastic comments about two officials.
Shang said Pu admitted in court that his microblog writing style was "sharp, caustic and sometimes vulgar" and was willing to apologise.
"[But] he said he didn't think he had incited ethnic hatred or provoked trouble. He had no such intention," Shang said. He said Pu was not asked whether he admitted to his guilt during the trial.
Shang said the 12 audience seats were occupied in court on Monday, but that apart from Pu's wife Meng Qun, he could not identify the others.
Security was tight outside the court, with the courthouse cordoned off and scores of police officers and unidentified men rough handling, pushing and shooing away supporters, journalists and foreign diplomats who tried to get near. Several of Pu's supporters were led away by police.
American diplomat Dan Biers was pushed away while making a statement near the courthouse. A United States embassy statement called for Pu's release and urged "China to uphold fundamental civil rights and fair trial guarantees".
Dozens of Pu's supporters gathered with banners in front of a residential compound next to the courthouse but were later dispersed by plainclothes security agents. Some supporters
chanted: "Pu Zhiqiang, not guilty!"
"He is a good lawyer who helped the underprivileged. He should never be convicted," said Zhang Jie, a petitioner from Jilin province.
Another petitioner from Henan province said: "How can he be charged just because of a few words he said?"
Eva Pils, China law expert at King's College, London, said Pu's trial was "part of a crackdown on civil society ... [and] was clearly related to his free speech advocacy and role as a government critic".
"The authorities have made it clear that they see rights lawyers in particular as enemies of the state ... [and] that it treats the human rights movement as a subversive force it aims to annihilate," she said.
Pu's associates say the party-controlled judiciary will likely find him guilty to make an example of Pu as a way to warn other rights advocates.
Pu suffers from diabetes, heart disease and high blood pressure. Requests for bail have been rejected by the court.