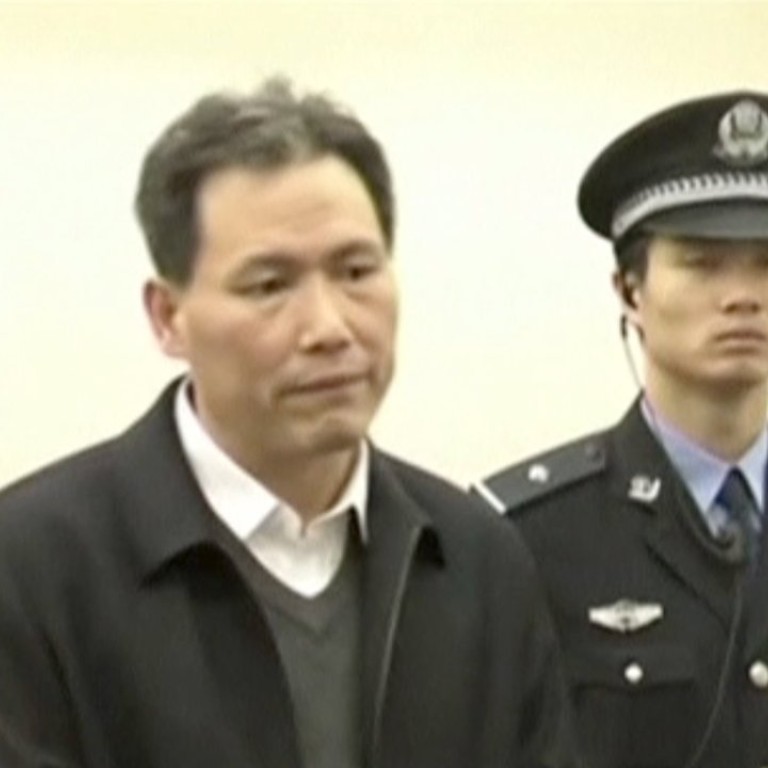 New
Convicted Chinese human rights lawyer to be released soon, but he remains far from free
Pu Zhiqiang's 3-year probation will limit his activities and ensure he is silenced, experts say
Although Chinese human rights lawyer Pu Zhi­qiang will be released days after he was given his suspended jail sentence this week, the previously outspoken figure will be under tight restrictions aimed at silencing him, rights experts say.
A Beijing court on Tuesday convicted Pu, 50, of "inciting ethnic hatred" and "picking quarrels and provoking trouble" but gave him a three-year reprieve. His conviction was based on content in seven of his microblog messages, which were critical of the Communist Party.
The suspended sentence means Pu will be on probation for three years; if he violates the terms of the probation or commits offences in that time, he will have to serve his original sentence. His lawyer's licence will also be permanently revoked as convicted lawyers are barred from practising.
Experts say the probation conditions will severely limit Pu's personal freedoms as well as rein in and silence the lawyer known for his bold, feisty personality.
Pu will have to periodically report his activities to the authorities and seek police permission before leaving Beijing. The probation will also limit who he meets and subject him to the vague requirement of "abiding by law and administrative regulations as well as obeying supervision".
Even after his sentencing, Pu was not able to go home immediately. Instead, he was put under "designated residential surveillance" at an undisclosed location. He will remain detained through the official appeal period for the next 10 days, though he says he will not appeal.
"Pu is not free; he has been convicted, he is serving a sentence through compulsory measures and is subject to various regulations that strictly regulate his life," said John Kamm, founder of Dui Hua Foundation.
Kamm drew attention to the case of dissident lawyer Gao Zhisheng. Gao was sentenced in 2006 to three years' jail suspended for five years, but was jailed shortly before completing his probation on the grounds of having violated its terms.
Hong Kong-based human rights researcher Joshua Rosenzweig said there were concerns that stricter measures, such as house arrest, would be used to restrict Pu's freedom under the pretext of "proper" supervision.
There was also a risk that police would threaten to revoke the suspended sentence if he disobeyed their instructions, he said.
"[They'll say] if you violate our terms, you'll go to prison," Rosenzweig said.
Experts say state media portrayal of Pu "confessing" and apologising meekly during his ­ordeal was meant to diminish his stature as a fearless rights defender and to bolster the state's ­authority.
In a handwritten note dated December 20 allegedly written by Pu two days before his trial, he thanked the police, prosecution and the court and "approved of" the accusations made against him – the humble and submissive tone was uncharacteristic of Pu.
"I am willing to accept the punishment of the law and guarantee that I will submit to the verdict and not appeal ... I will learn a lesson and be cautious with my words and behaviour and I ask for leniency," the statement read.
Pu's lawyer Shang Baojun said he had no knowledge of the statement but that the handwriting resembled Pu's.
"It looks like Pu was trying his best to meet their demands," Shang said, adding that he had never heard Pu admitting to being guilty.
Rosenszweig said: "This is part of the strategy to diminish his reputation as an independent person ... In exchange for freedom, you have to bow down to the authority of the legal system."
Experts say that even though Pu is seen to have been shown clemency, he has already paid a heavy price. He was locked up in police detention for 19 months before his trial, and can no longer practise law.
"There will be a sword of Damocles always hanging above his head," Shang said.
Rosenzweig said that by giving Pu a suspended sentence and disbarring him permanently, the authorities had already achieved their goal of silencing him, so a prison term – which would spark public outrage – was not necessary.
"They can diminish his reputation, warn other lawyers, keep him quiet for the next three years, and he has the threat of prison over him ... The only thing he gets out of this is freedom."