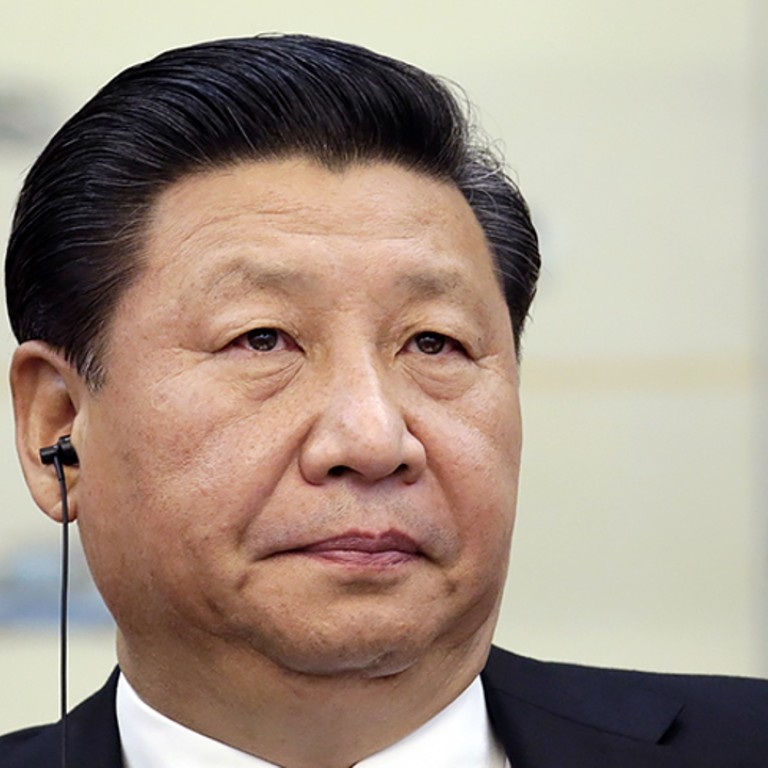 Update
China's President Xi Jinping sends warning to influential top cadres standing in his way
President says nobody is immune from anti-graft drive, but analysts differ on who he is cautioning
Chinese President Xi Jinping's (習近平) remark in a book published on Friday, that no one will be immune from punishment for corruption, is a warning to influential retired leaders or princelings who may be standing in his way, analysts say.
While the analysts agreed that Xi was using his massive anti-corruption campaign to consolidate his power, they had different opinions on exactly which former leaders were being targeted.
Xi had, in an internal meeting in February, said no one was ­immune from punishment, ­unlike in ancient times when emperors often granted their family members or favoured officials ­exemptions from legal penalties.
"Under the rule of law, no one should have the wishful thinking of being pardoned, as there is no such thing as 'dan shu tie quan' or 'tie mao zi wang'," Xi said.
His remarks were published last week in a collection of the president's previously undisclosed internal speeches. The book was edited by the top anti-graft watchdog, the Central Commission for Discipline Inspection.
The phrase "dan shu tie quan" refers to an iron certificate granting its holder immunity from punishment. "Tie mao zi wang" translates literally to mean an "iron-capped king", referring to those who enjoyed such privileges.
Xigen Li, associate professor of the City University of Hong Kong's department of media and communication, said different interest groups would interpret the president's message differently.
"[But] no matter how people interpret it, it implies the power of the speaker. The tone is set for things to come in China," Li said.
Chinese politics professor Jingdong Yuan, of the University of Sydney, said Xi's remark could be a message to those who dared obstruct his reform agendas or undermine his authority.
"Whether or not, or how, to pursue this is really a question of what specific objectives are to be achieved. And they must be achieved to enhance and strengthen – not risk undermining or tarnishing – the image of the party," Yuan said. "The key lies in finding the balance."
Beijing-based political analyst Zhang Lifan said Xi's remark was most likely a warning to party elders such as former president Jiang Zemin (江澤民) and his ally, retired vice-president Zeng Qinghong ( 曾慶紅 ), to stop standing in the way of his anti-graft drive or resisting his leadership. Zeng is, like Xi, a princeling – the son of a communist revolutionary.
Xi's highly publicised anti-corruption campaign has brought down a long list of senior officials, many of whom were Jiang's close allies. They include former security tsar Zhou Yongkang (周永康) as well as Xu Caihou (徐才厚) and Guo Boxiong ( 郭伯雄 ), both former vice-chairmen of the powerful Central Military Commission.
Steve Tsang, professor of contemporary Chinese studies at the University of Nottingham, said there were few in China who fit the description of an "iron-capped king", but that he would not restrict Xi's potential targets to just Jiang and Zeng.
"What about, say, [former president] Hu Jintao ( 胡錦濤 ) and [former premier] Wen Jiabao (溫家寶)?" Tsang said, adding that Xi's use of the phrase was a clear signal that there was truly no one who was "untouchable".
"We know there is still strong resistance within the establishment. There is therefore a need for Xi to send such a powerful signal to ... deter those resisting from organising themselves," Tsang said.
But Li said Xi's remark also exposed weakness in the principle of governing the country by law.
"If the law says it clearly, then follow the law. If the laws need explanations for practise, it should be done by the National People's Congress," Li said.