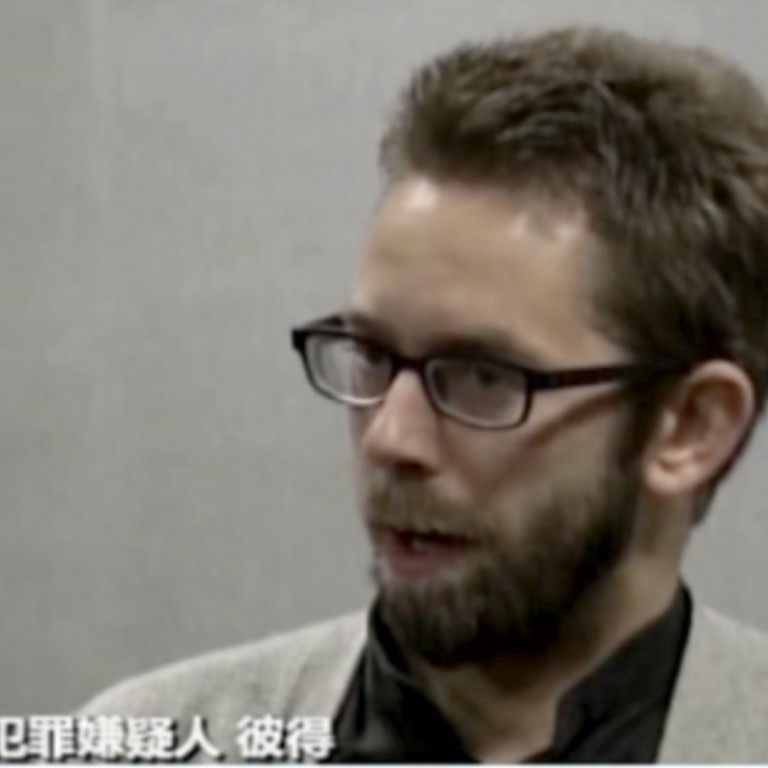 Update
Detained Swedish NGO worker Peter Dahlin's colleague refutes accusation that his group endangered China's security
Colleague rubbishes state media's portrayal of Peter Dahlin as a foreign agent on a mission to destabilise China, says NGO's priority is to empower Chinese citizens with legal knowledge
A colleague of detained Swedish NGO worker Peter Dahlin has refuted Chinese state media's accusation that his Hong Kong-registered group was carrying out works that undermined China's state security.
Dahlin, 35, a co-founder of the Chinese Urgent Action Working Group, has been detained since January 3. His Chinese girlfriend Pan Jinling disappeared around the same time, according to Michael Caster, Dahlin's co-worker in the group.
State news agency Xinhua on Tuesday accused Dahlin of setting up the non-profit organisation – registered in Hong Kong under the name Joint Development Institute Limited – with Chinese rights lawyer Wang Quanzhang to carry out activities that "endanger state security", including helping the teenage son of detained lawyer Wang Yu flee abroad.
"I violated Chinese law through my activities here," Dahlin said on state broadcaster CCTV. "I have caused harm to the Chinese government. I have hurt the feelings of the Chinese people."
State media said state security organs and police authorities jointly "smashed" the "illegal group" and accused it of receiving overseas funding to train and fund many "agents" to carry out "criminal activities that harmed state security," without stating which laws they broke.
On Wednesday, Caster refuted state media's portrayal of Dahlin as a foreign agent on a mission to destabilise China.Rather, the group's priority was to empower Chinese citizens with legal knowledge, he said, adding that the group was funded by a variety of publicly available and competitive grants from the European Union and embassies.
"It's absurd to claim Peter was engaged in malicious efforts to attack or discredit China," said Caster, who has returned to the United States but remains involved in the group.
"It is equally absurd to accuse Peter or China Action of manufacturing or escalating conflicts inside of China.
"If anything, it was a matter of trying to decrease the number of petitioners and to discourage people from engaging in collective action or resistance, and to rely on the development of Chinese law."
Caster said the apparent forced confession of Dahlin was "sending a very strong message both to the domestic rights defenders and international community that any engagement in the rule of law and human rights that challenges the ability of the government to exert monopoly over what the rule of law and human rights are will be targeted and face reprisals".
Xinhua reported that Dahlin and Wang Quanzhang, from Beijing Fengrui law firm, registered Joint Development Institute Limited (JDI) in Hong Kong in 2009 and suggested that they colluded in fuelling people's grievances against the government.
Wang and four colleagues from Fengrui have been detained since July amid an unprecedented crackdown on rights advocates. They were formally arrested this month on the charge of "subversion of state power".
Caster said Wang's rights defence work at Fengrui had nothing to do with his group as Wang, although he remained a director at JDI, had minimal involvement from 2014, after he joined Fengrui.
"It's really false to make the connection between China Action and Fengrui, because there really is none," he said. "Claiming Peter's involvement … appears to be an attempt to compound the charges against those human rights lawyers."
Caster also rejected state media's suggestion that his group funded activist Xing Qingxian to help Bao Zhuoxuan, the 16-year-old son of detained lawyer Wang Yu, flee the country. The attempt last October failed and the boy was repatriated from Myanmar.
Caster said that while his group has funded Xing in setting up a legal aid station in Sichuan province, the partnership ended in early 2014 and the group played no role in assisting Bao.
A Swedish foreign ministry spokeswoman said its embassy staff in Beijing visited Dahlin on Saturday and found him "feeling well considering the circumstances". The ministry had no information on what offence Dahlin was suspected of, she said.
Speaking to reporters in Beijing on Dahlin's case as well as the disappearance of two Hong Kong booksellers, Swedish citizen Gui Minhai and British citizen Lee Bo, Hans-Dietmar Schweisgut, ambassador of the European Union to China, said their ordeals "caused grave concern".
"We do hope it's not representing a new normal yet. But we do see an extremely worrying trend," Schweisgut said.
Additional reporting by Phila Siu and Zhen Liu