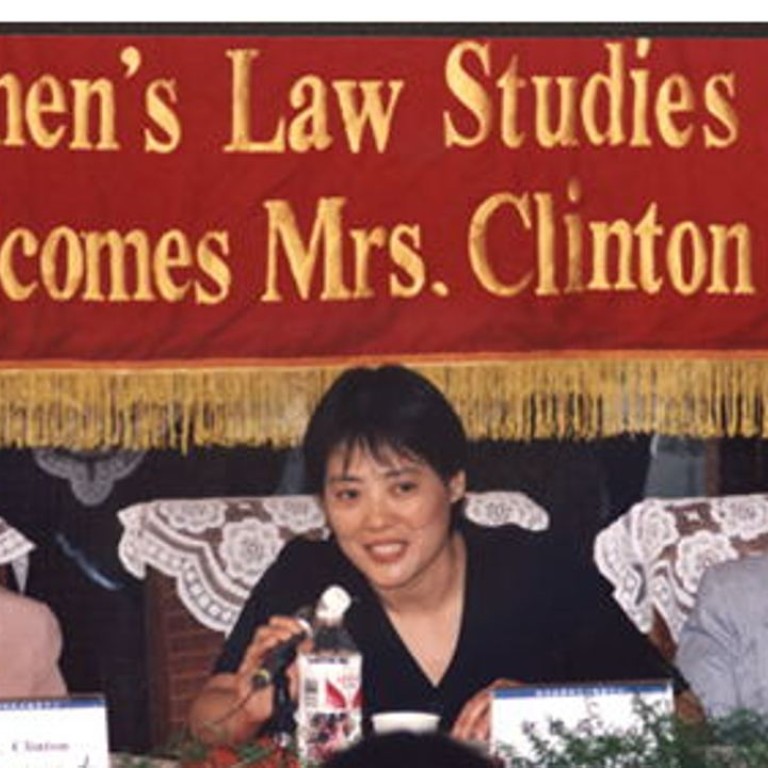 Leading woman's rights group to shut down as China tightens squeeze on civil society
Activists and NGOs taken by surprise when Beijing Zhongze Women's Legal Counselling and Service Centre announces it will close after 20 years
A leading women's rights advocacy group in Beijing has announced it will close amid an escalating government crackdown on independent NGOs and civil society.
A message on the website of the Beijing Zhongze Women's Legal Counselling and Service Centre, run by lawyer Guo Jianmei, said it would cease operating on Monday.
"We would like to thank everyone for their attention and support over the past 20 years," it said.
Guo could not be reached for comment but fellow NGO workers say it was highly likely the authorities ordered it to shut down. Calls to the Ministry of Civil Affairs' Social Organisation Administration went unanswered on Saturday.
Fellow workers said the overseas funding that Beijing Zhongze had relied on and some of the high-profile cases it handled over the years were likely to have made it a target.
"Their biggest problem is likely to be the overseas funding," said a worker with a non-governmental organisation who requested anonymity out of fear of reprisals on his own group.
He said the closing of Beijing Zhongze has made other foreign-funded groups, such as his, nervous about their future.
"This is definitely making an example of them and showing everyone what can happen to them. It's aimed at creating fear," he said.
He said NGO workers were shocked that Guo's organisation was targeted as it has operated for two decades and had a good reputation at home and abroad. "Why them?" he asked.
Beijing Zhongze, set up in 1995, handled tens of thousands of women's rights cases and provided legal assistance to help them protect their personal, family, property and labour rights, as well as fight against domestic violence.
It also provided training on the law and women's rights, advocated policy changes and produced research reports on women's issues.
The centre was previously known as the Women's Legal Research and Services Centre of Peking University, when it was attached to the prestigious institution.
But the university severed its ties with the centre in March 2010, citing administrative reasons. But people within the field widely suspected the true reason was the attention the centre was receiving through its work.
One of its highest profile clients was Li Yan, who was sentenced to death in August 2011 for murdering her husband. A court last year commuted the sentence after a huge outcry.
It also helped Deng Yujiao, a hotel hostess who stabbed an official to death who was trying to rape her.
Like many independent NGOs, Guo's group was unable to get government or domestic funding as its advocacy work did not conform to the government's agenda so it had to seek foreign funds.
Authorities often accuse independent advocacy groups of receiving money from "hostile foreign forces" that have ulterior motives to "destabilise" the country.
Some of the country's most progressive, independent NGOs have become targets in the government crackdown.
Although the authorities have always kept a close eye on the sector, critics say in the past couple of years, the crackdown has been noticeably stepped up, with NGOs closed and their workers detained, arrested or jailed.
Swedish NGO worker Peter Dahlin, who co-founded the Chinese Urgent Action Working Group was detained, paraded on state TV and deported , after being accused of carrying out activities that "endanger state security".