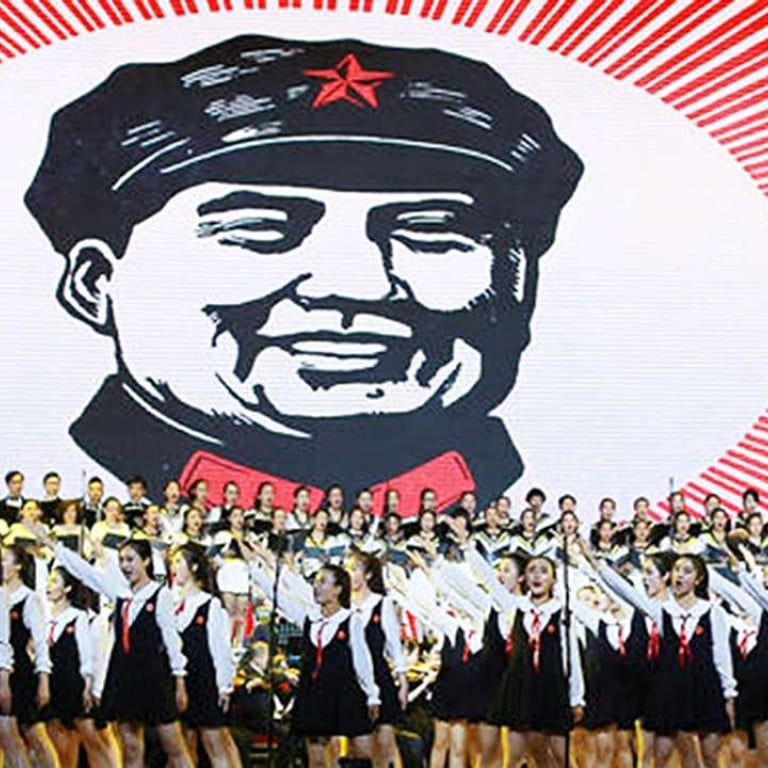 Update

|
'Whole world should unite to defeat the American invaders and their lackeys': controversy sparked online by 'red songs' at concert in Beijing
Music from the turbulent period of the Cultural Revolution featured prominently at event at the Great Hall of the People
A concert that featured "red songs" praising the Communist revolution and Mao Zedong, staged in a style reminiscent of the Cultural Revolution, has sparked controversy and criticism from the daughter of a revolutionary after it was held at Beijing's Great Hall of the People.
The show, which staged songs from the Cultural Revolution against a backdrop of propaganda posters from the period, comes at a politically sensitive time ahead of the 50th anniversary of the start of the movement on May 16.
The political mass movement was responsible for some of the mainland's most violent upheavals since the foundation of the People's Republic in 1949.
Ma Xiaoli, daughter of Ma Wenrui who was persecuted for being a leader of an "anti-party clique" with President Xi Jinping's father Xi Zhongxun during the 10-year turmoil, called the show a recurrence "of the culture of the Cultural Revolution" and accused it of "taking a step back in history".
Ma lashed out at organisers in a letter, accusing them of violating the Communist Party's political discipline by honouring the memory of the Cultural Revolution with the show.
"We must raise our strong vigilance against the comeback of the Cultural Revolution and [against] extreme leftist ideology making waves again," she wrote.
Contents of the letter circulated online and a source close to Ma confirmed she had written it. There was speculation online that the letter was addressed to Xi's chief of staff Li Zhanshu, the director of the General Office of the Communist Party's Central Committee, but this could not be independently ­verified.
In a twist late Friday, one of the organisers of the event, the China National Opera and Dance Drama Theatre, said it had been deceived by its partner, which claimed to be from an office under the party's Central Publicity ­Department.
Photographs of the concert on Monday evening showed performers singing against the backdrop of a huge screen, which flashed images such as photographs of Mao and Xi, as well as propaganda posters from the Mao era, including the Cultural Revolution.
One poster read "the people of the whole world should unite to defeat the American invaders and their lackeys".
It was the headline of an article by Mao in 1970 voicing support for Vietnam, Laos and Cambodia in the war against the US.
Most of the musical scores were so-called red songs praising the party and its leadership, mainly produced during the height of Communist propaganda in the Mao era. Some songs also praised Xi.
Some people commenting online drew comparisons between the show and the campaign to promote "red culture" in Chongqing under the city's disgraced former leader Bo Xilai, who is now serving a life sentence for corruption.
One person commented: "This is the role of power at play. They [the people with power] reminisce about it, so they can directly put on a show about it. They are only representing their own interests, which have ­nothing to do with the people's ­interests."
Another said: "These scenes remind me of one thing: the political legacy of Bo [Xilai]."