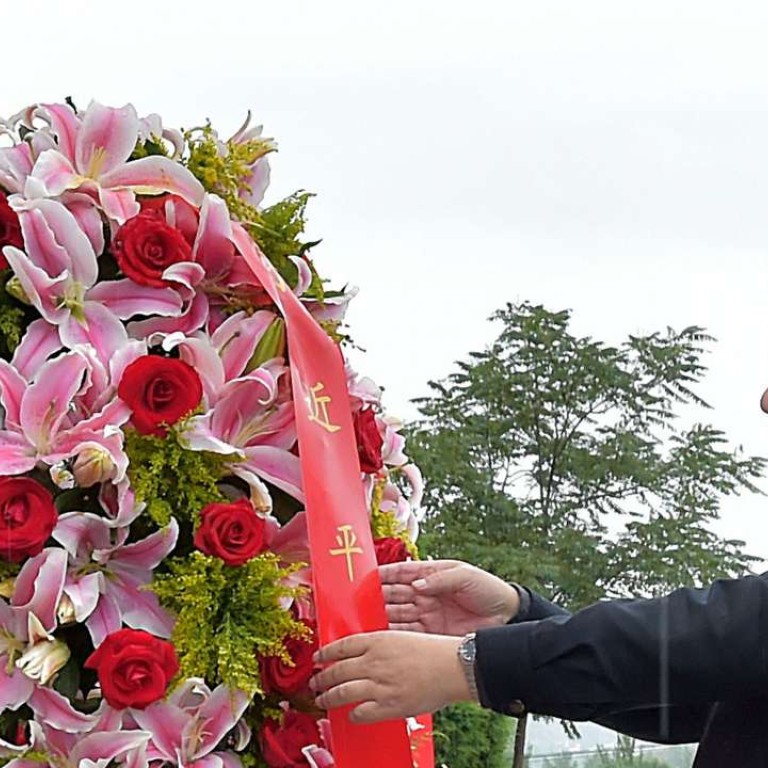 Xi invokes spirit of 'new Long March' to reach Communist Party goals
Visit to Red Army shrine aimed at reinforcing president's credentials as son of revolutionary ahead of annual leaders' retreat, analysts say
President Xi Jinping has visited a monument honouring the end of the Long March in Ningxia, making a pilgrimage to Communist Party roots ahead of a crucial leadership meeting expected next month.
The trip was seen by analysts as an attempt to bolster his image as an inheritor of the party's legacy.
Xi carried out an inspection tour in Ningxia on Monday and visited a memorial hall where the three main Red Army forces converged in October 1936, marking the end of the Long March.
Photos released by Xinhua showed Xi laying wreathes at the hall in the rain.
The visit came at a sensitive time, with the party's inner circle about to hold its "summer summit" at the seaside resort in Beidaihe in Hebei province.
The meeting, usually held in August, is traditionally when the tone for the important policies is decided.
Analysts have said Xi uses such occasions to reinforce his ties to the party's historical foundation and burnish his credentials as the son of a revolutionary.
His father, Xi Zhongxun, was a former vice-premier and among the first generation of leaders.
"Xi has frequently used such visits to strengthen his position," said Zhang Lifan, a historian formerly with the Chinese Academy of Social Sciences.
During his visit, Xi said revolutionary heritage sites should not be developed into luxury scenic spots.
They should be used for ideological education rather than tourism, he said, according to Xinhua.
Xi also sought to connect his call for national rejuvenation to the Red Army's historical journey. He said the "Chinese dream" and "Chinese renaissance" formed the new Long March, which was aimed at realising the party's two century-long goals.
These were to complete the building of a moderately prosperous society by the time the party celebrated its 100th birthday in 2021, and to create a prosperous, democratic, culturally advanced socialist country when the People's Republic turned 100 in 2049.
"We, the new generation, should accomplish our new Long March," he said.
Xi called on people to learn the Long March "spirit" from the original participants who devoted their lives to realising the revolutionary dream.
Xi also visited local villages and inspected progress on poverty relief measures.
He congratulated local residents for their hard work and success, according to Xinhua.
Analysts said that since coming into office in late 2012, Xi has sought to resurrect the legacy of late leader Mao Zedong.
"He has borrowed many of Mao's practices," Zhang said. For example, Xi resumed the "mass line" campaign, which Mao launched during the Chinese revolution to ensure cadres remained "connected to the people".