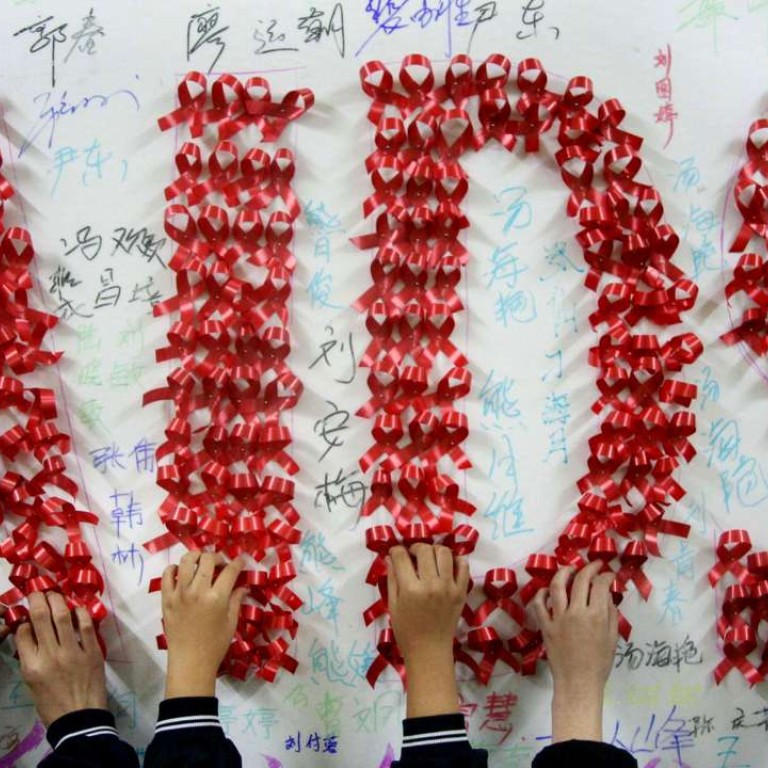 HIV/Aids patients still face rejection and discrimination in China's leading hospitals
Despite decade-old anti-discrimination rules, patients say doctors still fear treating them
When 34-year-old "Frank" was diagnosed with a varicocele, a common disorder of blood vessels around the testicles, his doctor told him he needed surgery.
The operation would be routine but after he told doctors he was HIV-positive, the procedure was postponed several times.
"The doctors said my problem was complicated, so they had to postpone my surgery. But I know they don't want to do it because I have HIV," he said.
Frank wasn't surprised – he'd expected to be rejected outright by the No 4 Hospital in Xuzhou, Jiangsu province, based on the experiences of other patients. But he still felt downhearted and helpless.
"It's a common disorder [but it's difficult to get treatment]," he said. "If I develop some serious illnesses [besides HIV/Aids], I think my only choice will be just to wait to die."
Frank is one of the 575,000 HIV/Aids patients on the mainland, according to the country's disease control authority, but the real number could be far higher.
The mainland's decade-old Aids Prevention and Treatment Regulations are meant to stop hospitals turning away HIV-positive patients but activists say patients continue to face repeated rejection at medical facilities across the country.
The HIV cause has some of the highest-profile advocates – Peng Liyuan, wife of President Xi Jinping is a national and World Health Organ­isation ambassador for HIV prevention.
However, people like Frank still face day to day discrimination. Patients complain of limited access to the health system and grass-roots organisations accuse the authorities of failing to tackle concerns about hospitals.
After the Xuzhou hospital dragged it feet, Frank contacted officials at the municipal health bureau and disease control and prevention centre. They said they could try to persuade another medical facility to do the operation but they could not guarantee that details about his HIV-positive status would not be leaked.
He was finally admitted to Xuzhou Infectious Disease Hospital, only for the operation to fail.
Meng Lin, co-founder of the China HIV/Aids Carriers Union, said that, like Frank, some patients complained to local health departments but the authorities seldom penalised the medical centres.
"This demonstrates that the government is not proactive in solving this problem and has not stopped rejections at all," he said.
Further south in Shanghai, the situation is more or less the same.
Shanghai resident Xiao Qiang said he went to a community hospital in Huangpu district to have a tooth extracted two years ago. At first doctors said it would be simple but their "attitude changed completely" when they found out he was HIV-positive.
"They said the operation wasn't necessary. Instead they prescribed me anti-inflammatory drugs," he said. "They said they never accepted HIV-positive patients."
Xiao Qiang sought treatment at the Shanghai No 9 Hospital and was told that the surgery could be done after hospital leaders signed off on it.
Wu Yong, head of the Shaanxi-based HIV/Aids Caring Organisation, said the stigma around the condition meant many hospitals continued to reject patients like Xiao Qiang.
"Doctors don't want to operate on the patients for fear of getting infected and hospitals – even those designated by the health authority to treat Aids patients – don't want the public to know there are Aids patients in these facilities," he said.
The situation has forced some patients to deception.
However, there are several hospitals in each city and county designated to do procedures for HIV/Aids patients.
The Shanghai Public Health Clinical Centre is one such centre and has been offering "one-stop treatment" for HIV patients for several years, according to one of the hospital's contagious disease experts, Lu Hongzhou.
Lu said his colleagues dealt with many HIV/Aids patients every day and were well aware of "how to protect them".
If the hospital did not have in-house specialists to treat a condition, Lu said doctors from other centres would be asked to consult on the case.
But Frank said seeking treatment at specialist hospitals increased his medical costs.
The Health and Family Planning Commission, the mainland's health authority, did not respond to requests for comment.
In a joint statement, the World Health Organisation and UNAids said: "It is important to reaffirm that all patients, including those at risk for or living with HIV, have the right to access medically appropriate care wherever the health service is available.
"The fear of being refused care, can lead people with HIV to distrust health care workers, not to disclose personal information; and also to avoid the health care system. This results in delayed care," the organisations said.
But before patients can get the care they need at any ordinary hospital there is one huge barrier to overcome: doctors must overcome their fear of HIV.
Zhang Jing, a surgeon at a top hospital in Shanghai, said he would definitely not operate on HIV/Aids carriers.
"HIV is more lethal than hepatitis B and other viruses," he said. "It's just a job and I don't want put my life at risk."
This article appeared in the South China Morning Post print edition as: HIV/Aids patients still face rejection at leading hospitals